7 stores offering major deals on Amazon Prime Day — that aren't Amazon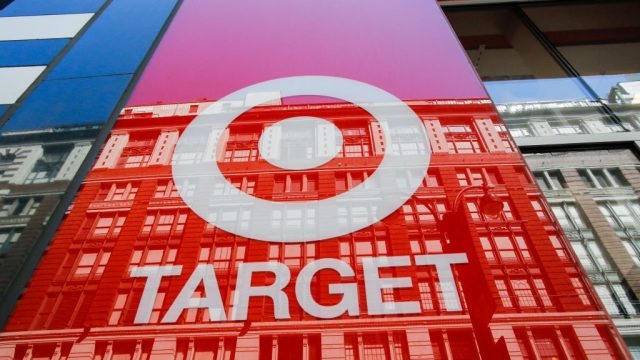 If you're a major bargain hunter, then you probably know and love Amazon Prime Day. Every year, the mega e-commerce site offers deals throughout one day in July — this year it's July 16th — on pretty much everything you could ever want (and stuff you probably don't even need). The annual event has become just that, an event, for online shoppers, and this year more than 1 million products are expected to be discounted during the 36-hour sale. But in order to land the deals, you have to be a Prime member, which comes with a $119 annual price tag (unless you sign up for a free 30-day trial). Because of that, other retailers have started offering their own "counter deals" on Prime Day — and they don't require a membership.
Shade, anyone?
In what's become known as Black Friday in July, many retailers offer up to 70% off select products before, during, and after Amazon Prime Day. So if you're not a Prime member but want to score some deals — or you're just looking to bag some bargains on top of what's already in your Amazon cart — check out the sales below.
1Walmart

Without a doubt, Walmart has to be Amazon's biggest competitor, so you know the company is coming with the deals. You can shop now and get free two-day shipping on select items, no membership fee required. And because Walmart pretty much sells everything (just like Amazon), you'll find deals on beauty products, furniture, electronics, and more.
2eBay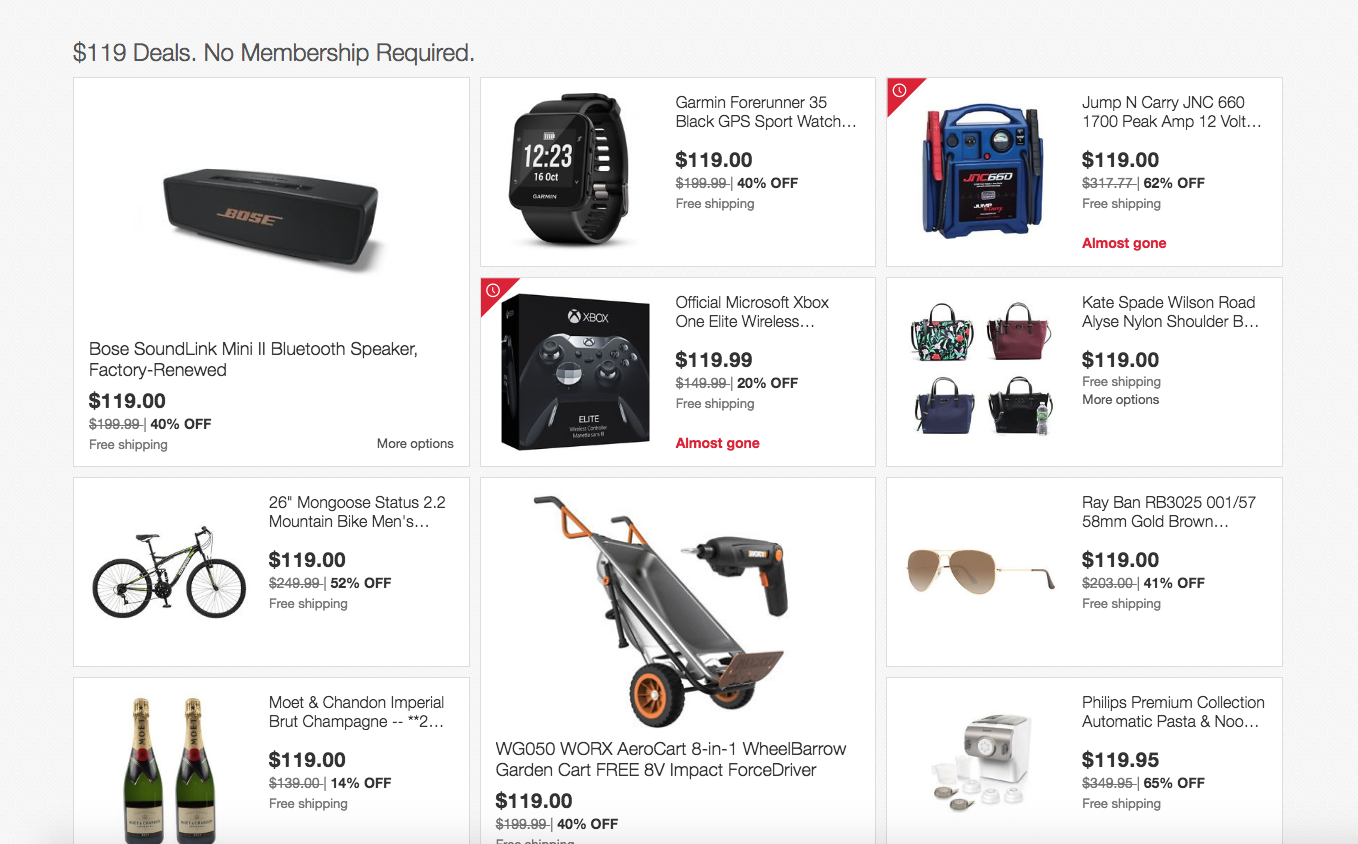 The eBay sales have already started, with more than 100 $119 deals (that's the cost of a Prime membership, the shade!) on everything from Kate Spade bags to luggage to engagement rings to champagne. And starting Monday, the site will have thousands, yes, literally thousands, of additional deals throughout the week.
3Dell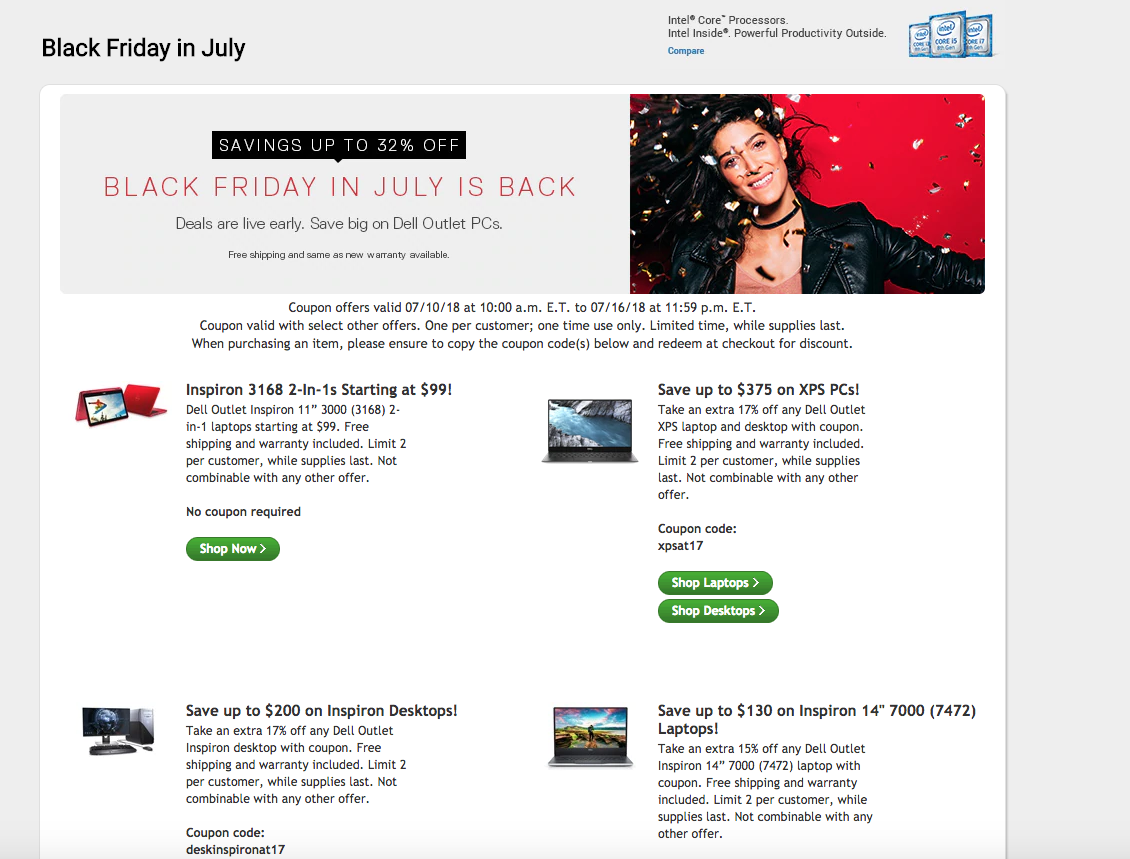 Dell's Black Friday in July sale goes until July 16th and features a ton of enticing offers, like up to $200 off Inspiron desktop computers and laptops. But if the Black Friday deals aren't enough, from July 16th to 23rd, eBay is having Cyber Week deals, too. Yup, an additional week of sales on laptops, desktops, and electronic accessories.
4Overstock
While 20 or 30% off is a nice chunk of change to save, Overstock is offering up to 70% off select items until July 16th. This is the perfect time to get those blackout curtains you've had your eye on, a chic area rug, or bedroom furniture to create your perfectly zen abode.
5Macy's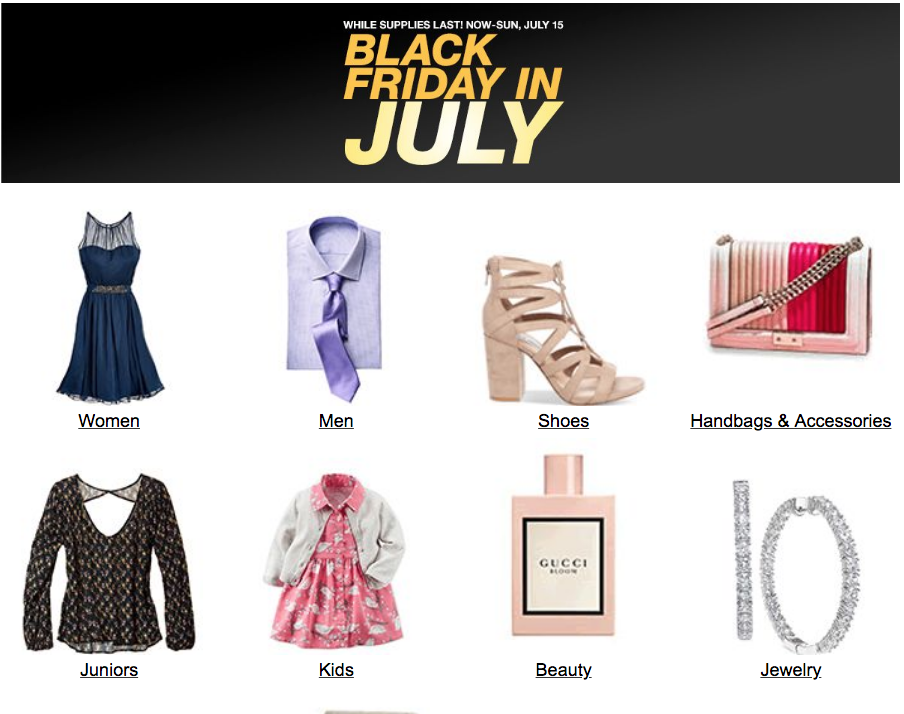 Another Black Friday in July sale to jump on comes courtesy of Macy's. The deals include all departments (women, men, children, beauty, home, etc.) at up to 50% off. This sale has been going on since July 9th and ends on the 15th, so act fast.
6Target
Of course our bullseye boutique wouldn't let us down. On July 17th, Target.com will offer free two-day shipping on orders over $35 and an additional 5% discount for REDcard holders. You can also expect up to 30% off select Google products, 25% off beauty and personal care, and sales on cookware and appliances. Also, if you spend more than $100, you'll get a free six-month membership to Shipt, Target's same-day delivery service.
7RetailMeNot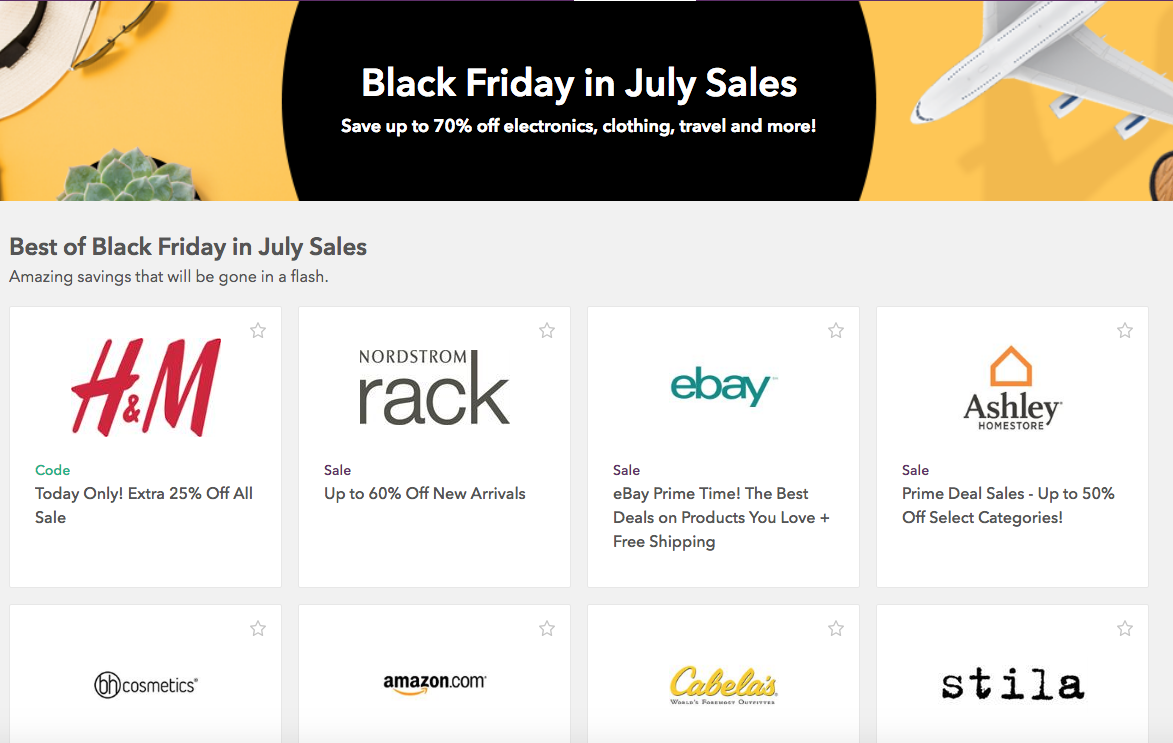 Finally, to really maximize bang for your buck, check out Retail Me Not. The coupon site has a list of Black Friday in July sales, and when you click through to a specific retailer, you'll receive a code you can apply to your purchase for an extra percentage off, and even receive cash back. Also, Retail Me Not's "Make My Monday" series falls right on Prime Day, and it's specifically offering $15 cash back for online purchases of $30 at JCPenney.