Amazon now delivers packages straight to the trunk of your car, and here's how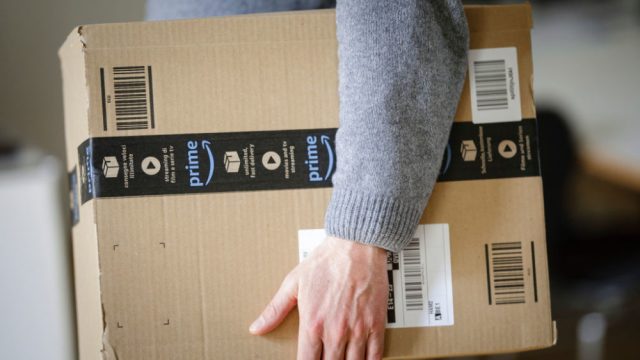 Thanks to the wonderful world of online shopping, we can get just about anything delivered to our doorsteps. The mega retailer Amazon, for instance, has expanded its wares from books to clothing, groceries, and even a new online plant shop. But what if the products you ordered could be delivered straight to your car? The website's latest service is making that a reality.
The Amazon car delivery service is the latest addition to the company's in-home delivery service, Key. The tech giant rolled out the service to 37 cities today, April 24th, enabling these customers to have their orders delivered to the trunk or back seat of their cars. In a press release, Vice President of Delivery Technology Peter Larsen said the company hoped that Key In-Car would build on the success of Key's in-home delivery feature.
"Customers have also told us they love features like keyless guest access and being able to monitor their front door from anywhere with the Amazon Key App," Larsen said in the press release. "In-car delivery gives customers that same peace of mind and allows them to take the Amazon experience with them.
A video shared to Amazon's Twitter page shows customers testing Key In-Car for the first time.
But before you try to test Key In-Car, you should know that there are some catches. Trunk delivery is only available to Prime members, first of all. And on top of already belonging to Prime, only certain vehicles are compatible with Amazon in-car delivery. Currently, the service works with most Chevrolet, Buick, GMC, Cadillac, and Volvo vehicles made in 2015 or later. Since couriers have to be able to remotely unlock these cars to make deliveries, Volvo cars must be equipped with OnCall support, while other vehicle makes must have OnStar to qualify.
If you are a Prime member and do have an eligible car, you can test the new feature by downloading the Amazon Key app and registering for Key In-Car. After that, it's just a matter of linking your vehicle, and then you're ready to get shopping. Whenever your car is within delivery range, the app will let you know, so you won't have to worry about where you can receive your orders.
With this new trunk delivery feature, it's clear that online shopping is the way of the future. Would you try Amazon Key In-Car?