Amazon just bought Whole Foods, which is as big of a deal as it sounds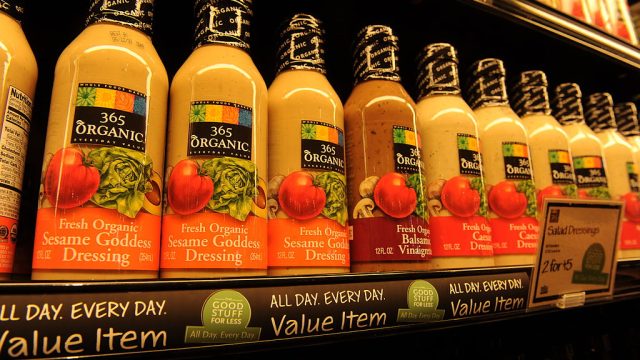 Watch out, guys, because the whole world of shopping is about to change. Amazon just bought Whole Foods in a $13.4 billion deal, and it's a win for both companies.
Whole Foods apparently has been having trouble with their investors for what The New York Times calls a "sluggish" stock price, so now it has a huge, innovative, and loaded new owner to help beef up its operation. Amazon essentially just bought hundreds of distribution hubs in wealthy neighborhoods, so the possibilities are pretty much endless. It's likely Amazon will use the stores to play around with AmazonFresh, their grocery delivery service, and they'll have a largely affluent crowd of customers to try it out.
This is the kind of deal that goes into textbooks, it's so perfect.
If you're a Whole Foods devotee, don't freak out: It doesn't look like everything is going to change. The upscale grocery chain will operate as always. If anything, things might get better. Both Whole Foods and Amazon compete with other huge retailers like Walmart and Target, so this is essentially a way to gang up and take some market share back.
Back in the day, Whole Foods was the only place to get organic or all-natural products and produce, but Walmart and Target have started selling those kinds of grocery products recently too. For consumers, that's awesome, but for Whole Foods, it hasn't been the best.
So Amazon sort of just saved Whole Foods from possible extinction.
This is further proof that one day, Amazon will run everything. (OK, not really, but it feels like that, doesn't it?) Getting into the grocery business is not easy, but by scooping up ownership shares in Whole Foods, it bought the company's logistic know-how. Whole Foods is expensive AF, yes. But it knows how to source organic and local products, which is exactly what customers seem to want these days. Following today's news, other grocery businesses are probably a little scared.
They should be. According to CNBC, other grocery stocks are down today and Amazon's stock is up about $32. If you're into running numbers, that means Amazon essentially got Whole Foods for free after you calculate the market capitalization, which comes out to around $15.6 billion on Friday. Which means it also pocketed $1.9 billion.
Talk about genius. Let's hope that Amazon also figures out a way, like they do with everything else, to make Whole Foods groceries a little cheaper. Because we also can't help spending what seems like billions at the Whole Foods, but without all the perks Amazon got for it. If anyone can figure out how to do this, it has to be Jeff Bezos.