Did Amazon just launch free, 2-hour Whole Foods delivery in your city?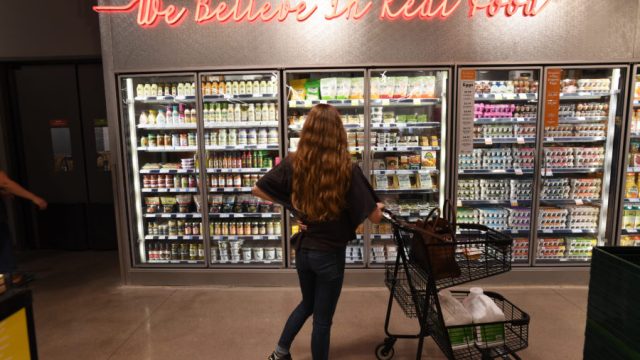 Amazon can now deliver Whole Foods groceries to your doorstep for free in under two hours — if you live in a few select cities. On Thursday, February 8th, the online retail giant announced Whole Foods groceries will be available through its Prime Now delivery service. If you live in a neighborhood of Austin, Cincinnati, Dallas, or Virginia Beach, then you're in luck.
"We're happy to bring our customers the convenience of free two-hour delivery through Prime Now and access to thousands of natural and organic groceries and locally sourced favorites," said John Mackey, Whole Foods Market co-founder and CEO, in an official release. "Together, we have already lowered prices on many items, and this offering makes Prime customers' lives even easier."
Ever since Amazon acquired Whole Foods in 2017, they've introduced a number of new programs and deals within the grocery store chain. And this one just might be our favorite yet. If you don't live in one of the select cities, don't fret: Amazon plans to expand this feature to other cities across the U.S. throughout 2018.
If you do live in a neighborhood of Austin, Cincinnati, Dallas, or Virginia Beach, head over to the Amazon Prime Now site and enter your zip code to make sure you're in the delivery area. Then start shopping! The service is available every day from 8 a.m. to 10 p.m. local time.
According to the company's press release, "Thousands of items across fresh and organic produce, bakery, dairy, meat and seafood, floral, and everyday staples" are available for free two-hour delivery, including "select alcohol." The future is officially now.