An Amazon Echo might be involved in a double murder—here's how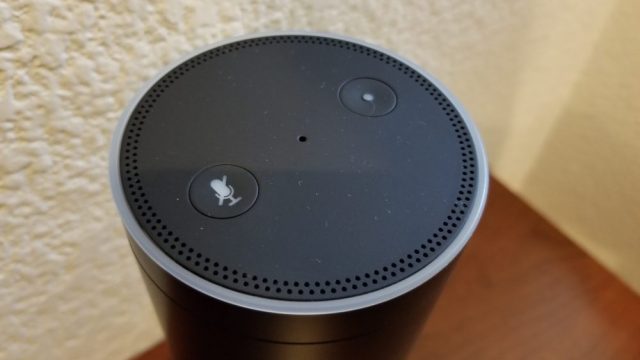 As an all-knowing digital assistant, Amazon's Alexa seems able to do almost anything—from playing music to offering medical advice. And it turns out that Alexa might also be a surprisingly capable detective after a New Hampshire judge ordered the release of an Amazon Echo's recordings for use in a double homicide case. ABC News reports that on November 9th, Strafford County Superior Court Presiding Justice Steve M. Houran ruled that Amazon must provide the audio files from an Amazon Echo to local authorities investigating the stabbing deaths of two women. Houran also ordered Amazon to release information about cell phones that were paired to the Echo at the time.
Houran made the ruling on the basis that the smart speaker may have captured audio from the 2017 stabbing of 32-year-old Jenna Pellegrini and 48-year-old Christine Sullivan. According to local CBS affiliate WGME, the Amazon smart speaker is thought to have been in the kitchen of Sullivan's home, and prosecutors think there's a chance that it captured the initial attack on Sullivan and the removal of her body. It's not yet clear whether the device actually recorded the crime, though.
In a November 9th statement to the Associated Press, an Amazon spokesperson said that it wouldn't release the information without being served "a valid and binding legal demand."
Timothy Verrill, the man charged with the murders, has pleaded not guilty and is awaiting trial. Local ABC affiliate WMUR reports that he had access to the security code to Sullivan's home and was seen on security footage from Sullivan's home around the estimated time of her death.
This isn't the first time authorities have tried to use an Amazon Echo in a murder case. Ars Technica notes that when Victor Collins was found dead in a hot tub at an Arkansas home in 2015, authorities issued a warrant for the data from an Echo, which had been streaming music by the tub. According to Ars Technica, the warrant stated that the device "records any command, inquiry, or verbal gesture" given after the user says "Alexa"—and possibly even before. After initially protesting the warrant, the defendant in the case (and owner of the Echo) agreed to the release of the audio recordings.
What are your thoughts on this new use of technology?