I tested six dermatologist-recommended Amazon beauty buys to see if they would improve my skin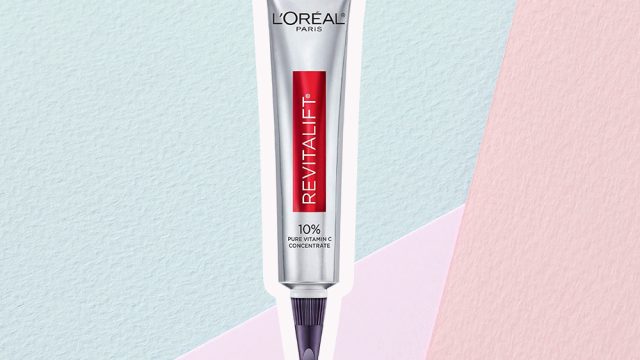 Amazon may be everyone's favorite place to score awesome food, fashion, and home decor finds, but it's also a pretty great place to rev up your beauty arsenal. The popular shopping site provides fantastic skin care, makeup, and hair care finds for a pretty good price.
Since scrolling through Amazon's beauty section can feel overwhelming, Dr. Joshua Zeichner, director of Cosmetic and Clinical Research at Mount Sinai Hospital in NYC, helped us break down the best skin care treasures worth adding to your bathroom cabinet, makeup bag, or vanity.
Always eager to give new derm-approved buys a test drive, I put each of these products to the test and share my own thoughts on how each product fit into my daily skin care regimen throughout the course of one week.
1La-Roche-Posay Pigmentclar Dark Circles Eye Cream
What The Derm Says:
"Formulated with niacinamide to brighten the skin and caffeine to depuff, this eye cream can improve the appearance of dark under eyes circles," Dr. Zeichner tells HelloGiggles.
My Thoughts:
Let me start by saying I have a love-hate relationship with eye products, as I feel that a lot of the creams, serums, treatments, and jellies I have tried in the past never seem to fade my intense dark circles. So, you can probably imagine my skepticism surrounding this eye-brightening product, especially since it had the classic anti-dark circle promises all over the packaging.
Keeping Dr. Zeichner's positive product insight in mind, I admit that I was pleasantly surprised upon trying out this product out for a week. Not only did it successfully tone down the appearance of any brown and blue circles underneath my eyes with each use, but it also made me look like I slept a full eight hours after putting it on at night.
However, please be advised that this product can cast some white residue under your eyes if you apply it on a bit thick. A sibling of mine noticed this right away, so I was sure to use a small amount and blend with a small beauty brush throughout the week.
2Dove Deep Moisture Body Wash
What The Derm Says:
Dr. Zeichner says it's important to cleanse without compromising the integrity of the skin barrier. Harsh soaps, he explains, can alter the pH and strip oils from the skin, leading to dryness and inflammation. That's why he recommends this Dove body wash, since its cleansing ingredients are gentle enough to be used on the body. He also points out that this product contains hydrating ingredients found in moisturizers, making it suitable to use on your face.
My Thoughts:
I'm not exaggerating when I say that this is probably my favorite body wash of all time. It's the only thing that leaves my skin hydrated without leaving behind any greasy residue.
Plus, Dr. Zeichner is right about using this product as a face wash whenever you want to shower and cleanse your complexion at the same time. It dissolves any traces of stubborn foundation hiding on your face (after you use makeup remover, of course). It doesn't leave the skin feeling unbearably dry either since the added moisturizers leave your complexion feeling like you just applied nourishing cream on it.
I use this after a good workout or long day spent typing at my desk because it's ultra-gentle and helps me de-stress in a jiffy. Hot tip: While you can easily find this product at your local supermarket or drugstore, this four-pack of washes will save you a trip.
3Neutrogena Hydro Boost City Shield SPF 30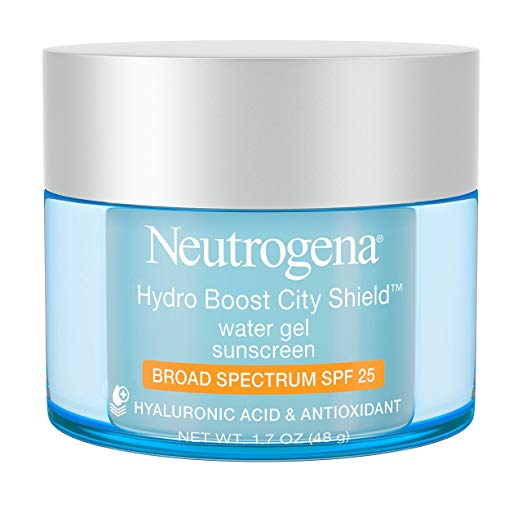 What The Derm Says:
"This ultra-hydrating moisturizer provides broad spectrum protection from the environment," Dr. Zeichner says. Hyaluronic acid plumps the skin, he says, and added UV blockers defend against harmful sun rays. In addition, he notes that the moringa seed extract inside this product helps neutralize free radical damage from pollution, making it ideal for those living (and commuting) in city environments.
My Thoughts:
I approached this product with caution, due to experiencing breakouts and blackheads as a result of using thick moisturizing creams in the past. To my surprise, this product was anything but an oily skin disaster. Its gel-like consistency kept my skin plump but not unbearably greasy.
I also didn't have to worry about adding sunscreen to my daily moisturizer because it already contains SPF 30. Although I didn't notice any anti-pollution benefits just yet (I live deep in the Jersey woods), that is something that might be seen over time with gradual use.
4St Ives Blackhead Clearing Face Scrub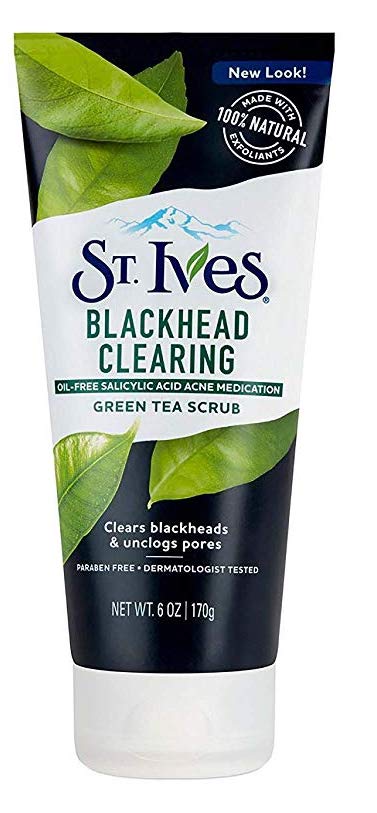 What The Derm Says:
"The combination of using hydrated silica and chemical exfoliation with salicylic acid helps unclog pores and remove excess oil to treat and prevent blackheads," Dr. Zeichner says.
My Thoughts:
As with facial moisturizers, I'm also a tad bit skeptical about facial scrubs since they can leave my skin a bit red and irritated. So, with this mind, I was very careful about how much of it I actually used. A pea-sized amount of it went a long way for me. The results of using the scrub were actually pretty impressive—it didn't leave my skin blotchy or disturb any existing pimples on my face. Instead, it left my face feeling soft and radiant, which is always a plus when you don't want to wear highlighter all the time.
With the unpredictable temperatures here on the East Coast, this scrub helped keep dry and scaly skin at bay.
5Aveeno Cracked Skin Relief CICA Ointment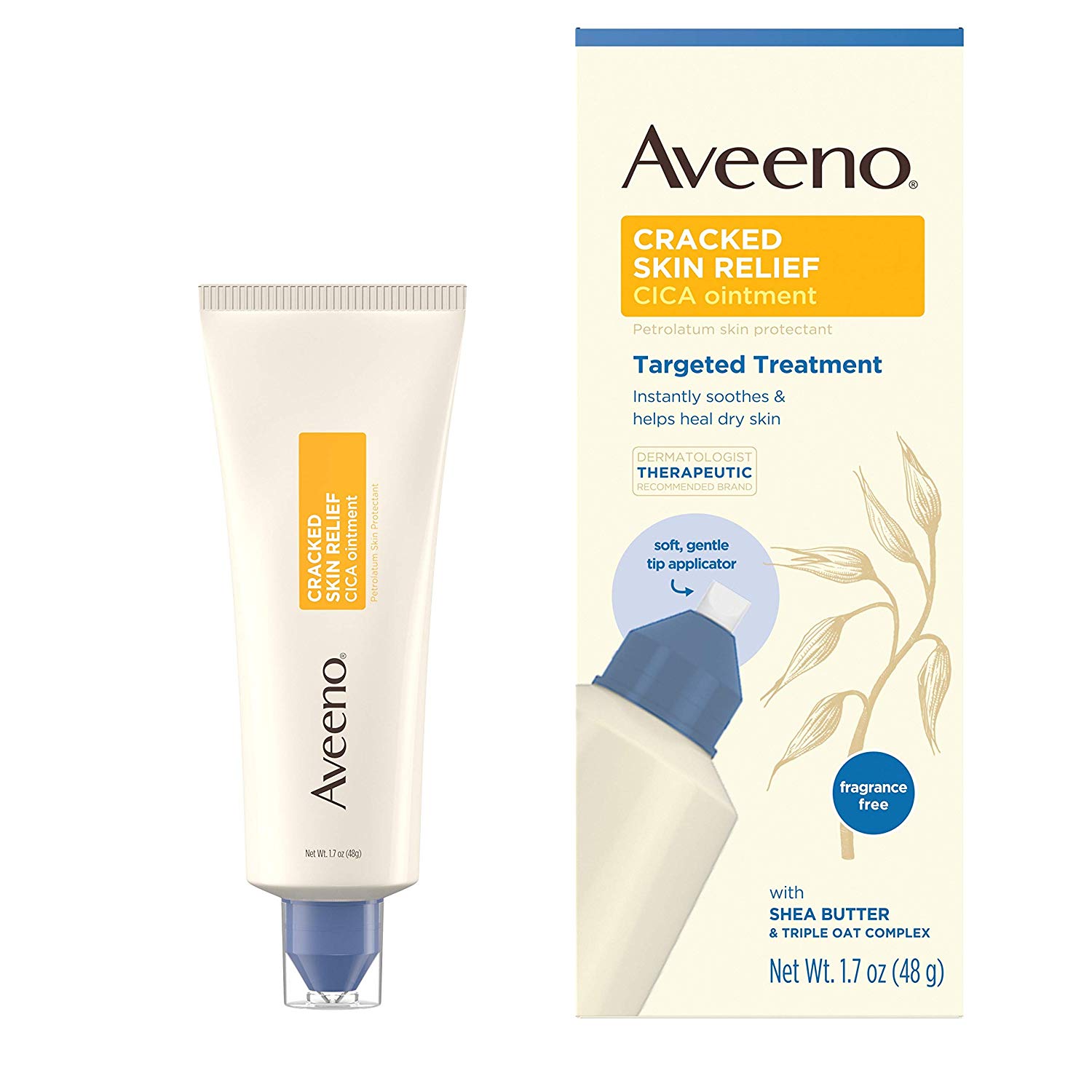 What The Derm Says:
"This heavy ointment is perfect for dry, cracked skin on your hands, feet, knees, and elbows," Dr. Zeichner says. "It also contains softening shea butter along with skin protecting triple oat complex," he adds.
My Thoughts:
First things first, let me start by saying this isn't the kind of cream you use for dry hands, as it goes on pretty thick, like Vaseline. I made this mistake when I first used it, and it left my hands feeling a bit slick.
That's not to say this heavy-duty ointment isn't helpful, it's a must-have for hydrating any dry patches you have on your elbows, heels, and feet. I'll also note that it's a miracle worker if you are a recovering cuticle-picker. Applying it on nightly helped my cracked cuticles heal faster overnight. Is this something you should have in your vanity, especially during winter? Probably. Just be sure to use it in the right areas.
6L'Oreal Derm Intensives Vitamin C Serum

What The Derm Says:
Dr. Zeichner explains how vitamin C found in this serum is a potent antioxidant that puts out free radical damage to protect the skin against the harmful effects of UV light and pollution. It also interferes with the production of abnormal pigmentation to help even and brighten skin tone.
My Thoughts:
Vitamin C is one of my favorite skin care ingredients of all time, as it works wonders against my acne scars and gives my skin an ethereal-looking highlight I can't replicate with makeup. While I do tend to hoard expensive vitamin C products, it's nice to know that this drugstore-friendly serum can get the job done just as nicely. Daily use of this product gave my skin that luminous glow I crave.
While it didn't reduce a few pain-in-the-butt acne scars I have on my face, I'm hoping with continuous use I can finally improve my skin tone once and for all without burning a hole in my wallet.