Amazon's 12 Days of Deals includes major sales on hair and skin care products starting at $3
If you missed out on Amazon's crazy deals during Black Friday and Cyber Monday, don't fret: The retail giant hasn't ended its sales season just yet. Amazon kicked off its 12 Days of Deals event this week, and it features hundreds of products on sale until December 14. From best-selling mascara and serums to special deals on coveted beauty tools, you won't want to miss out again.
While several items that were on sale for Black Friday and Cyber Monday are discounted again—like Apple products, robot vacuums, and televisions—we've got our eye on the phenomenal beauty deals, which start as low as $3. On the higher end, Amazon is offering an exclusive gift bundle on the Dyson Supersonic Hair Dryer, which comes with a complimentary stand and a $50 Amazon gift card. The same deal is also offered for the Dyson Airwrap.
Whatever you've got your eye on, you'll want to shop it quickly—these deals will be over soon!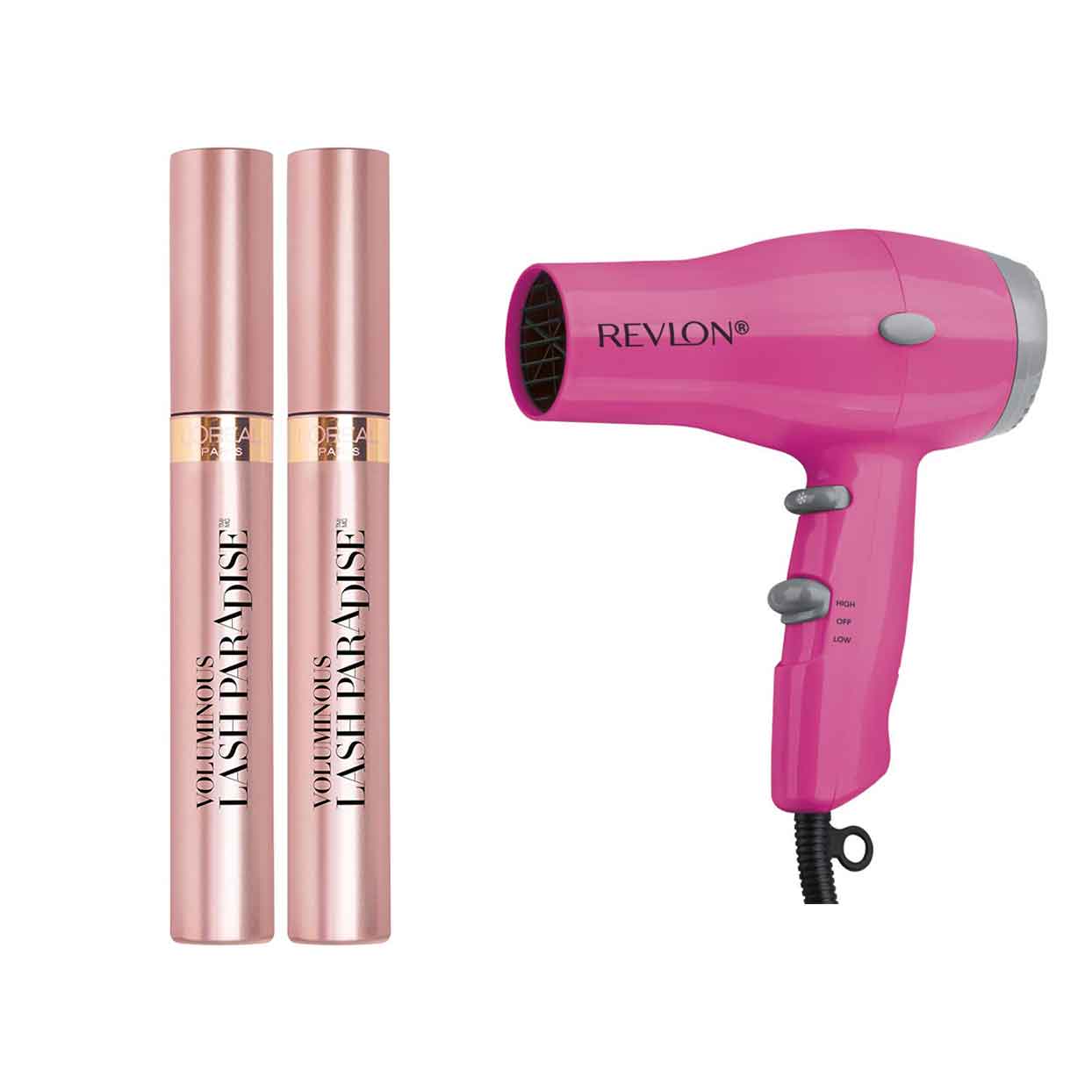 Shop It! L'Oréal Paris Voluminous Lash Paradise Mascara 2 Pack, $12.41 (orig. $19.98); amazon.com; Revlon Compact & Lightweight Ionic Hair Dryer, from $10.97 (orig. $13.99); amazon.com
Best Amazon 12 Days of Deals
[stylized_links related_links="%3Cp%3E%3Ca%20href%3D%22https%3A%2F%2Fwww.amazon.com%2FDyson-Supersonic-Fast-Drying-Complimentary-Attachments%2Fdp%2FB0825NF65Y%2Fref%3Das_li_ss_tl%3Fie%3DUTF8%26amp%3BlinkCode%3Dll1%26amp%3Btag%3Dhgbeauty12daysofdealscbutan1219-20%26amp%3BlinkId%3Dfae702d4d2af76145d343e7de610a6e7%26amp%3Blanguage%3Den_US%22%3EDyson%20Supersonic%20Hair%20Dryer%2C%20Gift%20Edition%3C%2Fa%3E%2C%20%24399.99%20with%20%2450%20Amazon%20gift%20card%3C%2Fp%3E%3Cp%3E%3Ca%20href%3D%22https%3A%2F%2Fwww.amazon.com%2FDyson-Airwrap-Complete-Multiple-Amazon-com%2Fdp%2FB0825NDPG8%2Fref%3Das_li_ss_tl%3Fie%3DUTF8%26amp%3BlinkCode%3Dll1%26amp%3Btag%3Dhgbeauty12daysofdealscbutan1219-20%26amp%3BlinkId%3D817e376d861a22d961341c7cf5518e44%26amp%3Blanguage%3Den_US%22%3EDyson%20Airwrap%20Complete%20Styler%3C%2Fa%3E%2C%20%24549.99%20with%20%2450%20Amazon%20gift%20card%26nbsp%3B%3C%2Fp%3E%3Cp%3E%3Ca%20href%3D%22https%3A%2F%2Fwww.amazon.com%2Fdp%2FB002ZTVMDI%2Fref%3Das_li_ss_tl%3Fie%3DUTF8%26amp%3BlinkCode%3Dll1%26amp%3Btag%3Dhgbeauty12daysofdealscbutan1219-20%26amp%3BlinkId%3D65dfa37fec47ccb3f31b961e090658bc%26amp%3Blanguage%3Den_US%22%3EMaybelline%20New%20York%20The%20Colossal%20Washable%20Mascara%3C%2Fa%3E%2C%20%243.01%20%28orig.%20%247.77%29%3C%2Fp%3E%3Cp%3E%3Ca%20href%3D%22https%3A%2F%2Fwww.amazon.com%2FMario-Badescu-Drying-Lotion-fl%2Fdp%2FB0017SWIU4%2Fref%3Das_li_ss_tl%3Fie%3DUTF8%26amp%3BlinkCode%3Dll1%26amp%3Btag%3Dhgbeauty12daysofdealscbutan1219-20%26amp%3BlinkId%3Daea95ef51d1a0ed9c8322d1f25f91c77%26amp%3Blanguage%3Den_US%22%3EMario%20Badescu%20Drying%20Lotion%3C%2Fa%3E%2C%20%2414.45%20%28orig.%20%2417%29%3C%2Fp%3E%3Cp%3E%3Ca%20href%3D%22https%3A%2F%2Fwww.amazon.com%2FNeutrogena-Anti-Residue-Non-Irritating-Clarifying-Build-Up%2Fdp%2FB005IHT8KI%2Fref%3Das_li_ss_tl%3Fie%3DUTF8%26amp%3BlinkCode%3Dll1%26amp%3Btag%3Dhgbeauty12daysofdealscbutan1219-20%26amp%3BlinkId%3Dc758067c90d8783334f2c2302b0d5e50%26amp%3Blanguage%3Den_US%22%3ENeutrogena%20Anti-Residue%20Shampoo%3C%2Fa%3E%2C%20%244.99%20%28orig.%20%249.25%29%3C%2Fp%3E%3Cp%3E%3Ca%20href%3D%22https%3A%2F%2Fwww.amazon.com%2FGarnier-SkinActive-Micellar-Cleansing-Water%2Fdp%2FB017PCGABI%2Fref%3Das_li_ss_tl%3Fie%3DUTF8%26amp%3BlinkCode%3Dll1%26amp%3Btag%3Dhgbeauty12daysofdealscbutan1219-20%26amp%3BlinkId%3Da81b7248425a487c404dce73f06a5611%26amp%3Blanguage%3Den_US%22%3EGarnier%20SkinActive%20Micellar%20Cleansing%20Water%3C%2Fa%3E%2C%20%245.99%20with%20coupon%20%28orig.%20%248.99%29%3C%2Fp%3E%3Cp%3E%3Ca%20href%3D%22https%3A%2F%2Fwww.amazon.com%2FBatiste-shampoo-original-300ml-10-10%2Fdp%2FB07MGZ6X2Q%2Fref%3Das_li_ss_tl%3Fie%3DUTF8%26amp%3BlinkCode%3Dll1%26amp%3Btag%3Dhgbeauty12daysofdealscbutan1219-20%26amp%3BlinkId%3D8ec6cf816d9cbc0f8aa68f655b7dccda%26amp%3Blanguage%3Den_US%22%3EBatiste%20Dry%20Shampoo%2C%20Original%3C%2Fa%3E%2C%20%246.99%20%28orig.%20%2410.99%29%3C%2Fp%3E%3Cp%3E%3Ca%20href%3D%22https%3A%2F%2Fwww.amazon.com%2FSeoul-Ceuticals-Korean-Skin-Care%2Fdp%2FB072K1LNNY%2Fref%3Das_li_ss_tl%3Fie%3DUTF8%26amp%3BlinkCode%3Dll1%26amp%3Btag%3Dhgbeauty12daysofdealscbutan1219-20%26amp%3BlinkId%3D2f4d9575429d589986692ad89be34d97%26amp%3Blanguage%3Den_US%22%3ESeoulCeuticals%20Day%20Glow%20Korean%20Serum%3C%2Fa%3E%2C%20%2416.99%20%28orig.%20%2439.95%29%3C%2Fp%3E%3Cp%3E%3Ca%20href%3D%22https%3A%2F%2Fwww.amazon.com%2Fdeal%2F3d25d592%2Fref%3Das_li_ss_tl%3Fie%3DUTF8%26amp%3BlinkCode%3Dll2%26amp%3Btag%3Dhgbeauty12daysofdealscbutan1219-20%26amp%3BlinkId%3D86cd76cb96e93eaca365a97a253a326b%26amp%3Blanguage%3Den_US%22%3ESave%2020%25%20on%20L%E2%80%99Or%C3%A9al%20Paris%20mascaras%3C%2Fa%3E%3C%2Fp%3E%3Cp%3E%3Ca%20href%3D%22https%3A%2F%2Fwww.amazon.com%2FProactiv-3-Step-Treatment-System-Starter%2Fdp%2FB00X6ZNWG0%2Fref%3Das_li_ss_tl%3Fie%3DUTF8%26amp%3BlinkCode%3Dll1%26amp%3Btag%3Dhgbeauty12daysofdealscbutan1219-20%26amp%3BlinkId%3D63560c28b1d0d789f67a7910132609f6%26amp%3Blanguage%3Den_US%22%3EProactiv%20Solution%203-Step%20Acne%20Treatment%20System%3C%2Fa%3E%2C%20%2424.50%20%28orig.%20%2434.95%29%3C%2Fp%3E%3Cp%3E%3Ca%20href%3D%22https%3A%2F%2Fwww.amazon.com%2FDERMAL-Collagen-Essence-Facial-Yellow%2Fdp%2FB0722LVW3B%2Fref%3Das_li_ss_tl%3Fie%3DUTF8%26amp%3BlinkCode%3Dll1%26amp%3Btag%3Dhgbeauty12daysofdealscbutan1219-20%26amp%3BlinkId%3D315d6097a302f56cddbce75b7d71b8c7%26amp%3Blanguage%3Den_US%22%3EDermal%2024%20Combo%20Pack%20Collagen%20Essence%20Sheet%20Mask%3C%2Fa%3E%2C%20%2411.89%20%28orig.%20%2413.99%29%3C%2Fp%3E%3Cp%3E%3Ca%20href%3D%22https%3A%2F%2Fwww.amazon.com%2FPaulas-Choice-RESIST-Super-Light-Matte-Finish-Moisturizer%2Fdp%2FB00EYVRX0Q%2Fref%3Das_li_ss_tl%3Fie%3DUTF8%26amp%3BlinkCode%3Dll1%26amp%3Btag%3Dhgbeauty12daysofdealscbutan1219-20%26amp%3BlinkId%3D51e9f268f6b53d80d7281d8da629a426%26amp%3Blanguage%3Den_US%22%3EPaula%E2%80%99s%20Choice%20RESIST%20Super-Light%20SPF%2030%20Matte%20Tinted%20Face%20Moisturizer%3C%2Fa%3E%2C%20%2428.05%20%28orig.%20%2433%29%3C%2Fp%3E%3Cp%3E%3Ca%20href%3D%22https%3A%2F%2Fwww.amazon.com%2FMario-Badescu-Vitamin-Serum-oz%2Fdp%2FB003L8RVZ0%2Fref%3Das_li_ss_tl%3Fie%3DUTF8%26amp%3BlinkCode%3Dll1%26amp%3Btag%3Dhgbeauty12daysofdealscbutan1219-20%26amp%3BlinkId%3Df026a2bf1335aeb8c3727f25b379bc25%26amp%3Blanguage%3Den_US%22%3EMario%20Badescu%20Vitamin%20C%20Serum%3C%2Fa%3E%2C%20%2438.25%20%28orig.%20%2445%29%3C%2Fp%3E%3Cp%3E%3Ca%20href%3D%22https%3A%2F%2Fwww.amazon.com%2Fdeal%2F502e6e14%2Fref%3Das_li_ss_tl%3Fie%3DUTF8%26amp%3BlinkCode%3Dll2%26amp%3Btag%3Dhgbeauty12daysofdealscbutan1219-20%26amp%3BlinkId%3Da3771b54d1c2d43e9325936d8e837528%26amp%3Blanguage%3Den_US%22%3ESave%20up%20to%2040%25%20on%20Aquaphor%2C%20Nivea%2C%20and%20Eucerin%3C%2Fa%3E%3C%2Fp%3E" /]