Everyone needs to read Amandla Stenberg's thoughts on black womanhood
Amandla Stenberg is the definition of black girl magic. The 17-year-old actress and activist is smart, talented, cool, and beautiful. She never fails to impress us with her wisdom when it comes to race and gender; and she is infinitely worthy of our love and admiration.
Lucky for us, Stenberg shows no signs of changing her ways anytime soon. In the most recent issue of Teen Vogue, Stenberg sat down with the equally swoon-worthy Solange Knowles to discuss how she's learned to love and embrace her blackness — and the resulting interview is the stuff that dreams are made of.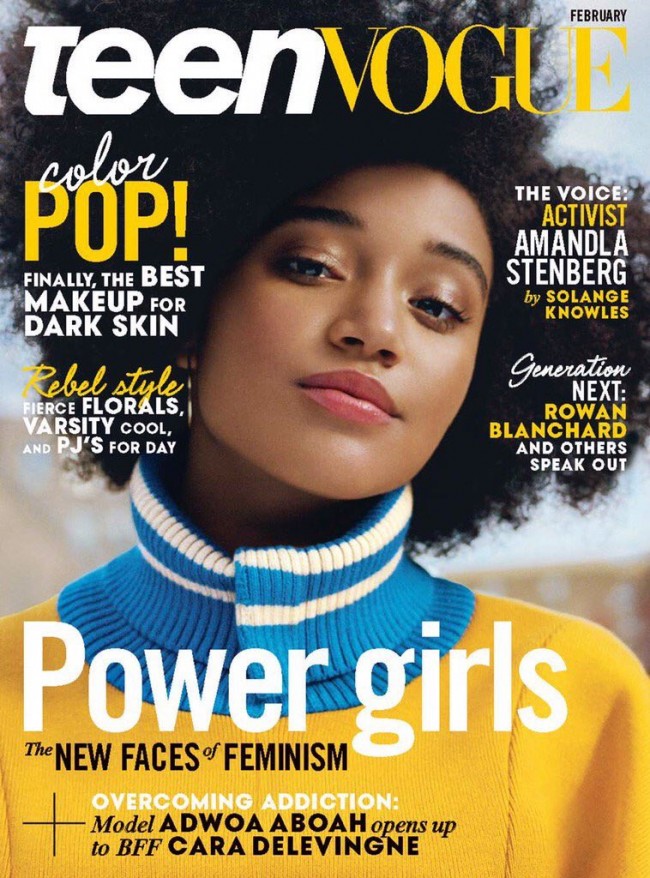 "It was when I was 12 and I got cast in The Hunger Games, and people called me the N-word and said that the death of my character, Rue, would be less sad because I was black," Stenberg told Knowles. "That was the first moment I realized being black was such a crucial part of my identity in terms of the way that I was perceived and how it would affect any line of work that I wanted to pursue."
As Solange writes in her profile of Stenberg, "There's a secret language shared among black girls who are destined to climb mountains and cross rivers in a world that tells us to belong to the valleys that surround us." Both women have overcome a world designed against them; and both have plenty to say about their experiences with race. For women of color — especially black and brown women — the ability to rise above deeply ingrained and systemic racism is its own kind of super power; and self-care and self-love an essential part of survival.
"I think that as a black girl you grow up internalizing all these messages that say you shouldn't accept your hair or your skin tone or your natural features, or that you shouldn't have a voice, or that you aren't smart," Stenberg told Knowles. "I feel like the only way to fight that is to just be yourself on the most genuine level and to connect with other black girls who are awakening and realizing that they've been trying to conform."
By refusing to conform to the narrative that is given to them, both women contribute to dismantling outdated, damaging stereotypes. To embrace your blackness is still considered a "radical" act of self-love, and one that is all too necessary for women of color. By continuously acknowledging and lifting up this crucial part of her identity rather than seeking to deny it, Stenberg continues to be one of the most important voices for young women and young people of color everywhere — and we love her for it.
For the rest of the must-read interview — including Stenberg's thoughts on friendship, girl power, and comic books — you can head over to Teen Vogue right here.
(Images via Shutterstock, Teen Vogue.)
Amandla Stenberg is an actress, activist, and now, comic book writer
Amandla Stenberg is taking an awesome stand for women in STEM