Amandla Stenberg just came out, and opened up about her "Big Gay Sob moments"
In a new interview with Wonderland, Amandla Stenberg revealed that she is gay. Channeling her inner Ellen DeGeneres, the actress kicked off the interview with a reference to the comedian's famous Time magazine cover, telling singer King Princess, "Yep, I'm gay."
The Everything, Everything actress, who previously came out as bisexual in a Teen Vogue Snapchat interview, opened up about now fully understanding her sexuality, and said that while emotional — in a way that brought "joyful and overwhelmed sobs" — realizing that she is gay has given her a "profound sense of relief."
"I had a few big Gay Sob moments when I realized I was gay," Stenberg said. "One might assume that they were mournful sobs, but actually quite the opposite in my lived experience. They were joyful and overwhelmed sobs – socialization is a bitch and a half and kept me from understanding and living my truth for a while. I was so overcome with this profound sense of relief when I realized that I'm gay – not bi, not pan, but gay – with a romantic love for women."
The Hunger Games actress added that understanding she is gay provides clarity about the years she struggled with her sexuality growing up. She said, "I was flooded with a sense of calm and peace because everything that I struggled with or felt discomfort around finally made sense to me, and once those floodgates opened and years of pent up pain and shame were released, I found the freedom to live my best life waiting for me just underneath."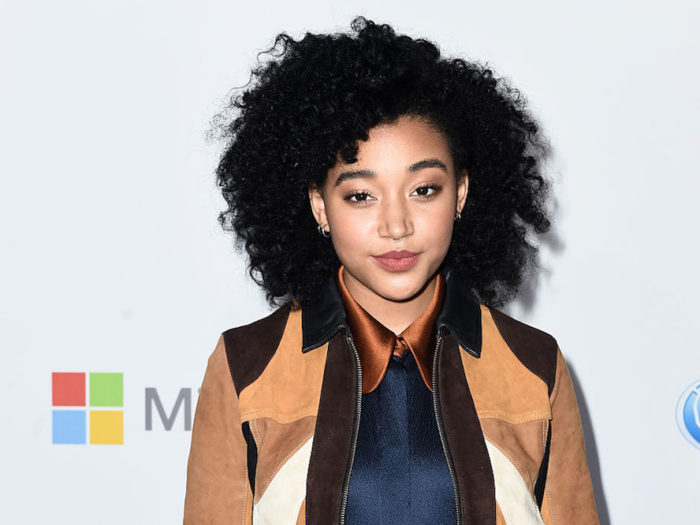 While Stenberg is "grateful" to now understand her sexual identity as a black gay woman, she told King Princess that she likely would have come out earlier if there'd been more representation of black gay women on-screen.
She continued, "Had I had more representations of black gay women growing up I probably would've come to conclusions around my sexuality much earlier because I would've had more of a conception of what was possible and okay. Having more representations of black gay women now and seeing myself reflected in them has been a huge aid in seeing myself as whole, complete, and normal."
Stenberg took to Instagram to celebrate the interview, sharing, "So happy to say the words Yep, I'm Gay in official print."
https://www.instagram.com/p/BkGrwx4hlyJ
In the beautifully honest interview, the actress also opened up about Mila Kunis being her first crush, the queer icons that inspire her, and The Hate U Give to life. Read the rest of Stenberg's Wonderland interview here.