This is how Amandla Stenberg embraced her natural hair
In a recent interview with Glamour, actress, advocate, and queer woman of color Amandla Stenberg opened up about what it was like to come to love her hair. The result was a moving and important illustration proving that we need a cultural shift so that people with natural hair of all types are able to see themselves, and their hair, represented in a positive light.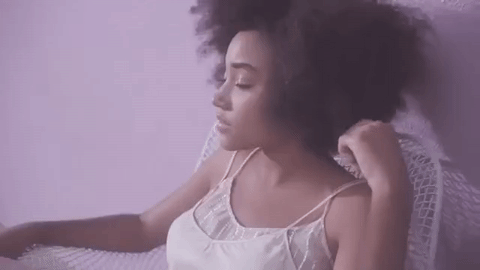 For black women, coming to learn your natural hair is a process. Because we live in a society where straight hair is seen as beautiful, it can be so difficult to love hair that is kinky, curly, or an afro. But it's not just about beauty—straight hair is privileged in a number of ways, from being seen as inherently professional (with black hair being seen as distracting and unprofessional), neat (with black hair being seen as unclean), and manageable (with black hair being seen as a disaster).
The rise of social media gave voice to marginalized communities in a way that wasn't available before, and the pushback from black women grew loud until it became obvious that we needed to shift the way we were talking about our natural hair. We wanted representation that would show that our hair was just fine the way it was. People like Amandla have played a huge role in this movement by being vocal about how they came to not just be alright with, but *love* their hair.
So how did Amandla learn to love her hair?
"I've gone through so many different hair stages. My first stage was when I was younger, and I thought my hair was too big, so I always kept it in this giant poof on top of my head. I wasn't that great at doing ponytails, and so it was always really messy."
Attempting to hide their hair is something many black women have experience with, as black hair is shamed from an early age.
https://www.instagram.com/p/BHfuxrdjE3D
"After that, as I kind of hit puberty and went to middle school and everything, I started doing things to make it smaller and straighter. I got Keratin treatments, and then I had bangs that I straightened every day. It was awful. It was like frying the front part of my hair off."
Everything from Keratin treatments, to relaxers, to hot combs are used to re-shape and straighten black women's natural hair, and while this is a totally empowering move for some women, for others, it feels suffocating and really damages self esteem.
https://www.instagram.com/p/BHFogyDjMJJ
"I came to the realization that I—because of the internet honestly, because of seeing people on the internet post pictures with their natural hair, I realized like, 'Oh, wait, this is actually so cool. Why have I been fighting this component of myself for so long?'"
We just love this powerful moment in Amandla's life. It's proof that the internet does make a *real* difference in how we think about ourselves.
https://www.instagram.com/p/BG15o7nm1dH
"And so I chopped it all off and slowly grew it back in its natural state, and now I love it. And I still have moments once in a while where I feel the need to conform, but that's also not really my—those are not my original ideas, like I don't really feel that inside."
The "Big Chop" is super common in the black community, and is a way of starting from scratch.
https://www.instagram.com/p/BC1v7IWG1bO
"It's just when you look around and you see people with straight hair in media, you kind of feel the need to fit in, so it's kind of a constant battle loving my hair. It's something that I'm continuously working on."
Mainstream media really needs to think about how it portrays, and discusses, black hair. Clearly it has real impact, as Amandla explained in this vulnerable moment.
https://www.instagram.com/p/BDwD-uQm1da