10 Powerful Lines From Amanda Gorman's Inauguration Poem
"Even as we grieved, we grew...Even as we hurt, we hoped."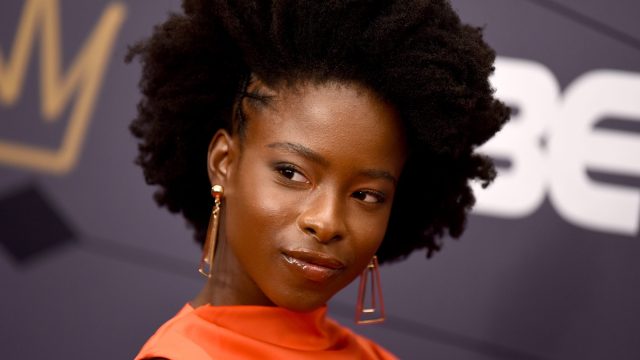 After President Joe Biden and Vice President Kamala Harris were sworn in as president and vice president of the United States earlier today, January 20th, Amanda Gorman took to the podium and recited her poem "The Hill We Climb." Gorman, who is the youngest inaugural poet to join the ranks of Maya Angelou, Miller Williams, Robert Frost, Richard Blanco, and Elizabeth Alexander, delivered a powerful anthem that hammered the final nail in Donald Trump's disastrous presidency and inspired hope for the next four years in all who watched.
We've learned that quiet isn't always peace, Gorman recited. And the norms and notions of 'what just is' isn't always 'justice.'
Gorman, 22, became the U.S.'s first Youth Poet Laureate at just 19 while in her sophomore year at Harvard University. Her ability to create a feeling of unity whilst reminding us of the past America we must never forget is truly astounding. We've come so far, yet have so far to go.
"Somehow we've weathered and witnessed a nation that isn't broken, but simply unfinished," she recited at the inauguration. "We, the successors of a country and time where a skinny Black girl descended from slaves and raised by a single mother can dream of becoming president only to find herself reciting for one."
According to The New York Times, Gorman finished "The Hill We Climb" after witnessing the Capitol riots on January 6th. "I'm not going to in any way gloss over what we've seen over the past few weeks and, dare I say, the past few years," she told the Times. "But what I really aspire to do in the poem is to be able to use my words to envision a way in which our country can still come together and can still heal. It's doing that in a way that is not erasing or neglecting the harsh truths I think America needs to reconcile with."
"That even as we grieved, we grew. That even as we hurt, we hoped. That even as we tired, we tried," she continued at the podium. "Being American is being more than a pride we inherit. It's the past we step into and how we repair it. We've seen a force that would shatter our nation rather than share it. Would destroy our country if it meant delaying democracy."
Gorman, who became the Youth Poet Laureate of Los Angeles at just 16 years old, will publish her first book of poetry, also called The Hill We Climb, in September of this year.
"While democracy can be periodically delayed, it can never be permanently defeated," she recited at the inauguration. "We will not march back to what was but move to what shall be. A country that is bruised, but whole, benevolent, but bold, fierce and free."
The poem continues, "If we merge mercy with might and might with right, then love becomes our legacy and change our children's birthright."
"We have to confront these realities if we're going to move forward, so that's also an important touchstone of the poem," she told the Times. "There is space for grief and horror and hope and unity, and I also hope that there is a breath for joy in the poem, because I do think we have a lot to celebrate at this inauguration."
Gorman's conclusion to the poem is a call to action for every American. "We will raise this wounded world into a wondrous one…There is always light, if only we're brave enough to see it. If only we're brave enough to be it."