Amal Clooney was pure Old Hollywood glamour at her first red carpet event since giving birth
The time it takes to recuperate after giving birth to twins is bound to be substantial, but you wouldn't know it from seeing Amal Clooney on the red carpet this weekend. The 39-year-old human rights lawyer made her first appearance with hubby George since giving birth to twins back in June, and she looked sensational. The couple was out and about for the Venice Film Festival, where George's new Coen brothers collaboration, Suburbicon, premiered, and Amal was Old Hollywood glamour from head to toe.
While the couple was technically there to celebrate George's latest venture, Amal and her impeccable style stole the show. And though we can't wait to see the Clooney twins, Alexander and Ella, for the first time, seeing Amal looking as enchanting as ever is the next best thing.
Because really, look at this dress.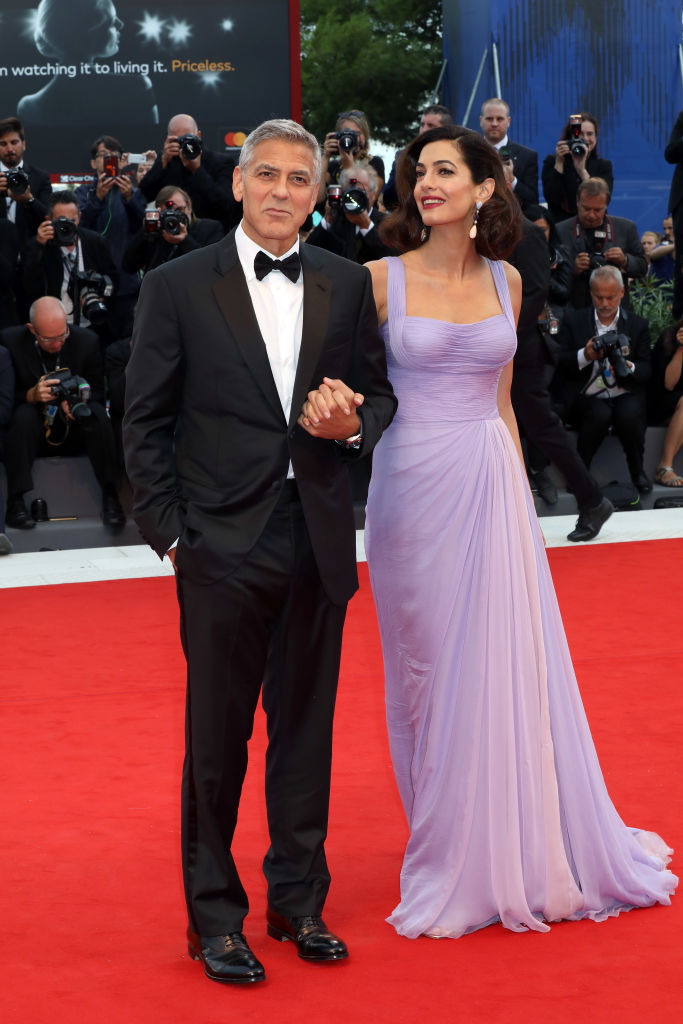 Stunning, right? Her lilac dress is by Atelier Versace, which, according to Vogue, is a favorite of Mrs. Clooney's. Beauty-wise, Clooney's hair was in a sleek faux-bob and her earrings, made of jade and sapphire, were by Lorraine Schwartz.
The entire look is to die for.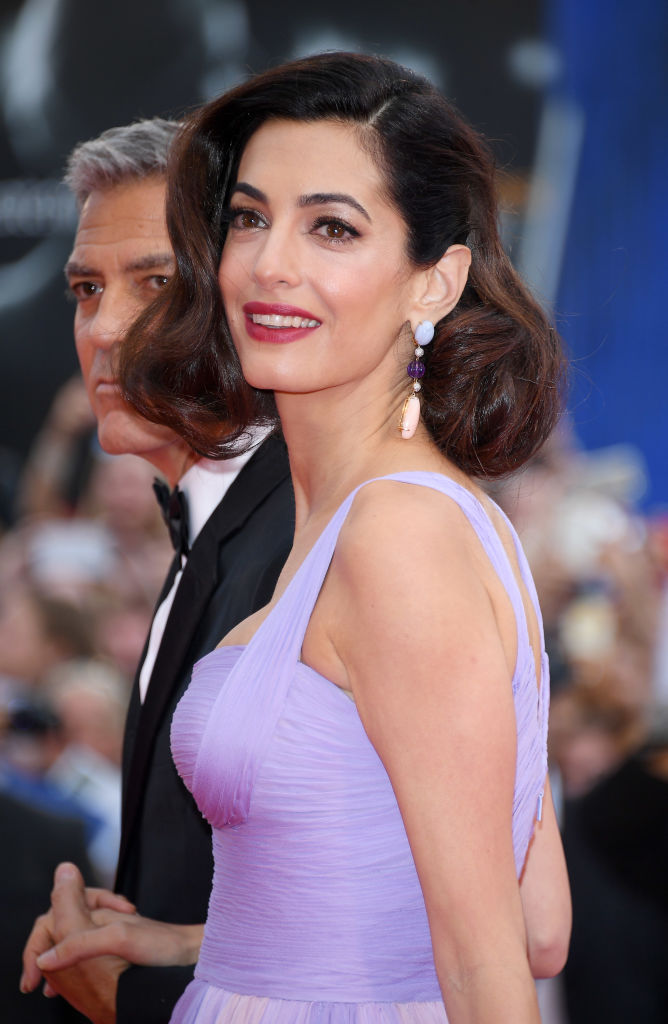 The night before Saturday's premiere, the Clooneys went out for a fancy dinner for which Amal also dressed in vintage glamour, donning a blue Missoni gown that had a flapper-style tiered skirt.
Makeup artist Charlotte Tilbury joined the sophisticated couple and posted a picture on Instagram, lauding Amal for her beauty — how could you not?
According to Instagram, celeb hairstylist Rod Ortega was there throughout the weekend to style Amal's hair into the stunning retro looks.
Of course, Tilbury was providing makeup help as well. It was an all-around A-List team helping Amal with her Venice looks. Clearly, stylists like Ortega enjoy working with the lawyer, as it seems she likes to have fun with embracing different styles of decades past.
Ortega even posted an Instagram with his style inspo for Amal's hair.
The stylist used 1960s Italian icon Gina Lollobrigida as a model for Clooney's hair, and he nailed it.
Let's give the lilac Versace gown one more look, though, because it's the epitome of elegance.
We wouldn't expect anything less from Amal!