Amal got George Clooney the most impressive birthday cake we've ever seen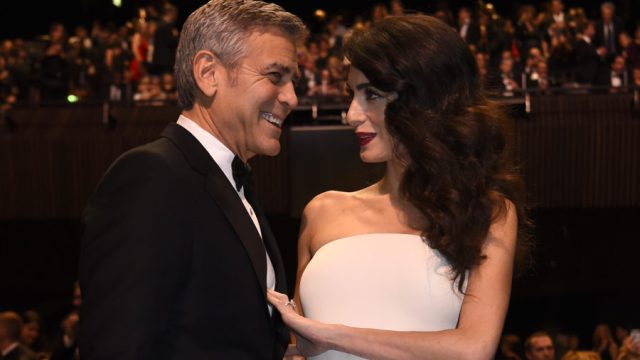 George Clooney celebrated his 56th birthday earlier this week, and wife Amal surprised George with the coolest birthday cake ever at a surprise birthday party. Guys, we're not kidding with this one — it's insane.
Amal threw George a surprise birthday party with the help of George's friends, Cindy Crawford and Rande Gerber, and the star-studded affair was nothing compared to the incredible birthday cake — designed by Amal herself.
Rande and George own the tequila company Casamigos Tequila, and the birthday cake paid plenty of homage to their tequila brand, featuring a stocked tequila bar and George and Rande serving up drinks. We've pretty much never seen anything like this.
The party was a joint celebration for George and Rande, who are born less than two weeks apart from each other. The cake shows an intricate beachfront bar with replicas of the two pals at the helm, featuring tequila barrels and palm trees. A source told Page Six, "The cake came with little bottles, barrels, drink menu, bar mats. Every detail was incredible. Then they ate it! Amal set it all up, and Rande and Cindy surprised him when he got home."
This cake is a pure work of art, and the level of detail is truly impressive. Here's hoping that George and Rande had an amazing time at their surprise celebration, and that they snapped plenty of photos before diving into that cake. Happy birthday, you two!