Let's talk about the beautiful turban Amal Clooney wore to meet the Pope
Amal Clooney and Pope Francis have a lot more in common than you'd think. They both care deeply about human rights and they both think highly of Clooney's husband, George.
On Sunday, the Clooneys attended the Un Muro o Un Ponte Seminary at Paul VI Hall, so George could receive a medal for his work with Scholas Occurrentes, which, according to People, is an "International Organization of Pontifical Right that connects technology with arts and sports."
Amal, who has yet to not look her best, wore a stylish black pillbox turban and a staid, but ultimately lovely black Atelier Versace dress (how Italian!) with elbow length sleeves to the ceremony. While there is so much to celebrate here, the Pope(!), humanitarian awards (!), what we're going to focus on today is fashion.  Just look at this chic turban and tell us you aren't inspired to rock one too.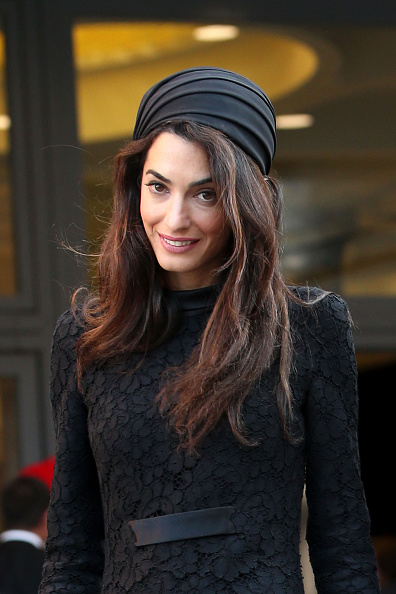 For what it's worth, if you're looking for some affordable fashion turbans in your life, allow us to recommend the selection at Asos. Thanks for the fashion inspo, Amal.