Alyssa Milano just stood her ground in an awesome way to support mothers' rights to breastfeed in public
Can we just talk about how much we heart Alyssa Milano for a second? And not just because of her roles in Who's the Boss and Charmed, although that certainly doesn't hurt anything. Alyssa is a major advocate for breastfeeding and women's rights, and she's posted selfies while she's breastfeeding her two children, Milo and Elizabella — not only to express her joy and love for her children, but to support the normalization and acceptance of breastfeeding in public.
Over the past two weeks, she's been facing a lot of criticism after posting one of these beautiful pictures, celebrating 16 months of breastfeeding Elizabella. "It's been one of the greatest joys in my life to breastfeed my babies," It's been one of the greatest joys in my life to breastfeed my babies, she wrote in the caption, hashtagging it #normalizebreastfeeding.">she wrote in the caption, hashtagging the post #normalizebreastfeeding.
But nothing — including criticism and backlash — will stop Alyssa from standing up for women and mothers. That's exactly what she proved once again this week when she awesomely schooled Wendy Williams. . . on her own show.
It started off innocently enough when Wendy asked Alyssa how she felt about the criticism surrounding her Instagram post. "I was surprised by the reaction, and I was surprised that I was then put in this position of being like a breastfeeding advocate, which I take that job with a lot of responsibility," Alyssa responded. "But yeah, it was kind of shocking that we were that sort of opinionated about something that's supposed to be so incredibly natural."
And then, Wendy dropped the bomb: She has a problem with Alyssa's posts, and with public breastfeeding in general. "I don't need to see that. . . I just don't want to," she told Alyssa. She went on to say that she would hide in the car to feed her baby.
"Now I have a question for you," Alyssa said calmly. "Why is it OK to show that picture of Miley Cyrus with two suspenders over her breasts?" And before she could even finish, the crowd burst into applause as Wendy spluttered. However, Wendy still wasn't backing down; she went on to call breasts "sexual things" and "funbags."
But Alyssa had the perfect response. "All over the world, you're the not-norm," she said. ". . . You're lucky the baby's not here. I'd whip 'em out right here and feed 'em on your show."
YAAAAS QUEEN. Wendy was pretty mortified: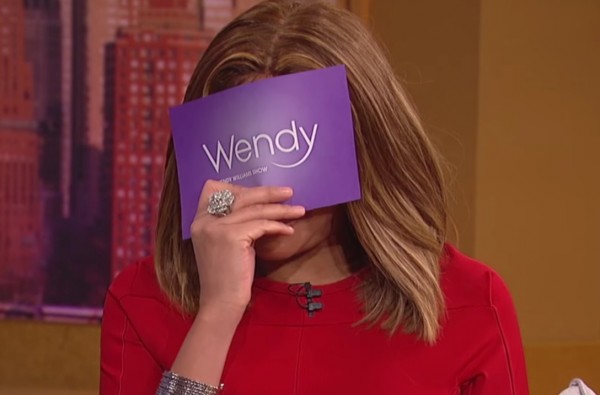 And for a second, it seemed as though Wendy's mind may have been changed when she admitted that she knows it's her own issue, but that it "makes me very uncomfortable." However, though this seemed to be progress, Wendy abruptly changed the subject. . . to talk about what another woman should do with her body. Specifically, Ice T's wife, Coco, who is dressed "very sexually." Sigh.
Check out the full clip below. Thanks, Alyssa, for standing up for what's right, time and time again.
https://www.youtube.com/watch?v=WuSyBxzEjA0
(Images via Instagram, YouTube.)