5 important life lessons I learned from camping with drag queen Alyssa Edwards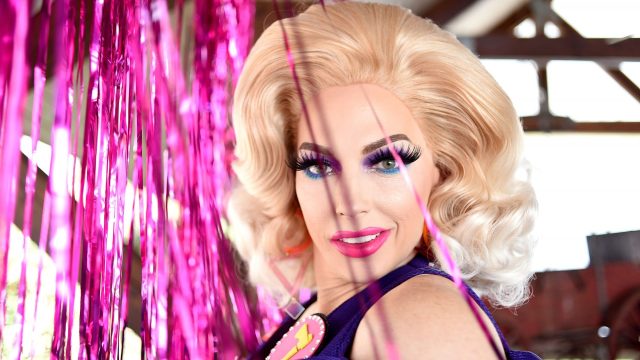 Camping isn't my cup of tea. Some thrive in the great outdoors, but I usually end up grumpy, sweaty, and covered in mosquito bites. However, last month's Camp Tazo experience in Marble Falls, Texas—where I camped out with RuPaul's Drag Race contestant and Dancing Queen star Alyssa Edwards—was all about the unexpected. And to my surprise, the getaway made me feel fabulous, confident, and more myself than I have in a while. In short, it was unlike any camp I've ever attended.
Last year, it was announced that the iconic tongue popper would be taking on a new role as a counselor at Camp Tazo, a one-weekend-only event hosted by the popular tea brand. Once word got out about the camp, 5,000 people from all over the country applied to attend, but only 30 were chosen to join the exciting weekend. We know what you're thinking: a group of strangers in the woods, what could possibly go wrong?
The answer is absolutely nothing, because there wasn't an ounce of negative energy on site. Instead, genuine support, friendship, and acceptance radiated among us, which nurtured an environment of growth. I left extremely encouraged, and ready for whatever the world had to throw at me. It's mind-blowing what a few days of true #goodvibesonly can do for your spirit.
"I grew up in a time when I didn't have a space like this where I could say, 'Look, I know I'm different, but I don't know how to change this,'" Edwards told HelloGiggles. "Tazo is all inclusive—they got a little bit of everything here and we all mesh well together."
I learned a lot from Edwards—hopefully my life-changing experiences at camp will make you feel as good as I did.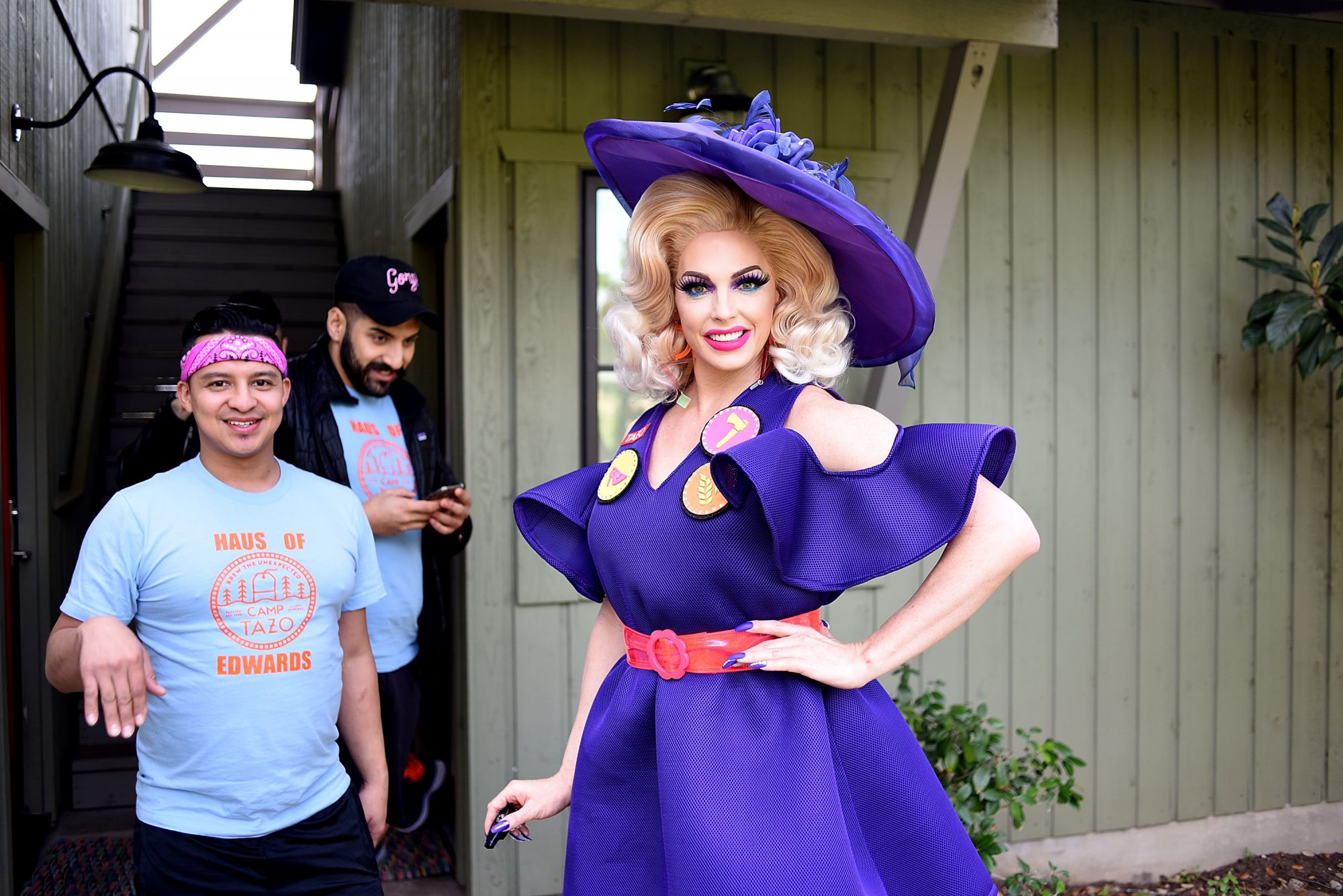 Don't worry, be happy.
Even though the goal of the camp was to get us to step outside of our comfort zones, there was never any pressure to participate in anything. Because of that, I naturally gravitated towards what made me happy—and it made me realize that joy should always be my end goal. "It's okay to be who you were designed to be," Edwards told me. "I hope everyone left with a positive experience and maybe they even learned more about themselves."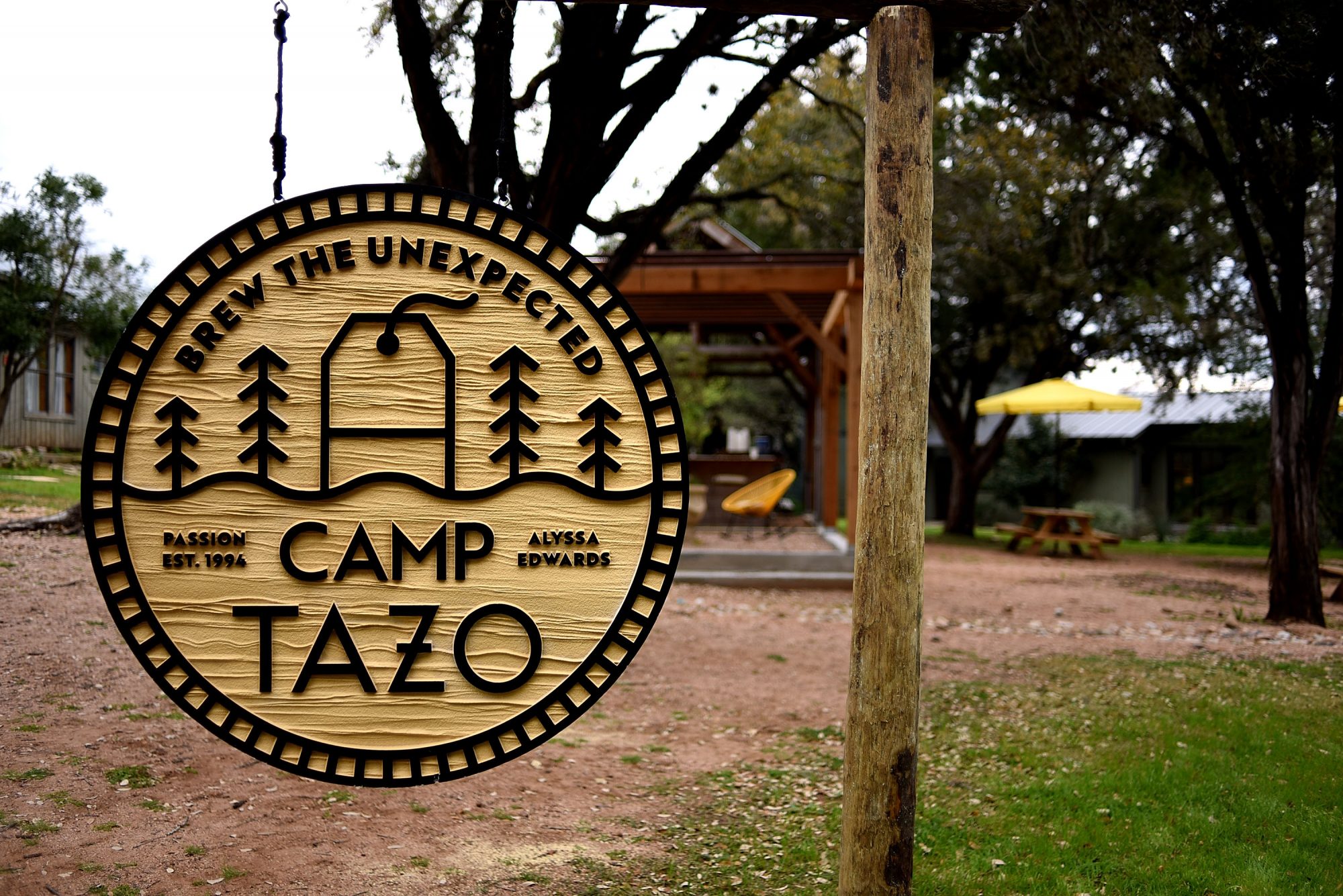 Pronouns, pronouns, pronouns.
Every camper was either part of the LGBTQ community or an ally (like myself). And I knew when I arrived that I had been in my own bubble for too long when I didn't ask people for their preferred pronouns. At a place that was so progressive and accepting of me, I wanted everyone to feel as safe and themselves as I did.
Early on at camp, I defaulted to addressing someone with the wrong pronoun. I only found out during the official meet-and-greet that I was referring to her in the wrong way the entire time. She never pulled me aside or even got upset, but of course, I felt awful and simply learned the proper way to speak to her. This was a humbling moment that I will never forget.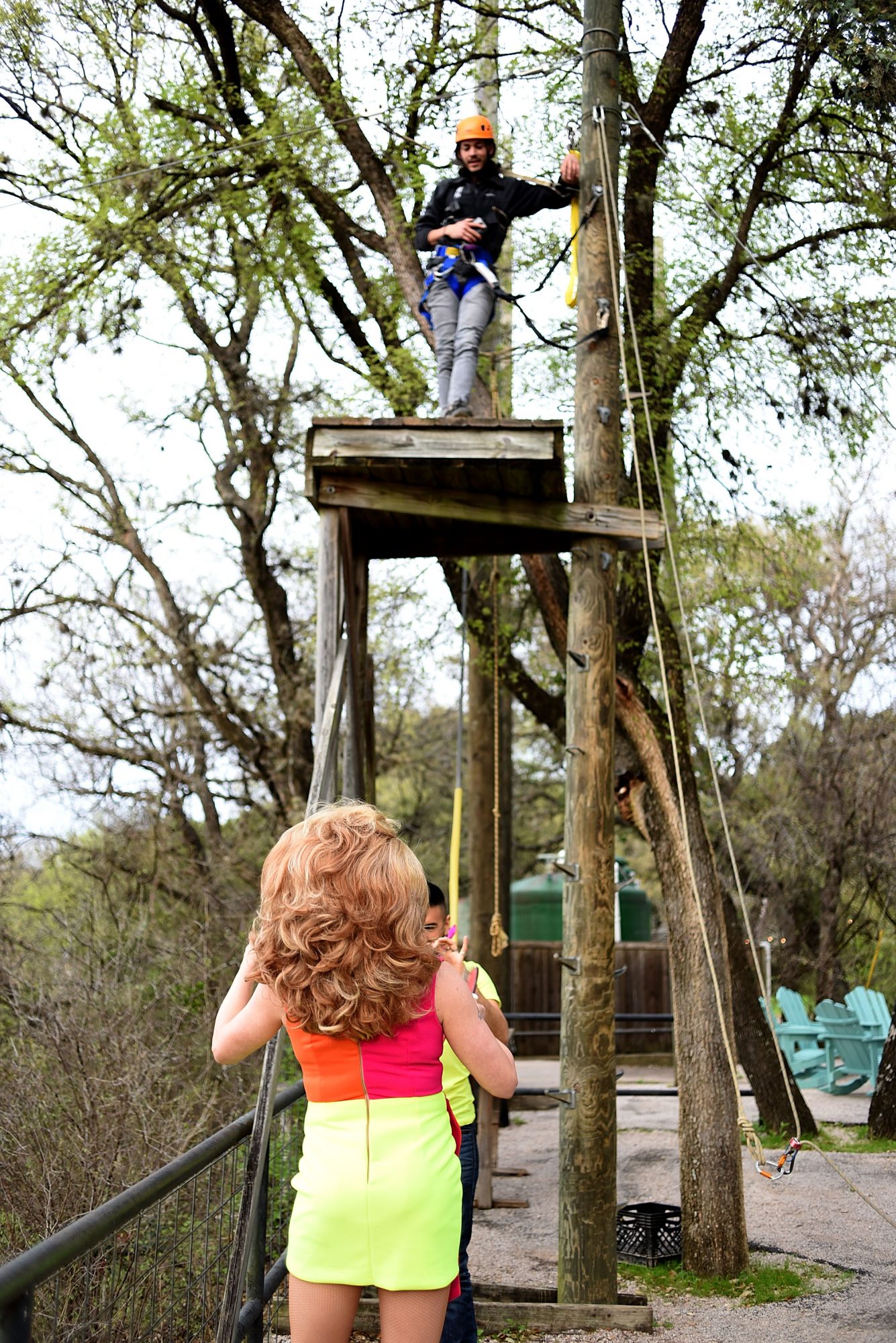 I don't need alcohol to be social.
Whether it's a work event or a hangout with friends, I never think twice about grabbing a cocktail at social gatherings. Camp Tazo was a completely dry weekend, and while the thought of interacting with strangers sober made me nervous at first, I realized that I don't need to be so dependent on alcohol to have fun. In fact, we were told to skip the small talk and ask meaningful questions right away. I don't know why I never thought of this before! It resulted in more thrilling and memorable conversations than I'd usually have without the unnecessary side effects of your standard liquid boost.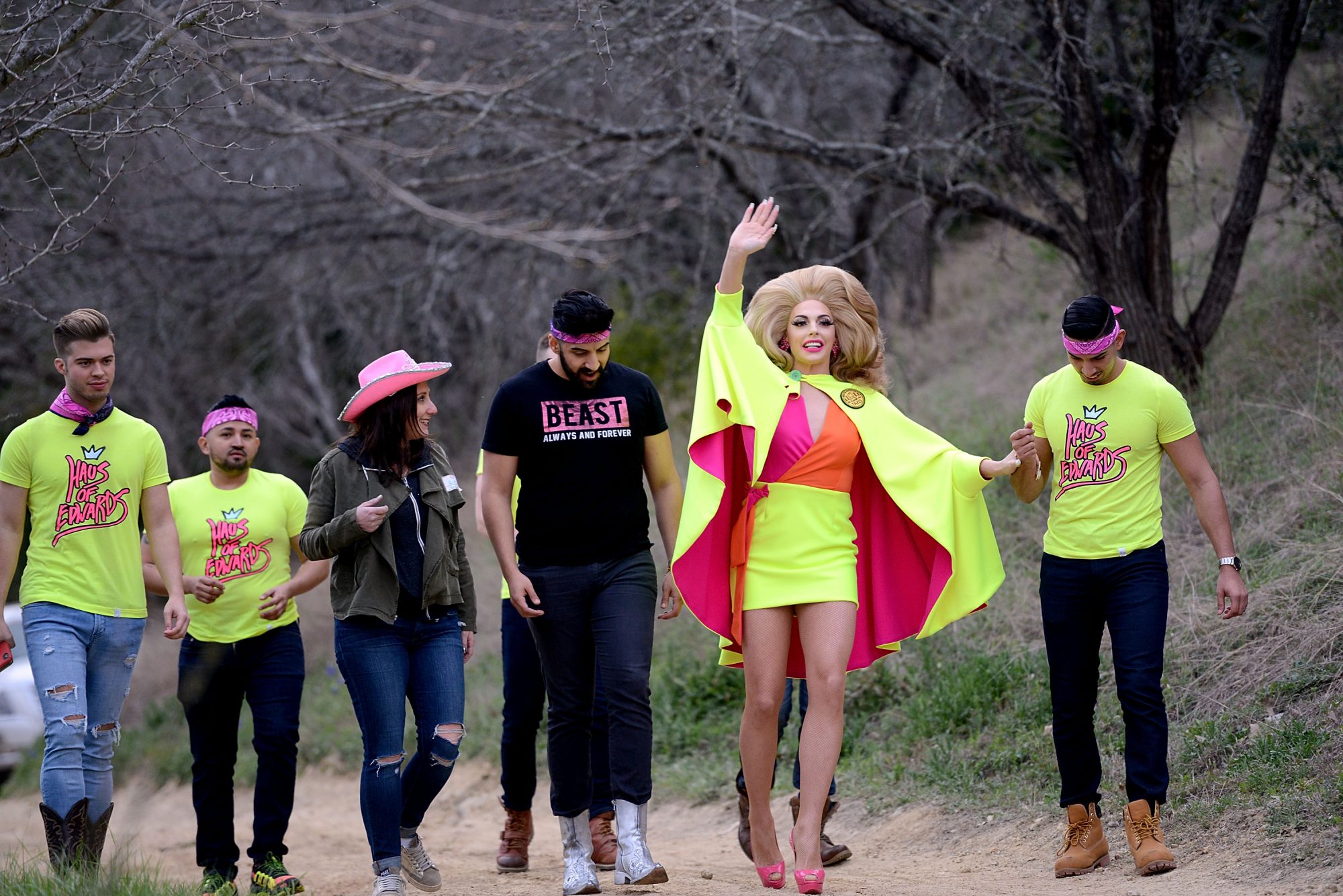 Take a chance.
"You only live once," Edwards said. Since this was no ordinary camp, it included an unconventional itinerary that got me to do an improv performance in front of the entire camp. I didn't have any idea what I was doing, but that was half the fun. You know what they say, you never know until you try. I chased that feeling throughout camp and ended up saying yes to everything—and it paid off.
For Edwards, the thing that really got her out of her comfort zone was ziplining. "I'm terrified of heights, and I'm in full drag," she recalled. "I'm climbing this 10-foot pole, breaking my nails, and I'm like, 'Oh gosh.' Then, they left the best part out that I'm ziplining over the river. I said, 'I don't know if this is a grand entrance—this could be the grand finale.' But it was so rewarding."
She went on to say that there's no reason to let any golden moment pass you by. "You get one opportunity at this thing called life—seize the opportunity," Edwards said. "Go for it, because you want to look back one day and be like, 'I did that. I lived it, I touched, I experienced the extraordinary. I experienced the uncertainty. I made memories.'"
Love yourself.
My favorite part of the weekend was during the initial camp fire session. We were asked to find something to throw into the flames that represented something we wanted to let go of in our lives. I found a stick, and it stood for all my insecurities. It's 2019, and I told myself right then that this was going to be my year. Better late than never, right?
This was exactly Edwards' mission for camp. She described her own experience with Justin Dwayne Lee Johnson, the man behind her drag. "Justin might have been a shy guy, but when I put on that wig, really every fear, every insecurity, and every doubt diminished," she previously explained to HG. "Opening up really helped me grow, and I think that I want all the campers to not only leave with a sense of, 'Oh, that was a hoot'—I want them to leave with the same motivation that I used to leave camp with. That excitement of knowing you can conquer the world."