Disney Channel actress Alyson Stoner penned a moving essay about embracing her sexuality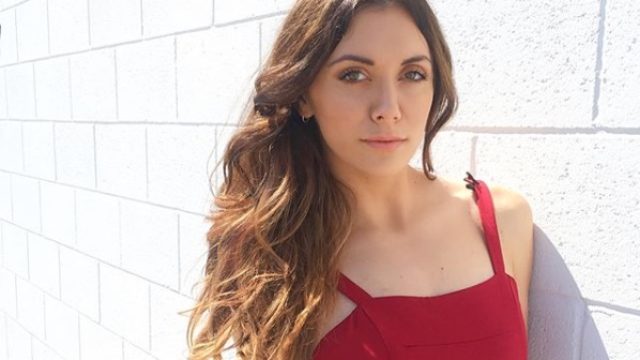 We always knew Alyson Stoner was cool. Remember the Missy Elliott video Stoner danced in as a kid? Now we know she's a great writer too. The former Disney Channel actress, best known for playing a budding music producer in the Camp Rock franchise, wrote a seriously powerful essay for Teen Vogue about how she discovered she was attracted to women.
The piece is called "How I Embraced My Sexual Identity." In it, Stoner goes in-depth about falling in love with a female dance instructor and how it changed her life. She's open about the difficult process of coming to terms with her sexual identity, the "harmful beliefs and misconceptions about LGBTQ people and identities" she'd internalized, and how breaking down those prior beliefs was no easy task.
"At the time, I thought, 'Maybe it's because I moved away from my father as a child and didn't have typical male guidance in my life. Maybe it's because I've experienced abuse from men and therefore I'm scared of intimacy with them (and in general),'" Stoner wrote. "'Maybe it's because open sexuality is prevalent in my artistic community and I subconsciously just want to fit in. Maybe I actually want to be her, and I'm mistaking idolization for romance. Anything besides being gay, please!'"
Stoner also described her struggle with her Christian faith and how that faith changed as she learned more about herself.
She also managed to touch on a whole realm of struggles LGBTQ people face.
"Some people in the industry warned me that I'd ruin my career, miss out on possible jobs. And potentially put my life in danger if I ever came out. My dream and all I'd worked tirelessly for since the age of 6 was suddenly at risk by my being...true to myself."
https://www.instagram.com/p/BguO2UCAVgW
The essay is ultimately a really thoughtful look into Stoner's journey to self-acceptance.
"I, Alyson, am attracted to men, women, and people who identify in other ways," she writes. "I can love people of every gender identity and expression. It is the soul that captivates me. It is the love we can build and the goodness we can contribute to the world by supporting each other's best journeys."
https://www.instagram.com/p/Bg9dHlIAyrS
Not only do we get to read Stoner's impassioned words, we can also listen to her new music. She recently dropped a new single, called "When It's Right," that we can already tell is going to be an LGBTQ pop anthem.