Aly Raisman wants USA Gymnastics to do better in response to this sex abuse scandal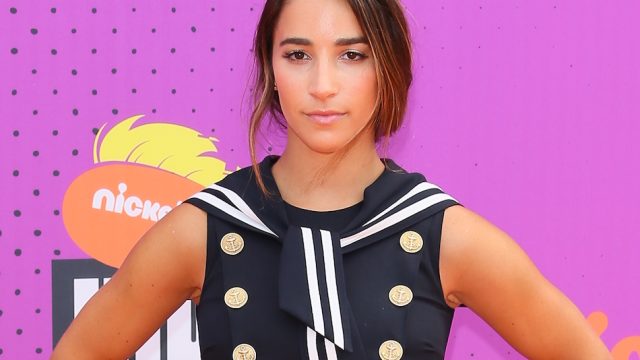 While gymnast Aly Raisman could have been basking in the afterglow of being inducted into the USA Gymnastics Hall of Fame on Saturday, August 19th, she instead used this time to address a major scandal surrounding USA Gymnastics. After her induction with the rest of the Final Five — Simone Biles, Gabby Douglas, Laurie Hernandez, and Madison Kocian — Raisman discussed the allegations of sexual abuse against former Team USA doctor Larry Nassar. And she feels like USA Gymnastics needs to take a greater stance against these alleged assaults.
Raisman was the team captain for both the Final Five, who won the women's all-around gold medal at the 2016 Olympics in Rio de Janeiro, and the Fierce Five, who won the women's all-around gold medal at the 2012 Olympics in London.
As a leader for Team USA Gymnastics, it should be no surprise that the six-time Olympic medal-winning gymnast is speaking up about Nassar, whom she called a "monster" in a press interview after the Hall of Fame induction.
Nassar was an osteopath with the USA Gymnastics program for nearly 30 years and is in jail after pleading guilty to three counts of child pornography in July 2017. If that weren't horrifying enough, he is being sued by more than 125 women who claim he sexually assaulted them while treating them, and he is awaiting trial for separate criminal sexual conduct charges.
Raisman is not pleased with how USA Gymnastics has handled the scandal and accused the organization of spending too much time trying to "sweep it under the rug."
"I feel like there's a lot of articles about it, but nobody has said, 'This is horrible, this is what we're doing to change,'" Raisman said.
"What people don't realize is that this doctor was a doctor for 29 years," Raisman continued. "Whether or not he did it to a gymnast, they still knew him. Even if he didn't do it to you, it's still the trauma and the anxiety of wondering what could have happened. I think that needs to be addressed. These girls, they should be comfortable going to USA Gymnastics and saying: 'I need help, I want therapy. I need this.'"
Raisman would not discuss in the interview if Nassar had ever inappropriately treated her, but that didn't stop her from speaking up for other gymnasts.
"Everyone is important," Raisman said. "It doesn't matter if you're the Olympic champion or you're an 8-year-old that goes to gymnastics in Ohio, or wherever you are in the U.S. Every single kid is important and I want USA Gymnastics to do a better job with that."
While the allegations against Nassar are heinous, 23-year-old Raisman is continuing to prove what an amazing role model she is by calling out the organization that she has been a part of for not doing enough to support the gymnastics community. And we need more people involved in USA Gymnastics to be like Raisman and stand up to bring justice to everyone who was impacted by Nassar's crimes.