7 empowering moments from Aly Raisman's testimony against Larry Nassar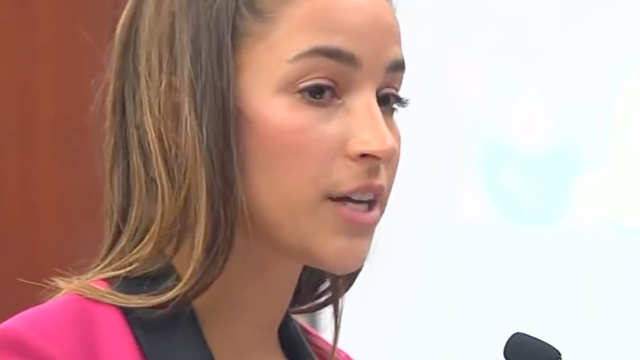 On Friday, January 19th, Olympic gymnast Aly Raisman gave the testimony of a lifetime while facing her abuser Larry Nassar. Nassar, the former doctor for the U.S. Olympics gymnastics team, has pleaded guilty to molesting 10 girls. Though around 150 women have accused Nassar of committing sexual assault, according to Vox. Those accusers include Raisman's Olympic teammates Simone Biles, Gabby Douglas, and McKayla Maroney. The huge scale of Nassar's alleged abuse is shocking and heartbreaking. But Aly Raisman continues to take a stand and make her voice heard.
Now that Nassar has pleaded guilty to a fraction of his alleged crimes, over 100 women plan to face him and testify against him in court. This includes Aly Raisman, whose speech not only expressed her bitter vehemence toward Nassar but for the USA Gymnastics and Olympics organizations as well.
Aly Raisman's speech has gone viral, and for good reason too. Her words not only eloquently described how disgraceful Nassar's calculated manipulation of power was, but they also demonstrated how fearless the young athlete is. Everyone already knew that Raisman could nail a perfect floor routine. But her testimony had everyone floored due to its power and effectiveness. She totally nailed it.
Here are 7 of the most badass moments from Aly Raisman's empowering testimony against Larry Nassar.
1 When she looked right at him and said, "You are nothing."
Right after thanking the judge for hearing the testimonies against Nassar, Aly Raisman jumped in with guns blazing. At the moment when she turns to her abuser and says her opening words, it's impossible not to simultaneously cry and cheer. She even paused, adding impact to the emotionally loaded moment.
"Larry, you do realize now that we, this group of women you so heartlessly abused over so long a period of time, are now a force and you are nothing," Raisman said. "The tables have turned, Larry. We are here, we have our voices, and we are not going anywhere."
Petition for a National Aly Raisman day, anyone?
2When she spoke truth to power.
First, she said, "Larry, you abused the power and trust that I and so many others placed in you." Then, she proceeded on to reprimand the abuser, telling him, "You were the USA Gymnastics national team doctor and the United States Olympic team doctor. You were trusted by so many and took advantage of countless athletes and their families."
3When she talked about abuse, saying what many victims wish everyone knew.
"Abuse goes way beyond the moment, often haunting survivors for the rest of their lives, making it difficult to trust and impacting their relationships," Raisman boldly proclaimed. She continued, explaining why Nassar's abuse of power left his victims unable to trust medical professionals and national organizations.
4When she put Nassar in her shoes, explaining the magnitude of his violations.
"From the time we were little, we were told to trust doctors. You are so sick," she said.
5When she told him, "I'm no longer a victim, I'm a survivor."
Raisman explained to Nassar that he caused so much pain and damage. But she also explained that he will not continue to have power and influence over her life. In fact, as she said earlier in her speech, his victims have the power now.
"All these brave women have power, and we will use our voices to make sure you get what you deserve, a life of suffering spent replaying the words delivered by this powerful army of survivors."
6When she told him that she will continue to fight, because the systems that enabled Nassar are also to blame.
Raisman knows that this issue goes beyond Nassar. And in her testimony, she admonished the USA Gymnastics and the United States Olympic Committee. She even named the President and CEO of USA Gymnastics, Kerry Perry, and said that USA Gymnastics is "an organization that I feel is rotting from the inside."
These powerful words echo Raisman's earlier sentiments about the lack of adult supervision and assistance. Had the adults involved protected the victims, Nassar would not have been able to continue his role. Raisman is right to call out the other complicit figures of the organizations allowing and perpetuating systemic abuse.
"For this sport to go on, we need to demand real change, and we need to be willing to fight for it. It's clear now that if we leave it up to these organizations, history is likely to repeat itself."
7At the end, when Raisman threatened every other abuser.
The quote "hell hath no fury like a woman scorned" comes to mind, because Raisman's words were so powerful, she will probably make even the most cynical person believe in change.
You have to hear Aly Raisman deliver the incredibly brave speech for yourself.
https://www.youtube.com/watch?v=Sj1AU5hpyKY?feature=oembed
Aly Raisman has proven that her strength goes far beyond the physical realm.
Her testimony will go down in history, and we can't wait to see what she does next.