Aly Raisman had the best clapback for people who think gymnasts' leotards are to blame for sexual abuse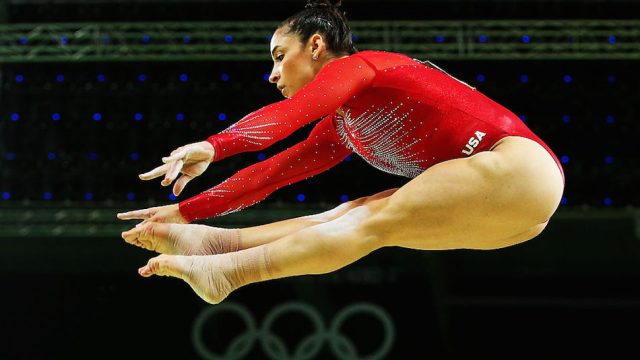 Besides being an Olympic athlete, Aly Raisman has added "powerful advocate" to her list of accomplishments. The 23-year-old gold medalist is outspoken on the topic of sexual abuse, creating the Flip the Switch campaign to help put an end to sexual abuse in gymnastics, and posting about the issue on her social media accounts. So when Raisman was asked if gymnasts should stop wearing leotards because they contribute to sexual violence, she made her stance very clear.
USA Gymnastics national team doctor Larry Nassar will spend the rest of his life in prison because of the sexual abuse he perpetrated for decades against girls and women in the sports organization. More than 150 women spoke at Nassar's January trial, giving their accounts of the abuse. He was eventually sentenced to 40 to 175 years in prison at that trial and then another 40 to 125 years in a February trial, sentences he'll serve concurrently. Raisman was not only one of the women who Nassar abused, but she was also one of the 156 survivors who addressed him during the January trial.
So it's more than understandable that Raisman didn't take too kindly to the insinuation that female gymnasts' leotards could be a reason why they are sexually abused.
As Raisman wrote on Twitter on March 25th:
"I was recently asked if gymnasts should continue wearing leotards. Leotards r not the problem. The problem is the many pedophiles out there & the adults who enable them. By saying clothing is part of the issue, u are victim shaming/implying survivors should feel it's their fault."
This is far from the first time Raisman has been outspoken about victim-blaming. For the Sports Illustrated Swimsuit Issue, she posed nude to make a point about it. The words "Women do not have to be modest to be respected" were written on her leg. She also had the words "Abuse is never okay" featured in the shoot — emphasizing that abuse should never be explained away because of what someone was wearing at the time of the crime.
Besides the fact that female gymnasts are athletes and their leotards are their uniform, it's never okay for victims of sexual harassment and abuse to be blamed for the actions of their assaulters. Raisman understands that and has encouraged women to embrace their bodies however they want through her Sports Illustrated feature and her campaign with Aerie.
As Raisman makes clear through her advocacy efforts, like Flip the Switch, preventing sexual assault in gymnastics is not about what gymnasts wear. Abuse can only be stopped when people are educated on the topic and use that knowledge to help others stay safe. To say that abuse in the sport is somehow the fault of gymnasts for wearing their uniforms is beyond disrespectful. And thankfully, Raisman is using her platform to help put an end to this way of thinking.