Alton Brown has crafted the perfect burger and you can eat it for charity!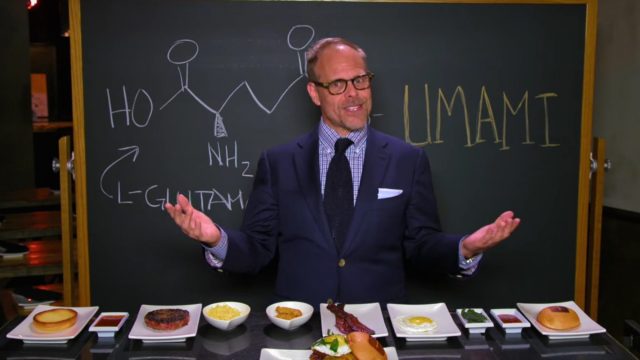 If you know anything about Alton Brown, you know that the mad-scientist/chef creates some of the most amazingly unique and delicious eats out there. As host of the Food Network's Cutthroat Kitchen, Brown is used to serving up sabotages to trip chefs up while cooking, but don't think he doesn't have an altruistic side.
Recently, Brown teamed up with restaurant chain Umami Burger to mix burgers and breakfast. What resulted looks and sounds like pure heaven, and according to the people who've tried it, this is an entirely accurate descrption. The burger (dubbed the "Alton Burger") is a beef patty with bacon lardons in it, mashed up cheesy tots, cheddar, miso-maple bacon strips (what), homemade coffee-flavored ketchup (WHAT?!), a sunny side up egg, and fried sage.
Did you just have to wipe drool off of your chin? Same.
Umami Burger is known for their "Artist Series" of burgers. Previous celebrity collaborations have included Mindy Kaling and Andy Samberg. The Alton Burger is available from March 14th to April 24th.
The coolest part of his latest culinary creation? It's all for charity! When you order the Alton Burger at any Umami Burger location, they will donate $1 to the Make-a-Wish Foundation.
Check out Brown's video where he breaks down the ingredients and the science behind the burger. Just get ready to head to the closest Umami Burger when you're done watching (or cry a little inside if you're nowhere near one).