A show about the Allison Mack sex cult is *already* in the works, and yes, we want to watch it ASAP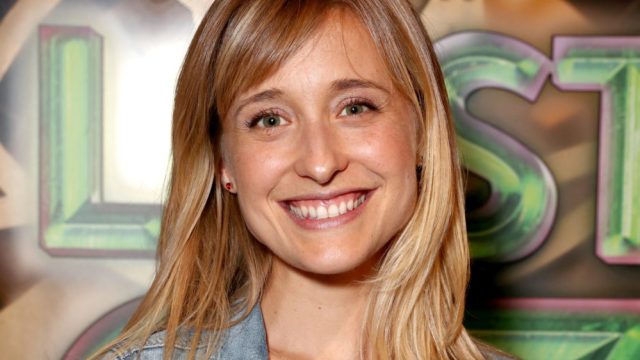 It's only been a few days since former Smallville actress Allison Mack was arrested on sex trafficking charges in relation to the Nxivm sex cult, but that's basically, like, a year in TV time. So it shouldn't come as a surprise to learn that there is already a TV show in the works about Allison Mack's alleged sex cult…and let's be honest here, we're already setting a season pass recording on our DVRs, because this story just keeps getting more and more bizarre.
Mack, who starred on Superman prequel series Smallville for most of its 10-year run, was arrested last week for three charges (sex trafficking, sex trafficking conspiracy, and forced labor conspiracy) in relation to Keith Raniere's alleged sex slavery ring named Nxivm. On Tuesday, April 24th, she pleaded not guilty, later being released on a $5 million bond and placed under house arrest.
The shocking story uncovering Mack's history with the sex cult was blown wide open by Barry Meier's New York Times exposé "Inside a Secretive Group Where Women Are Branded." And now, Annapurna Television has optioned the rights to the reporter's story, according to The Hollywood Reporter.
So far, not much is known about the TV series, since it's untitled and without a writer or network.
But Annapurna Television's hope is "to adapt the investigative report as a one-hour fictionalized scripted series inspired by actual events." The drama will follow what happens "when women who join what they're told is a secret sisterhood created to empower them find themselves psychologically enthralled and horrifically sexually enslaved to its leader — and their flesh branded with his initials." Westworld actress Shannon Woodward will executive produce the series with Annapurna's Megan Ellison, Sue Naegle, and Susan Goldberg.
When the news first broke about Allison Mack's connection with alleged cult leader Raniere (aka "Vanguard"), it was shocking for fans of the actress, who maintained a wholesome image for much of her career. And the more details that come out about what went on in Nxivm, the more disappointing it is to hear of Mack's treatment and abuse of other women.
She was allegedly a recruiter for a secret society within Nxivm called DOS, a Latin acronym that roughly translates to "Lord/Master of the Obedient Female Companions." Mack would allegedly recruit women into being slaves by telling them they were joining a "women-only organization that would empower them and eradicate purported weaknesses that the Nxivm curriculum taught were common in women."
It's so heartbreaking to hear everything these poor women were put through at the hands of another woman, all in service of a criminal man.
According to the federal criminal complaint filed against Raniere, as the leader of Nxivm since 2003, he "maintained a rotating group of fifteen to twenty women with whom he maintains sexual relationships. These women are not permitted to have sexual relationships with anyone but Raniere or to discuss with others their relationship with Raniere. Some of the Nxivm curriculum included teachings about the need for men to have multiple sexual partners and the need for women to be monogamous."
Hopefully all those who are guilty within Nxivm are brought to justice, and the abused women can heal and move on from their time in the cult. And as for the rest of us, we'll just have to wait until the Nxivm series debuts to get more information about this disturbing group.