Here's how you can help Allbirds donate sneakers to healthcare workers while buying your own pair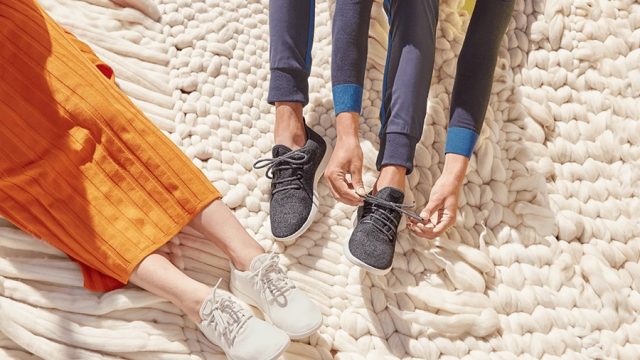 If you're on the hunt for new running sneakers for those social-distancing workouts, sustainable footwear brand Allbirds is giving you a pretty sweet incentive to shop its shoes. When you purchase a pair through a donation bundle, Allbirds will either split the cost of a pair to a healthcare worker. Or, if your closet is full already, you can just donate a pair of sneakers at a discount.
"These are uncharted waters for everyone, and our challenges are dwarfed by those on the front lines," the company wrote on Instagram to announce the program. "But we're optimistic that, through your support, we can continue to make a positive impact on this crisis, together."
One of the most staggering aspects of the growing coronavirus (COVID-19) pandemic is the lack of necessary supplies and support for the doctors, nurses, and other workers on the front lines who are working tirelessly to help patients in need.
To do its part, Allbirds has already donated $500,000 worth of shoes to healthcare workers in need.
And if you needed another reason to shop Allbirds, we've got you. The New Zealand-based brand is well known for its ethical manufacturing practices. It uses locally sourced, natural merino wool to produce all of its shoes, with no harm to the sheep. Not only is this safer for the animals, but the brand boasts a carbon footprint that is 60% smaller than most other shoe brands out there, making its footwear a sustainable (and stylish!) choice.
These are no ho-hum, boring shoes, either. Celebrities like Hilary Duff, Blake Lively, Emma Roberts, and Lana Condor love Allbirds sneakers. The Wool Runners (which are included in the donation bundle deal) are fan favorites, so they're a great place to start.
We can't think of a better way to give back to those in need while also scoring some sweet new kicks for ourselves. Visit Allbirds' Healthcare Donation Bundles page to help with the donations and grab your own pair.
As information about the coronavirus pandemic rapidly changes, HelloGiggles is committed to providing accurate and helpful coverage to our readers. As such, some of the information in this story may have changed after publication. For the latest on COVID-19, we encourage you to use online resources from CDC, WHO, and local public health departments, and visit our coronavirus hub.