All the girls we wanted to be in 1999
What were you doing in 1999? Rocking your favorite hair jewels and tinted sunglasses? Close-reading every single issue of Seventeen magazine? Freaking out about Y2K? If you're anything like us, you were also likely obsessing over the pop culture queens of '99. Looking at this roster of incredible women, no wonder we loved them so much (and waxed poetic about how much we wanted to BE them). It was the days before Pinterest and we were collaging their mag images all over our notebooks, and they were stamping their influence all over our impressionable hearts. Let's revisit these 1999 wonder women.
1. Jennifer Love Hewitt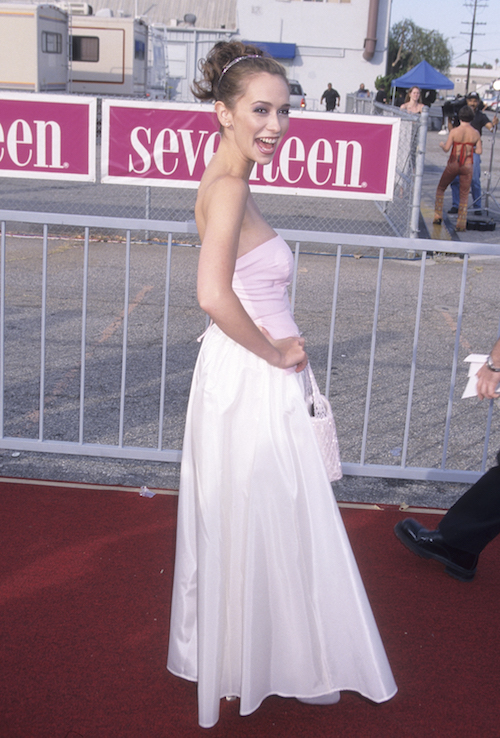 1999 was peak I-want-to-be-Jennifer-Love-Hewitt time. We were still basking in the '98 glow of Can't Hardly Wait, Party of Five was still on television, AND she released a music video for her straight up amazing song "How Do I Deal" (from the I Still Know What You Did Last Summer soundtrack). Also, the above outfit launched a thousand middle school prom looks.
2. Katie Holmes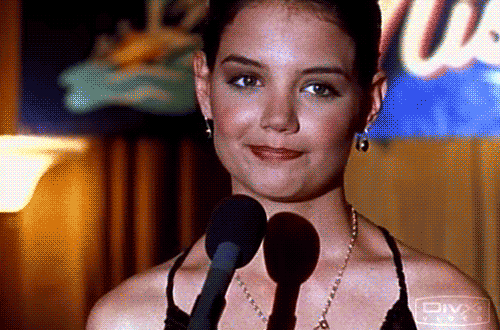 Katie Holmes was starring in movies like Teaching Mrs. Tingle, plus we were deep in the best Dawson's Creek years. She made us all want to run a b&b with our big sister and fall in love with a teenage ne'er-do-well.1999 was a good time to be Katie Holmes.
3. Sarah Michelle Gellar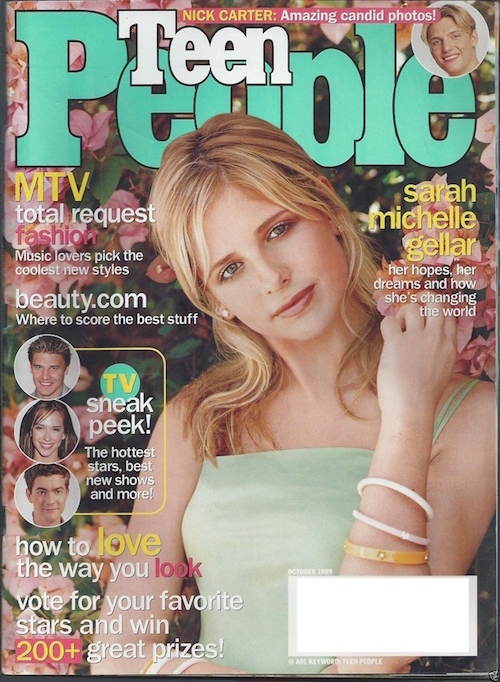 So much was happening for our girl Sarah Michelle in 1999. Buffy, Cruel Intentions, Angel. She was dating Jerry O'Connell. Her highlights were sensational. It was a magical.
4. Brandy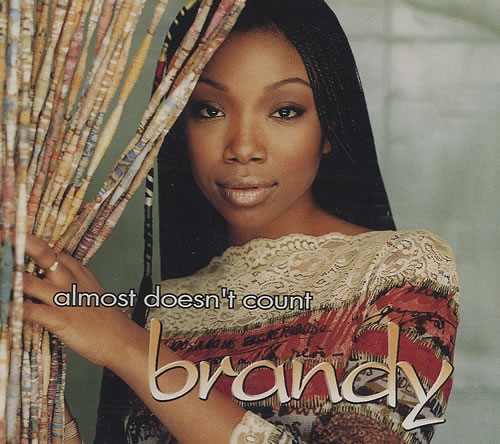 Was there ever a song you more emphatically acted out than "The Boy Is Mine"? Sure Brandy and Monica released it in 1998, but they won a Grammy for it in 1999, and we listened to it obsessively well into the 2000s. In 1999 she also released two songs we did some full-body sobbing too: "Almost Doesn't Count" and "Have You Ever?" Also, Moesha was everything.
5. Britney Spears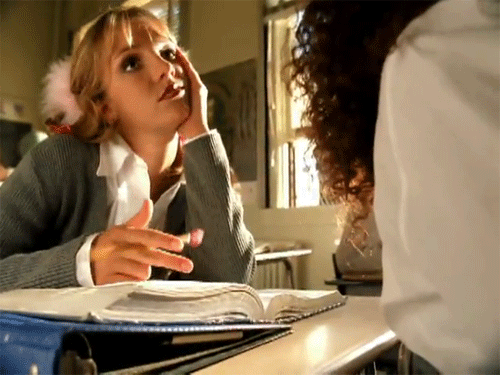 1999 was the year Britney's debut studio album (Baby One More Time) was released. 1999 was the year Britney appeared on the cover of Rolling Stone talking on a landline. 1999 was the year Britney started dating Justin. Need we say more?
6. Reese Witherspoon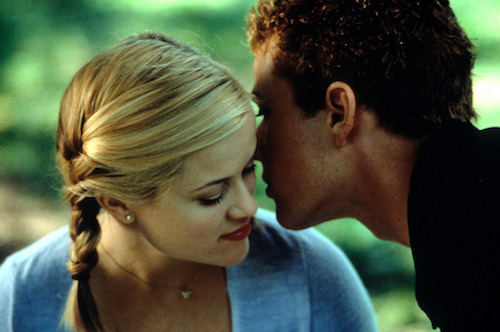 Cruel Intentions was the movie you watched at sleepovers and your parents totally would have killed you if they'd known what you were doing. But the love between Sebastian and Annette, it was just so real.
7. Melissa Joan Hart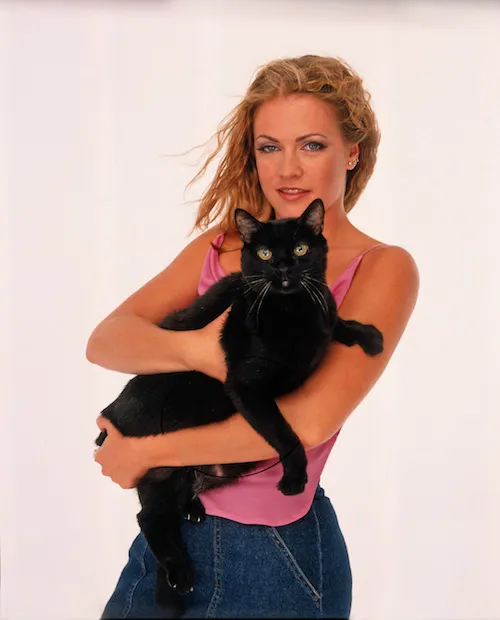 Here she is in high-waisted denim with Salem the Cat. Hope this brings back as many memories for you as it did for us.
8. Gwyneth Paltrow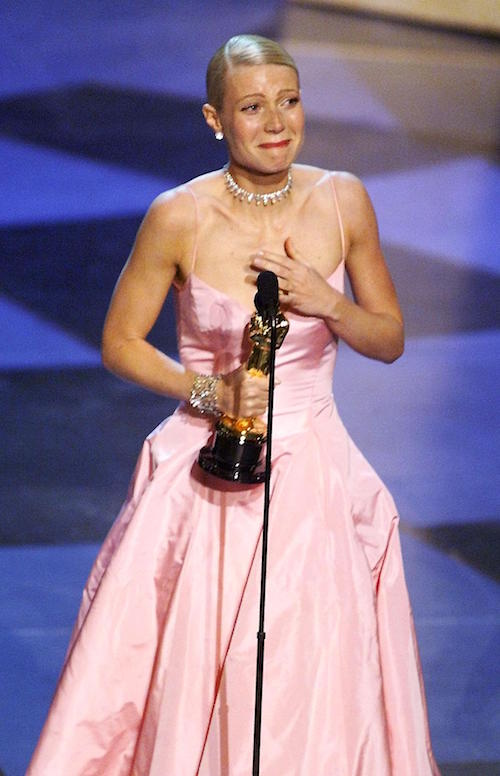 We wanted to be Gwyneth. In this moment. Wearing this iconic dress. Winning this Oscar for Shakespeare In Love. Just this.
9. The ladies of Destiny's Child, all four of them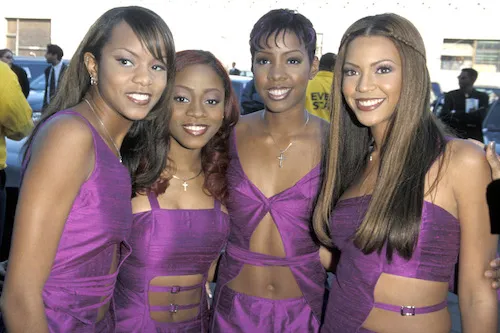 Ok so there's Beyoncé, and there's Kelly, and those other two are . . . no longer in the group. Still, we loved them all. We loved the matching outfits designed by Beyoncé's mom, we loved "Bills, Bills, Bills." It was a simpler time.
10. Mandy Moore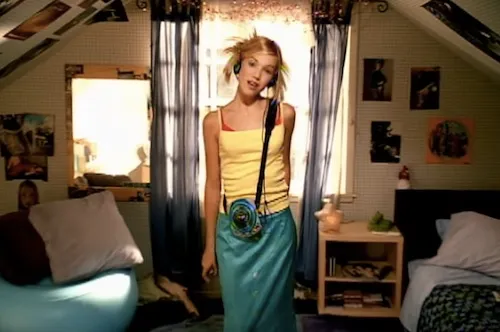 The above is a picture of Mandy Moore in the 1999 music video for "Candy." Tell me honestly that the 1999 version of you didn't envy her discman, her pointy hair style, her outfit, her bedroom. Oh, you did? Thought so.
11. Gabrielle Union
Gabrielle Union on the beach in She's All That. Gabrielle Union on the quad in 10 Things I Hate About You. Gabrielle Union then, now, and forever.
12. Christina Aguilera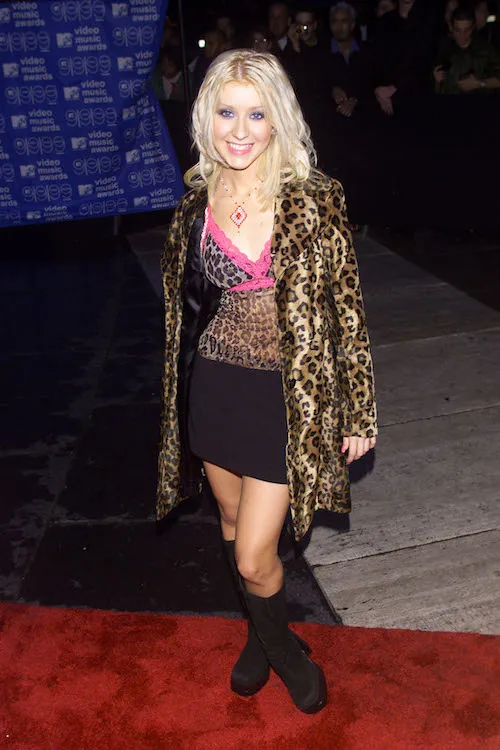 Soak in every single detail of this oh-so-90s red carpet look. It's a classic. When she wasn't making our '90s style dreams come true, Christina Aguilera was singing her most popular hit "Genie In a Bottle."
13. Larisa Oleynik
We adored her on The Secret World of Alex Mack, loved her on Boy Meets World, and became fully obsessed with her as Bianca in 10 Things I Hate About You. We also may or may not have cut those little side bangs into our own hair.
14. Keri Russell 
Do you remember when Keri Russell (aka Felicity) chopped her hair? Do you remember the fan hysteria that quickly followed? Long hair, or short hair, all we knew was Felicity was in the world's best love triangle and made us fully want to send recordings about our life to our bestie.
15. Brandi Chastain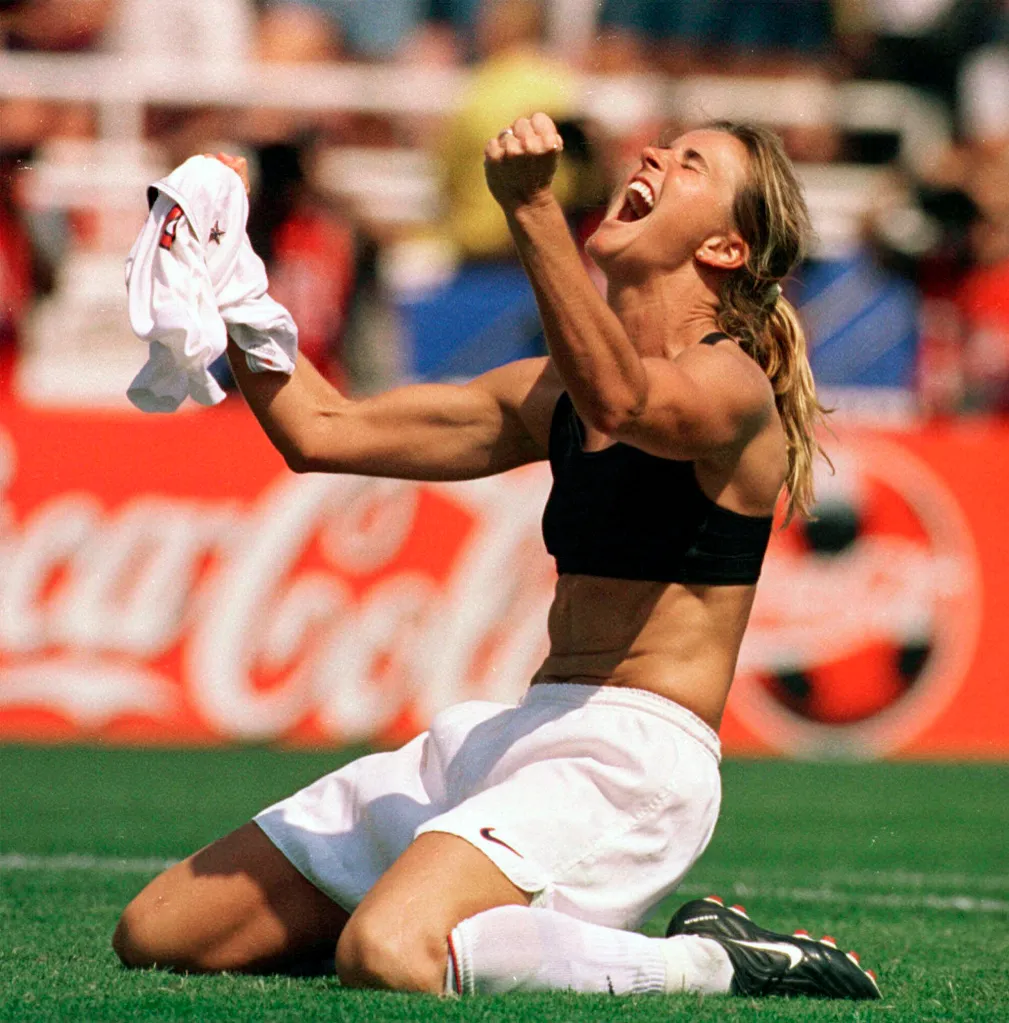 This image. Girl power, much? Brandi Chastain had just taken the penalty kick that won the 1999 Women's World Cup for team USA. We were (and still are) in awe.
16. The ladies of TLC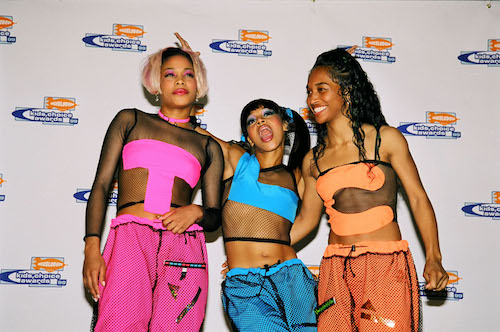 This is what the women of TLC wore to the 1999 Kids Choice Awards, and no coordinated outfit has ever been so '90s perfect. This is also definitely not the only time they wore something that made us say, "wow." These girls were style icons. In 1999 they also dropped songs we loved like "Unpretty," and "No Scrubs."
17. Kirsten Dunst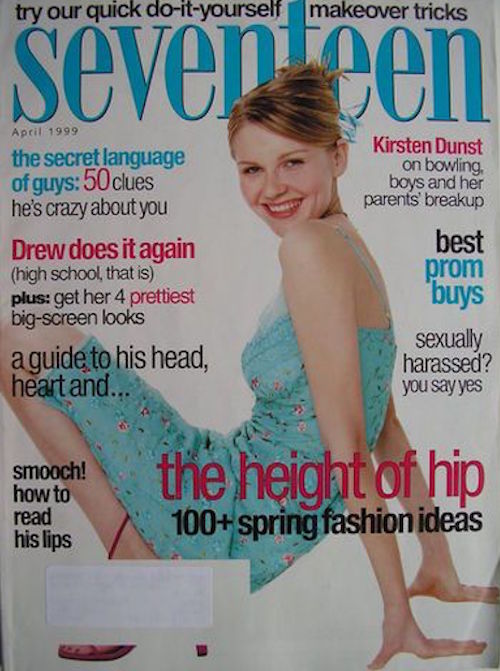 Look at this April '99 cover of Seventeen and tell us honestly that you don't want to read it right now. Kirsten Dunst was starring in The Virgin Suicides which we were sneaking into, and she was talking to Seventeen about bowling, plus she was the girl in the Savage Garden vid for "I Knew I Loved You." 1999 FTW.
19. Sarah McLachlan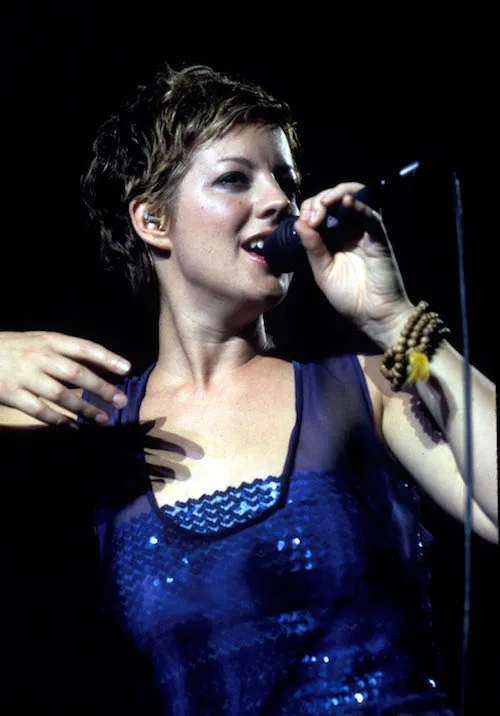 This is a photograph of Sarah McLachlan at the 1999 Lilith Fair — a female music festival which she helped start. She's probably singing songs from Mirrorball which was a 1999 Sarah McLachlan album that we were totally obsessed with. Need a good cry? Press play on your CD player and move over to track four. The sweet sounds of "I Will Remember You" scored many a middle school tear session.
20. Rachel Leigh Cook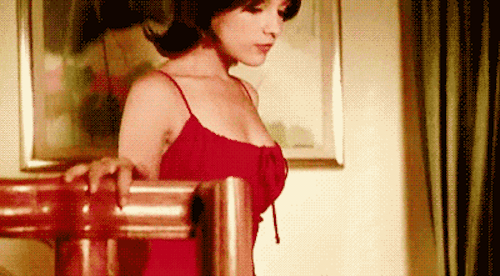 This. Scene. In. She's All That. That is all.
21. Monica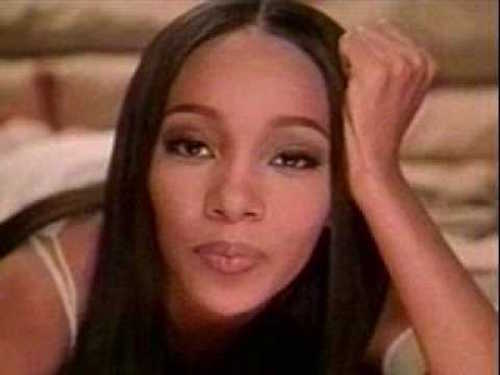 You probably still had "The Boy Is Mine" in your head, and if you didn't you were watching MTV waiting for the incredible video for "Angel of Mine" to grace your screen. Monica was queen, we were her loyal subjects.
22. Mila Kunis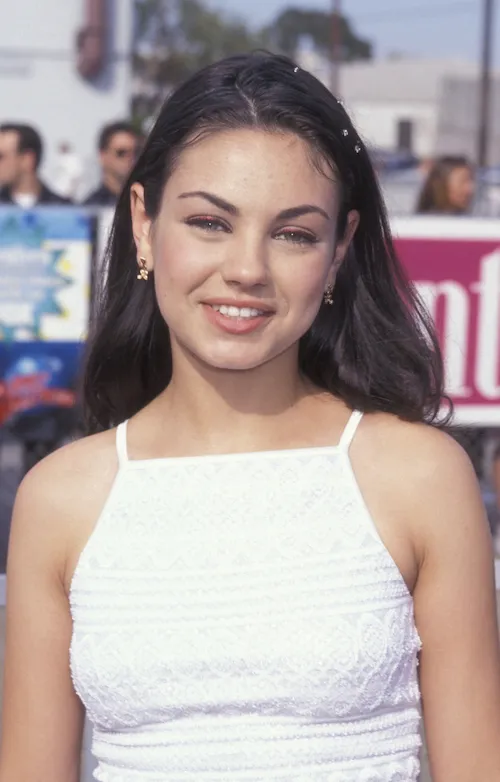 Look at those hair jewels, that eye shadow, that tank top. Mila Kunis was an adorable style icon, and she was also making us LOL on That 70's Show as Jackie Burkhart. Jackie <3 Kelso, and we <3 Mila. Simple as that.
23. The ladies of Friends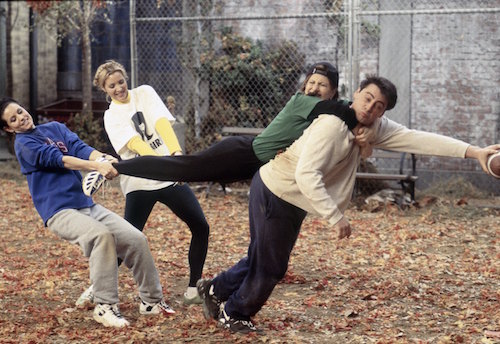 "I'm a total Monica. But sometimes I'm a Rachel. And people have told me that I remind them of Phoebe." We all knew which woman was our Friends spirit animal, and that is the kind of knowledge that never ever leaves a brain.
Related reading: 
Remembering the most amazing teen movies from 1999
(Images via SGranitz/Getty Images, Jim Smeal/Getty Images, Kevin.Mazur/Getty Images, Brenda Chase/Getty Images, Jim Smeal/Getty Images, YouTube, Frank Micelotta/Getty Images, Amazon, Roberto Schmidt/Getty Images, Jeff Kravitz/Getty Images, Pinterest, Debra Rothenberg/Getty Images, NBC)