The costume designer of "To All The Boys I've Loved Before" talks to us about the inspiration for Lara Jean's throwback style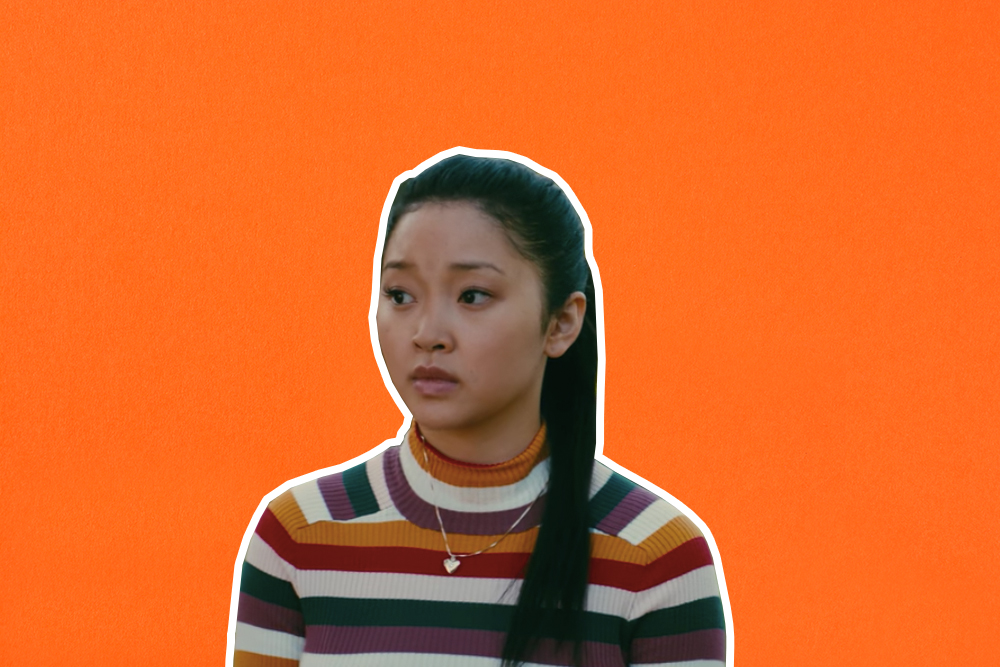 Barring real tragedy, can you imagine any teenage fate worse than having all of your private love letters sent to your crushes? This is precisely what happens to Lara Jean Covey (played by Lana Condor), the star of the new Netflix romantic comedy To All The Boys I've Loved Before, which is based on Jenny Han's 2014 novel of the same name.
Much like Lara Jean channels her romantic obsession into her love letters, the movie itself feels like a meta love letter to the rom-com genre. There's a struggle between a cruel popular girl and a shy (but strong) protagonist, multiple love triangles, quintessential moments of high school slut-shaming, and of course, a fake-dating plot that doesn't go as planned.
A delightful aspect of the movie is how it feels fictional and escapist in a feel-good way, but the characters still feel like real people you'd meet and want to hang out with. The costumes are everything when it comes to grounding the movie in contemporary culture. We talked to the film's costume designer, Rafaella Rabinovich, about Lara Jean's badass '90s style and where she snagged some of the characters' pieces.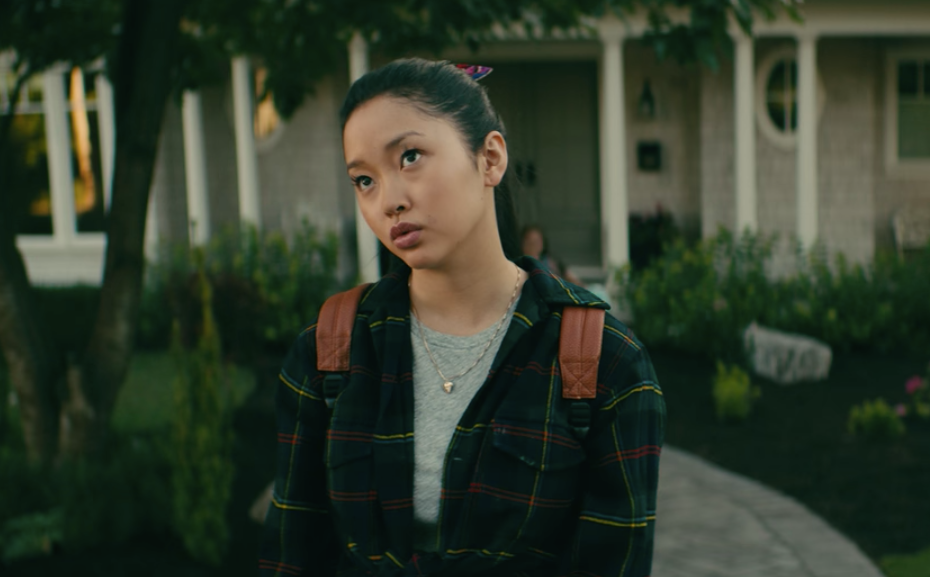 HelloGiggles: Is your process different when costuming for a movie adapted from a book? Were there key outfit descriptions in the original book you took notes from?
Rafaella Rabinovich: Absolutely, it all depends on the relationship between the script and the book. That helps you realize how you'll go about it. Most recently, I did another movie that was based on a book, and it was actually closer to it, because that's what the script called for. In this case, we were referring to what the book made me feel. You want to translate a feeling into a visual. There is a big difference, because the book is part of the research, it's part of that process.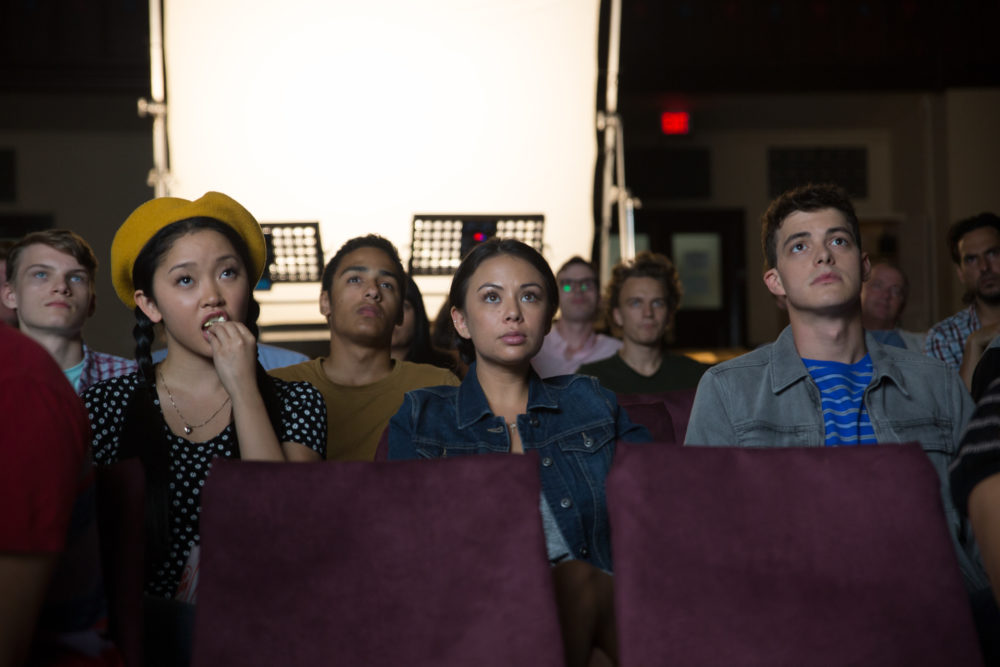 HG: If you had to name a feeling for the movie, what would that be?
RR: I would have to say, the most prevalent feeling was the feeling of being connected. That's what lead me. I could see myself in Lara Jean's situation, so it was a feeling of reminiscing.  I'm a hopeless romantic. I live in that world and I'm an avid reader, so I find it very easy to get lost in the world of fantasy and romance. There was a feeling of identifying and being touched and humbled by this sweet story. I read the book when I was 28, and it was still totally relevant to me, even 12 years out of high school.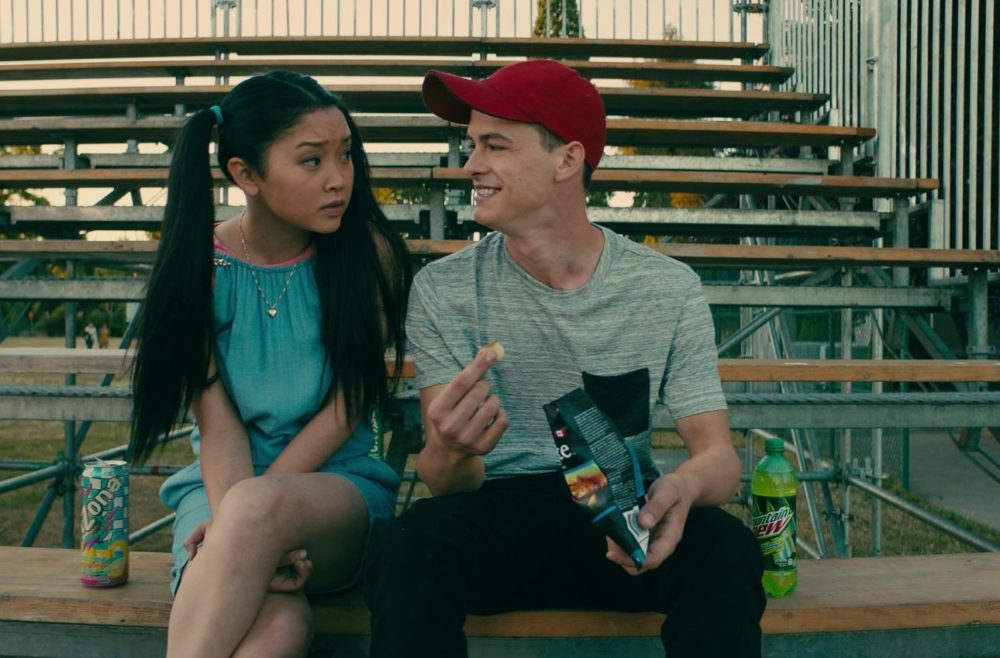 HG: The moment Lara Jean gets made fun of for her combat boots really places where she is emotionally at school, when it comes to popularity and confidence. They're also a huge fashion statement. How did you pick those boots?
RR: Those type of boots are by BP, which is a great company. Originally we thought we'd go a little more vintage, my original mood board had a lot of thrift finds from Etsy. Then, we went thrifting in real life, and we ended up finding those boots in an actual brick-and-mortar store even though VP is available in Nordstrom.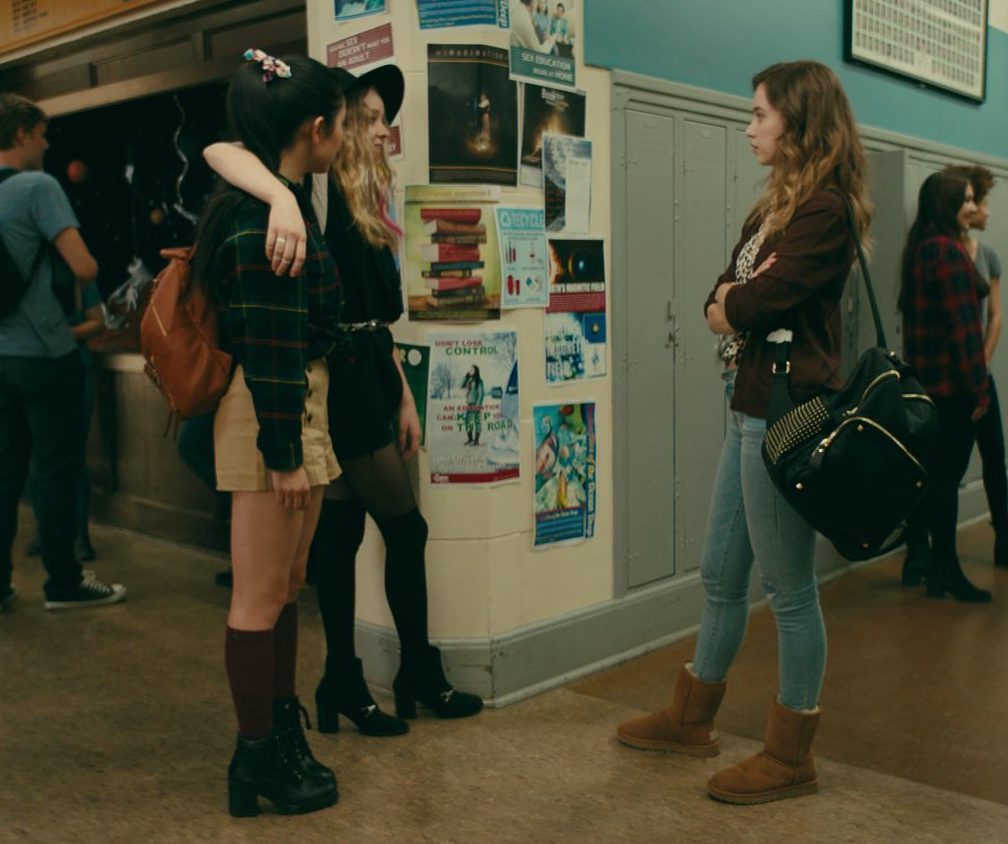 HG: The combat boot scene is also where we first meet Chris. I love how she defends Lara Jean's shoes in that scene. She's comfortable in her own style as well. Do you think Chris's style rubs off on Lara Jean?
RR: Moreso, I think her attitude rubs off. Chris is absolutely in her own world visually, and has her own style. With her we were like "okay, she has a more punk rock aesthetic." That's not to say that Lara Jean doesn't have that, through her growth she becomes comfortable and more aware of the fact that she's a badass. Still, in that moment it's almost like Chris comes in and gives Lara Jean permission to own herself.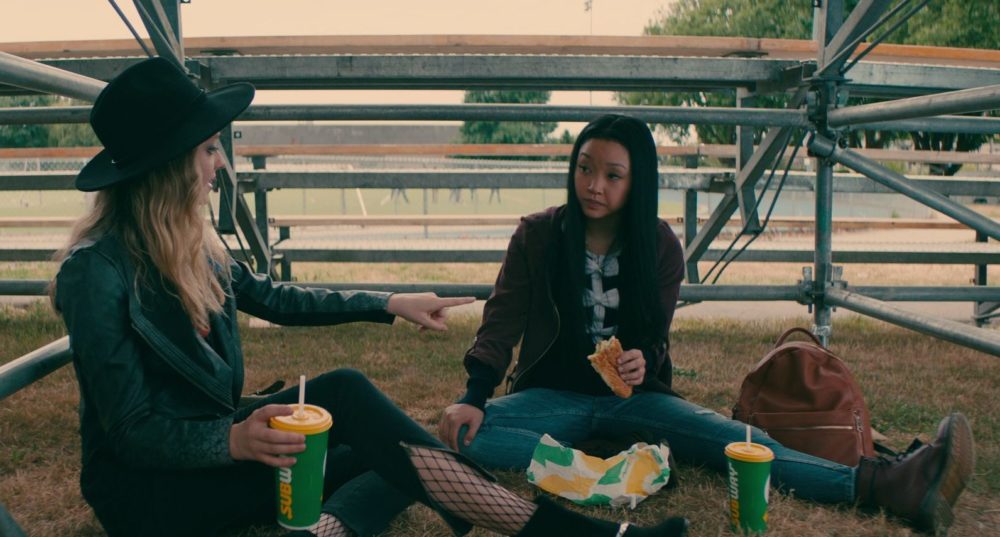 HG: Given her love of John Hughes movies and Sixteen Candles specifically, would you say Lara Jean takes lots of cues from Molly Ringwald's '80s fashion?
RR: I would say that Lara Jean's look is definitely more in the '90s, although that's not to say that Molly Ringwald wasn't ahead of her time or very fashion-forward. I think Lara Jean looks like someone who appreciates the '80s, but I wouldn't say her silhouettes are that era. The color palette definitely overlaps, and the accessories. She also has a few pieces that go back even further than the 1980s. One skirt is very '60s style. She really does appreciate the romance of older things.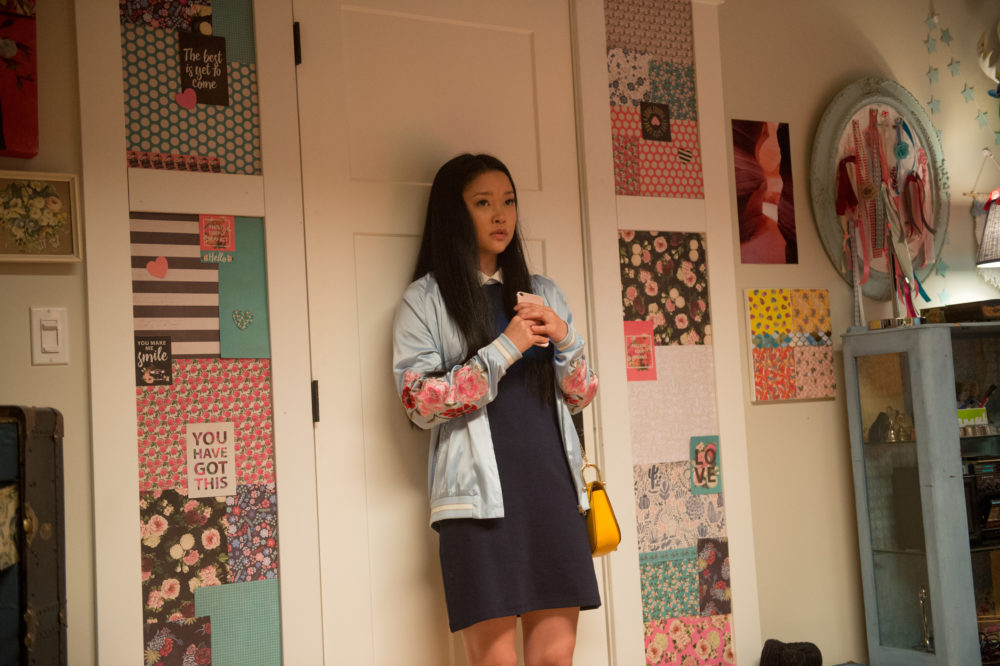 HG: I was pleasantly surprised by how much I wanted to dress like Kitty. She's the youngest main character, but she already seems to know herself and have a strong sense of style. What were the influences for her costuming?
RR: So, in the book she's a bit younger, but in our early discussions we decided to make her a bit older so she could pull off more. She's an out-there character, but we still wanted her to look like a real human being, and a five-year-old wouldn't be rocking that style. Originally, we had thoughts like maybe she'll dress like Steve Jobs, and she'll wear a black turtleneck every day or have a signature outfit. But then our  producer told us to look at Jaden Smith. That was a really awesome pivotal moment where we looked at Jaden when he was a bit younger and he would pull off really bold and cool mixes of stuff.
He would go places in a yellow leather jacket as a 10-year-old, and Kitty was supposed this kid who is already a feminist. She wears her heart on her sleeve, she's the girl who doesn't answer to anybody, the girl who everybody wants to grow up to be, even though she's the youngest. Admittedly, I kind of dress in the silhouettes of Lara Jean but in the colors and patterns of Kitty. One of my favorite places to shop is Modcloth, so I was really inspired by some of the patterns there. Anna Cathcart, who plays Kitty, really loves jumpsuits, so she added the idea of having Kitty wear jumpsuits and overalls. It's always great communicating with the actors about a mutual vision. One of the items that started building her wardrobe, was those very cool gold boots that she wears. I saw them and got them on ASOS. There are little fun connections that come up between the characters in different situations. One of them is that Lara Jean also owns this really beautiful of golden shoes as well, and it serves as a space for the sisters to connect.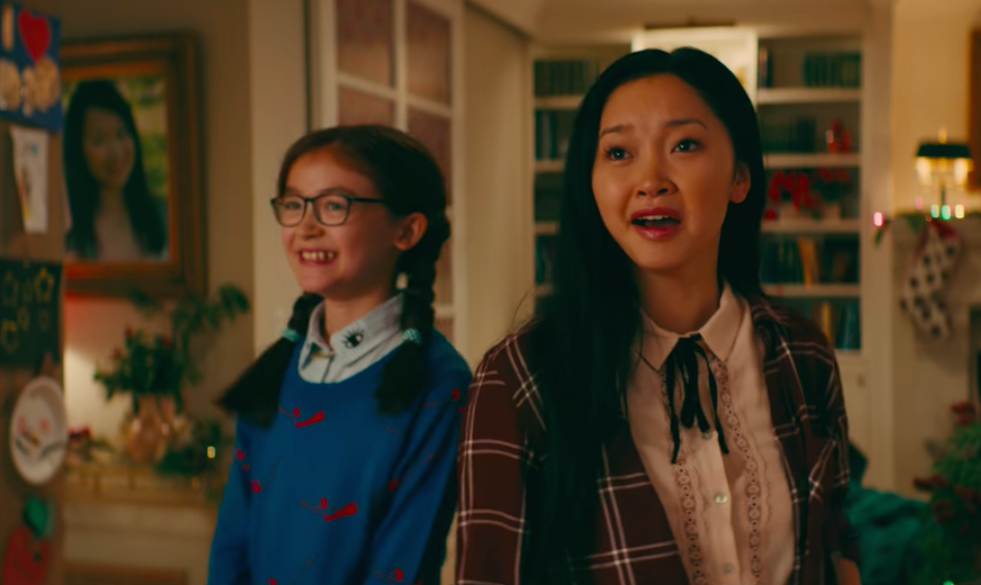 HG: I was super into excited to see John Corbett as Dr Dan. Covey. His whole vibe was very hot dad, like he still goes to concerts and knows how to hang out. How did you pick his looks?
RR: We knew that we needed to make him professional, but at the same time have him fit into the love story we were telling. We didn't want to make him too rigid. So, we leaned towards the sweatshirts, the polos, and thought about using colors. We didn't wanna put him in a baby blue button-up all the time just because he's a doctor. We're telling a beautiful love story, this story about emotional growth and that aha moment you have as a teenager, when you realize there are actually people who like you for who you are. He played such a beautiful part in it. We intentionally gave him relevant colors to make him light-hearted. He has such a good spirit to him, and we wanted to make sure his clothes also stood out in that way. We also picked some of his colors based on who else would be on camera, what he looks good in, and how it all fits into the larger visuals of the movie.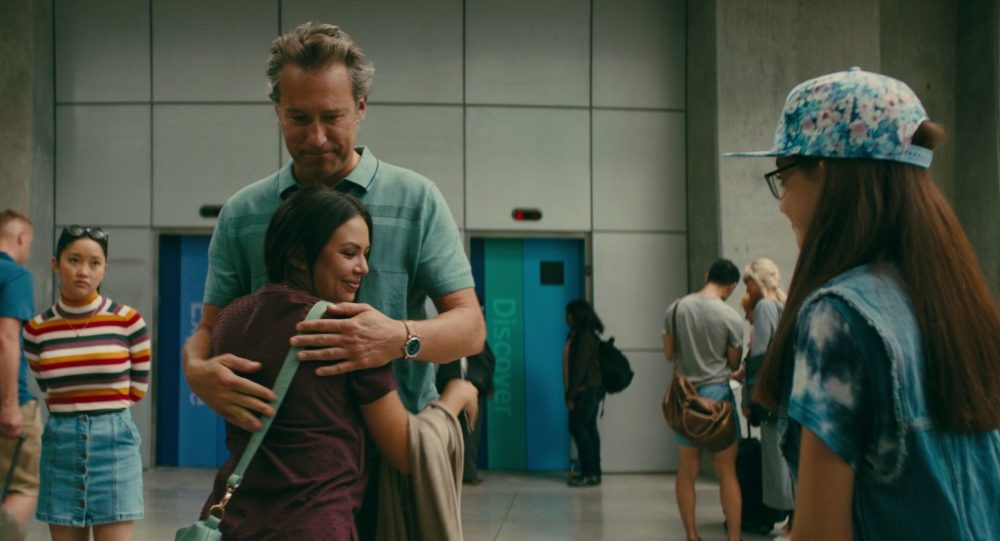 HG: Which outfit from the movie would you personally like to wear the most?
RR: That's so hard. I would probably pick items from different people. Like I said before, I kind of live in Lara Jean's silhouette but I wear Kitty's textures and patterns. Chris's style was me when I was younger. If I had to pick, I would wear the red dress at the beginning. You know, just hang out in that for a minute. There are pieces I own, the blue bomber jacket she wears for the party is something I bought at Forever 21 a while ago. A lot of the places we grabbed costumes from are places I shop at, because we wanted to keep the fashion contemporary.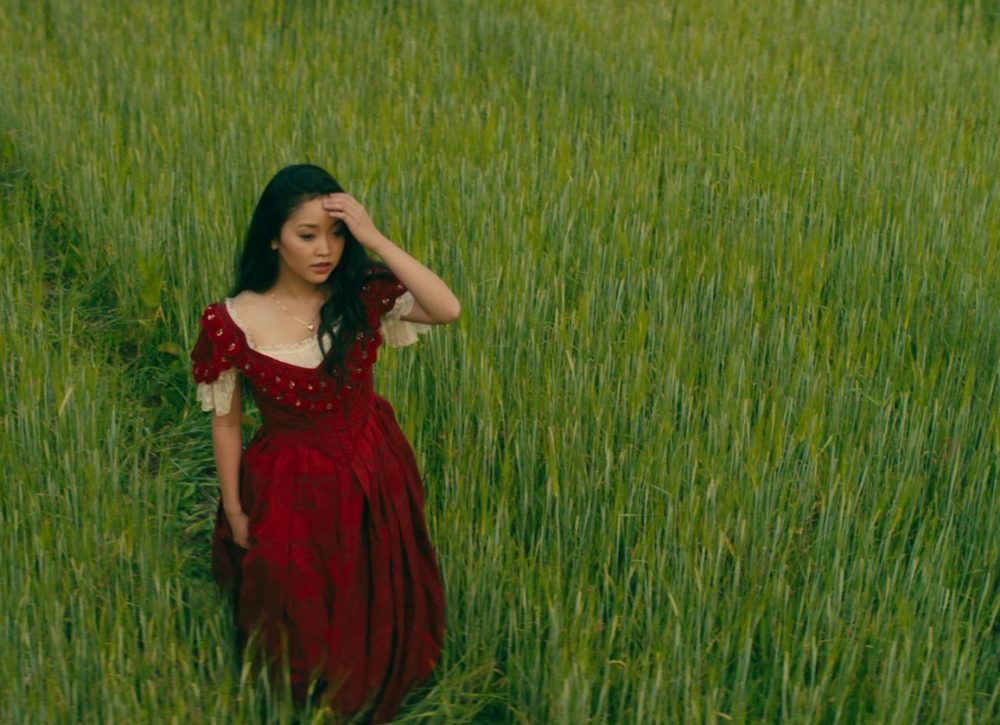 To All The Boys I've Loved Before is currently streaming on Netflix.