This whole female-comedians-impersonating-Trump's-cabinet on "SNL" is genius and Chelsea Peretti could be next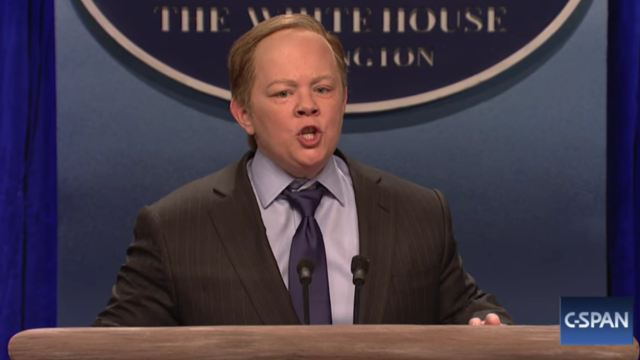 "It was Spicer's portrayal by a woman that was most problematic in the president's eyes," it had been reported via Politico after Melissa McCarthy so effortlessly took on Press Secretary Sean Spicer's aggressive approach to the White House's insane press briefings. So why not whip up a sketch where every cabinet member is played by a female? It got so many of us thinking…is there a simple, easy and hilarious way to portray the current administration in a satirical way and promote gender equality at the same time? Of course there is, and oh boy girl is it fun.
"Certainly an interesting idea," tweeted Nancy Pelosi in support of an all-female send up of Trump's highly controversial administration. What more approval do you need?
If you ask us, he's asking for it, after the president commented that his displeasure in the female casting was because he "doesn't like his people to look weak." Women, weak? Hell no, dude. This unfortunate upset is one of many that have gotten under many women's skin. Rosie O'Donnell (a famously favorite target of Trump's) offered up her services to play Steve Bannon and newly pregnant Chelsea Peretti revealed that people want her to appear as Jared Kushner, Ivanka's husband.
As if the timing wasn't perfect enough, Alec Baldwin is hosting SNL this weekend, so we're sure to have a hefty helping of political funny business on our plates. So who is the internet forecasting cameos from?
As the New Yorker rightfully reported about Melissa McCarthy as Sean Spicer, "It didn't seem that McCarthy was cast because she was a woman. She was cast because she was the best person for the job." Given the circumstances lately, it's nice that at least someone's been given a position they were qualified for.