Alicia Silverstone joining The Baby-Sitters Club is instantly iconic, and our '90s hearts are screaming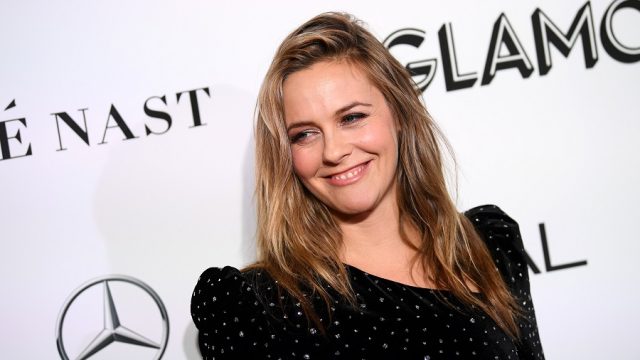 When we heard that there was a Baby-Sitters Club reboot coming to Netflix back in February, we instantly dusted off our copies of the beloved Scholastic book series and called our friends on our landline, because we knew this reboot would be totally epic. Dare we say it's a "super special"?
Now, we've just learned that none other than Alicia Silverstone is joining the series, and our '90s loving hearts are so here for this. Deadline reports that Silverstone will have a lead role in The Baby-Sitters Club, which is slated for a 10-episode Netflix run so far.
No word yet on when the series will hit our watch queues, but production is underway so it seems like we might be returning to Stoneybrook, Connecticut very, very soon.
The new series will be based on Ann M. Martin's bestselling book series of the same name, focusing on five best friends—Kristy Thomas, Mary Anne Spier, Claudia Kishi, Stacey McGill, and Dawn Schafer—as they navigate life's adventures and, of course, their successful babysitting business. The first book, Kristy's Great Idea, was released in 1986, but since then, the series has been going strong with fresh redesigns and graphic novels. It's basically a staple for both '80s and '90s kids.
Silverstone will play Kristy's mom, Elizabeth Thomas-Brewer. BSC fans will remember that Kristy was the president and founder of the baby-sitters club.
https://www.instagram.com/p/BuxNUwjBi2g
While we don't know if the reboot will pay homage to the 1995 film of the same name, we do know that the original cast members are still friends—there have been several The Baby-Sitters Club movie reunions over the years, and there's nothing we would love more than to get some of them back for the Netflix series.
We really can't wait to see a modern-day adaptation of the series we loved so much in our childhood, and having Cher Horowitz herself on board just makes it all the more special for us '90s kids. Here's hoping we get some epic cameos from the stars of the movie and a release date soon—Netflix, can you hear our calls?