Alicia Keys now has bright orange and pink braids, and we're in love with her new look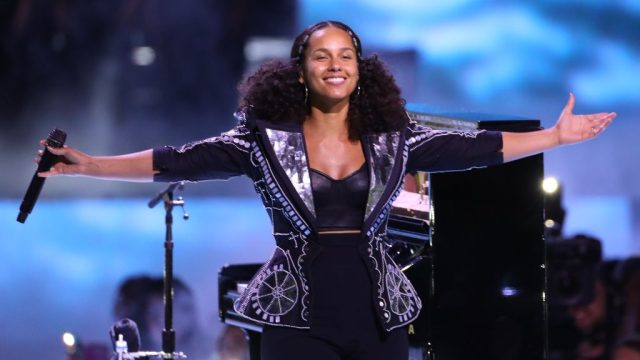 Alicia Keys is the queen of switching up her look. Whether in braids, curls, headwraps, or a pixie cut, she always looks incredible. And now, Alicia Keys is rocking orange and pink braids. And she looks stunning!
Alicia shared some Instagram posts on Friday showing off her pink and orange-hued braids from atop a rooftop in New York City. Rocking her signature no makeup look, the singer looks gorgeous. In the photos, she peers out from behind her new, colorful braids. Additionally, she shows off the look from the back, rocking some equally bright red pants.
We are loving all this bright color.
First, here is the photoset she shared.
https://www.instagram.com/p/BW0myY_lkQK
And second, here is another photo.
https://www.instagram.com/p/BW1R3w-FVOu
Furthermore, braids are big part of Alicia's identity. And she's spoken about how her hair has helped define her look.
"I didn't think wearing braids was something revolutionary or iconic; that was just how I loved wearing my hair, she told Glamour in January. "I recognize now that how you look is your statement, because it's a claiming of yourself. You're saying, 'Look, world. This is me. Love me or hate me, I really don't care.' I guess that is the revolution.
Additionally, she's an advocate of embracing natural beauty and a makeup-free lifestyle. Consequently, she wrote an essay about her decision in Lenny Letter in October 2016.
"Every time I left the house, I would be worried if I didn't put on makeup: What if someone wanted a picture?? What if they POSTED it???,' she wrote. "These were the insecure, superficial, but honest thoughts I was thinking. And all of it, one way or another, was based too much on what other people thought of me."
In January, she was on the cover of Allure without a stitch of makeup and looked stunning. Seriously, she can do no wrong.
https://www.instagram.com/p/BPXn3QJh_XE
We love the new look.