Alicia Keys demands justice for Breonna Taylor in a celeb-filled PSA—here's exactly what you can do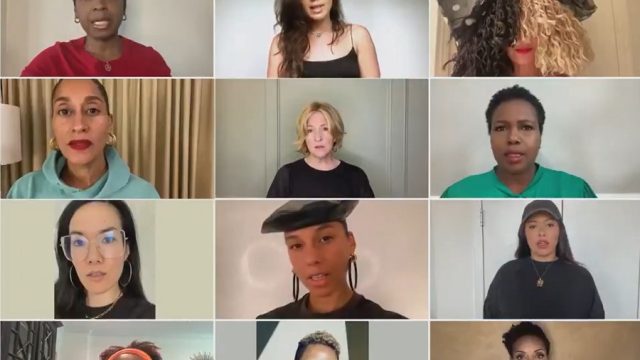 On March 13th, 26-year-old EMT worker Breonna Taylor was shot and killed in her own home after three Louisville Metro Police Department officers broke in with a "no-knock warrant." Despite intense public pressure, Taylor's murderers have not yet been arrested. On June 10th, Alicia Keys gathered celebrities, including Tracee Ellis Ross, Janelle Monáe, Kerry Washington, Zoe Saldana, and Cardi B, for a social media initiative demanding that the officers responsible for her death—Brett Hankinson, Myles Cosgrove, and Jonathan Mattingly—are arrested and charged with murder.
In the PSA, Keys asks, "Do you know what happened to Breonna Taylor?" Then Tamika Palmer, Taylor's mother, explains her daughter's death.
"Three officers from the Louisville Police Department used a battery ram to knock down her door. They fired 22 times," Palmer says. "Eight of those bullets landed in the body of the most essential worker I will ever know. Bree was murdered by the Louisville Metro Police Department and after they killed her, they asked me if she had any enemies. I said, 'No. Absolutely not.'"
Soon after Taylor's death, Palmer continues, "people started learning the truth of what was happening, and the things that went wrong that night." It was later revealed that the two men whom the officers sought for drug possession were already in police custody—a fact that the officers responsible for Taylor's murder were allegedly unaware.
In May, Taylor's family filed a wrongful death lawsuit, and the FBI launched an investigation shortly thereafter. Hankinson, Cosgrove, and Mattingly were placed on administrative leave as the investigation continues, but they've neither been fired nor charged with any crimes. On June 10th, the incident report from the night of Taylor's death was released—it was nearly blank. The information that is included is egregiously false: It lists Taylor's injuries as "none" and states that the officers did not use forced entry to enter her home.
In the PSA, civil rights activist Tamika Mallory, the co-founder of the social justice organization Until Freedom, shares how we can continue to put pressure on Kentucky representatives until justice for Taylor is served.
Call Louisville mayor Greg Fischer and demand that he fire the officers who murdered Breonna Taylor.
Call Kentucky Attorney General Daniel Cameron and demand he charge the officers who are responsible for murdering Taylor.
Call Interim Police Chief Robert Schroeder and demand he complete the investigation immediately and turn over the details to Taylor's lawyers and the state's Attorney General.
Keys also provided the numbers you can call in a Twitter thread.
The last call-to-action was for Louisville residents to call their council members and tell them to vote to ban "no-knock" warrants. On Thursday, June 11th, the Louisville council passed a ban on "no-knock" warrants and named it "Breonna's Law"—proving that community organizing, activism, and putting pressure on public officials is working.
"Breonna should not be dead," Palmer says in the video. "Some days I feel like I can't breathe without her. This should never happen to another family." Together, we can push to ensure that it never does.