Alicia Keys has only these two beauty products on her face on the cover of "Elle Brazil"
Alicia Keys has been a makeup-free enthusiast for a while now. She's always singing the praises of ditching foundation and letting your skin shine through. If only we could all be blessed with the skin and confidence of Alicia Keys, but still, we admire her love for natural beauty.
https://www.instagram.com/p/BYeWLxCFf9w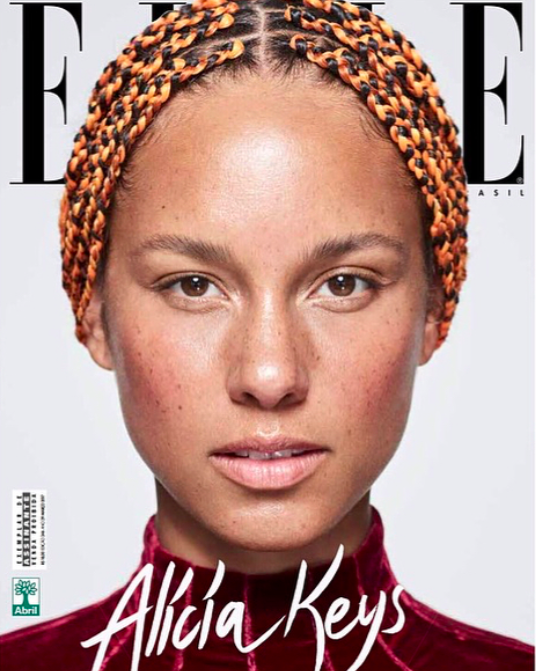 Damn. Keys says she focuses on having good skin, rather than buying good makeup. Clearly, it's showing. Her face is the definition of amazing freaking skin care.
Keys told the magazine that her philosophy to be makeup free is about more than just beauty.
"It can seem silly," she told the mag, "but I think that many of us are caught in this trap. We worry about what the others are thinking about us, and we forget to think by ourselves. Actually, this is not only about using makeup or not. It is more about living, being as you feel really comfortable and exploring all of it.
This isn't the first time that the singer has gotten real about her makeup-free lifestyle. In an essay she penned for Lenny Letter, Keys wrote how insecure she used to feel:
"Every time I left the house, I would be worried if I didn't put on makeup: What if someone wanted a picture?? What if they POSTED it??? These were the insecure, superficial, but honest thoughts I was thinking. And all of it, one way or another, was based too much on what other people thought of me," Keys wrote in the essay.
https://www.instagram.com/p/BW1R3w-FVOu
Eventually she came to the realization that her own personal happiness required that she be completely bare and vulnerable, in all aspects of her life, including her face.
"Cause I don't want to cover up anymore. Not my face, not my mind, not my soul, not my thoughts, not my dreams, not my struggles, not my emotional growth. Nothing."