An "Alice in Wonderland" quote helped Helena Bonham Carter during her split from Tim Burton
If we were asked to name Helena Bonham Carter's other half, our response would be automatic: Tim Burton… until we remember that they separated in 2014. Taking into account that these two have been a couple for 13 years and have worked together on many projects, we can imagine that the decision to split was difficult. Helena herself just confirmed this.
"You go through massive grief – it is a death of a relationship, so it's utterly bewildering. Your identity, everything, changes," Carter told Harper's Bazaar, according to the Evening Standard. She added that she felt like putting a "handle with care" sticker on her forehead at the time, to let people know that she wasn't feeling like herself.
During this tough time, Helena looked to a familiar story for comfort. "There's a great quote I've stuck next to the kettle. It's from Alice: 'I can't explain myself … because I'm not myself,'" she stated. "Everyone always says you have to be strong and have a stiff upper lip, but it's okay to be fragile." We're sure even Helena's Alice Through The Looking Glass character (the Red Queen) would agree.
After allowing the above quote to work its magic, Helena reports that she's doing much better these days: "I feel very self-sufficient at the moment. I'm just going to work out who I am on my own and it's quite liberating." She's also on good terms with Burton, adding: "I understand him very well and he understands me."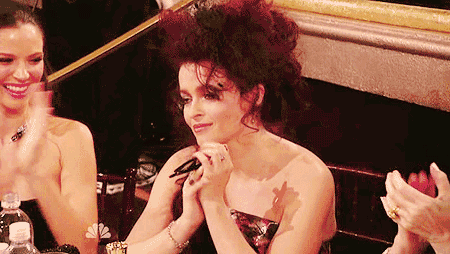 Helena is a real-life Queen.