Overanalyzing this gorgeous new "Alice Through the Looking Glass" poster
We have movies on the mind right now. Maybe it's award show season, or the long weekend, or the unbelievably cold east coast weather that's keeping us cozied up inside under a ton of blankets. Whatever it is, we've been devouring old favorites lately, and have a list of new ones coming out this year that we can't wait for.
Near the top of our list is Alice Through the Looking Glass, the follow-up film to Alice in Wonderland. The new movie is based on Lewis Carroll's book Through the Looking-Glass. Everyone is back, including Mia Wasikowska (Alice), Johnny Depp (the Mad Hatter), Helena Bonham Carter (the Red Queen), Anne Hathaway (the White Queen), Stephen Fry (the voice of the Cheshire Cat) and Alan Rickman (the voice of the Caterpillar), may he rest in peace. The movie is produced by Tim Burton, so you know it's going to be wacky and fantastical.
The film doesn't come out until the end of May, but its poster is here, and it's absolutely gorgeous. Naturally, we spent a little too much time overanalyzing it, so here are a few things we noticed.
Alice's top is fabulous.
We're still getting used to the idea of Alice as a person, not a cartoon. So when we think of Alice, the first thing that comes to mind is the little blonde girl wearing a blue dress. And that's just not so anymore. This purple, yellow and orange number has a serious collar and even more serious sleeves. In the trailer, you can see that she's paired it with some striking kelly green pants. It's something straight out of a NYFW runway show, and we're loving it.
So is the White Queen's.
She's also wearing a purple frock, though not as intense as Alice's. From the looks of things, it appears that she's branched out into wearing colors besides just white. Makeup, too. And it's totally working for her.
We spy Sacha Baron Cohen.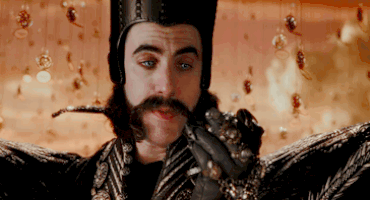 The actor joined the cast in the role of Time. Yes, in Alice Through the Looking Glass, Alice discovers that time is a person—specifically, a "he." And according to the Red Queen, Time is "not someone you want as your enemy." Sacha plays a time traveling half-clock, half-human.
All gold everything.
From the stray clock parts to the Looking Glass itself, everything in this poster has a gold touch. Okay, maybe it's just those two things. But they bring a beautiful shine to everything they touch.
Clocks are definitely still a big symbol in the new movie.
Between Sacha Baron Cohen's Time, the White Rabbit pointing to his pocket watch and the aforementioned stray clock parts, we're guessing that time still plays a pretty big part in the new film. There's also a huge looming clock in the trailer. In fact, the characters are arranged in a circle as if they're numbers on a clock. We see what you did there!
The Cheshire Cat seems so cute and innocent.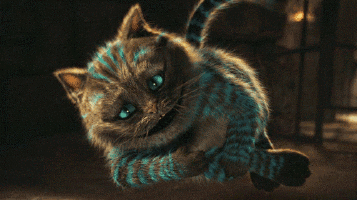 In this poster, Cheshire looks so small and cuddly. Like he's never been mixed up in any mischief before. But we know he has a sneaky side.
Tweedledee and Tweedledum still look like they have no clue what's going on.
And we're totally fine with it. Matt Lucas's portrayal of them is perfection.
And the Mad Hatter is still his fabulous self.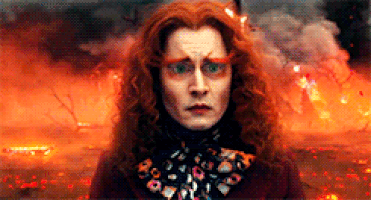 The trailer shows a softer, hat-less side of the Mad Hatter looking to be saved amidst destruction. But on the poster, it's good to see that he's back to his giant bow tie-wearing, thread bandolier-wielding self.
Is it May yet? We can't wait for Alice's return to Wonderland!