Today's Google Doodle celebrates the amazing Alice Paul, here's who she was
If you haven't dropped by Google's main page today, then you might not have caught a glimpse of the great tribute to Alice Paul in honor of her 131st birthday. Above the Google search bar is Ms. Paul, decked out in all her early 20th century finery and holding a sign that reads "Deeds Not Words."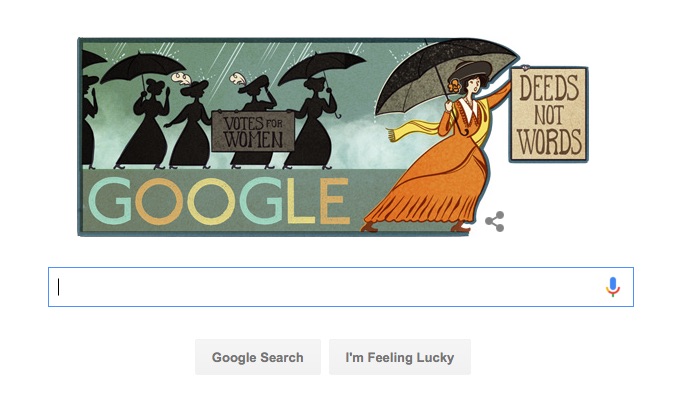 The doodle is a reference to Alice Paul's position as one of the most prominent suffragists and women's' rights activists of her generation. She learned the tricks of the trade from not only her mother, an active member of the National American Woman Suffrage Association, but also from the suffragettes of London, England, (Paul spent time living and working in the UK) who received the right to vote (if they were over the age of 30) in 1918.
The New Jersey born Paul brought her experiences in Great Britain back to the U.S., organizing a women's march that coincided with the 1913 inauguration of President Woodrow Wilson. The march drew thousands of women, but ended in turmoil when male onlookers verbally and physically attacked the protesters.
Undeterred, Paul continued protesting outside the White House, even after the outbreak of World War I, a move that drew sharp criticism from opponents. Eventually, she and other suffragists were jailed in Virginia, leading them to stage a hunger strike resulting in their being force-fed and Paul being threatened with time in a mental institution. When word of the women's treatment in prison got out, Paul and her fellow suffragists received a wave of sympathy and support — which they rode right to the passage of the 19th Amendment.
As the Alice Paul Institute points out, many suffragists gave up the fight after receiving the right to vote, but Paul remained committed to universal equality for women. For the rest of her long life (she died in 1977 at the age of 92), Paul kept up the fight, proving instrumental in the inclusion of women in the Civil Rights Act of 1964 and campaigning for her Equal Rights Amendment, which still remains unpassed on a federal level.
"It is incredible to me that any woman should consider the fight for full equality won," Paul said in 1920. "It has just begun. There is hardly a field, economic or political, in which the natural and unaccustomed policy is not to ignore women . . . Unless women are prepared to fight politically they must be content to be ignored politically."
Words to live by.
Related reading: 
The last minute of 'Suffragette' was one of the most powerful moments I've had at the movies
[Image via Wikipedia]