Why we still need to talk about Alice Guy-Blaché, the first woman filmmaker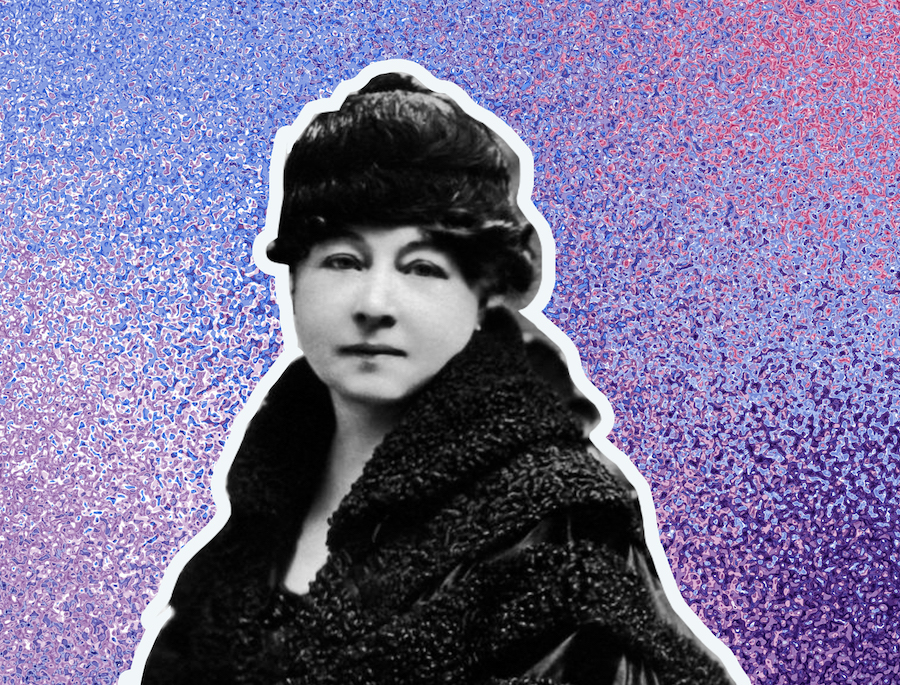 Before Greta Gerwig, Ava DuVernay, Patty Jenkins, Kathryn Bigelow, Nancy Meyers, and Nora Efron—heck, before most of those talented filmmakers' mothers were even born—there was Alice Guy-Blaché.
A director, producer, and screenwriter, the pioneering French native was one of the first people in the known world to look at flickering images on a screen and figure out that they could and should be used to tell stories. So she told them—almost a thousand of them between 1896 until 1920, to be exact. Guy-Blaché also had the good sense to work with special effects, shoot on location, and use synchronized audio recordings during The Silent Era. Still not impressed? She was also a savvy businesswoman, owning and operating her own movie studio right around the time the Titanic sank.
But her accomplishments have largely been a footnote in history. Until now.
The new documentary Be Natural: The Untold Story of Alice Guy-Blaché (opening in L.A. on Friday, April 19th and N.Y.C. on Friday, April 26th) explores how she overcame the odds to achieve fame and financial success—before being shut out from the industry she helped to create just for being a woman. Jenkins, DuVernay, Ben Kingsley, Andy Samberg, Lake Bell, and Evan Rachel Wood are among the stars interviewed on-camera about her impact. "By taking Alice out of the shadows, we are rewriting history and showing young boys and girls that there was a woman at the beginning of cinema and not just men as we are often told," says the film's co-writer and director, Pamela B. Green, who spent eight years researching Guy-Blaché's story.
Green, as well as filmmakers and actors Jodie Foster and Geena Davis, told HelloGiggles why we should care about this little-known-but-big-time filmmaker.
---
1She took amazing initiative at a young age.
Born in 1873 in France and educated in convent schools, Guy-Blaché got the drive at age 21. That's when she landed a job as a secretary for a photography company run by industrialist and motion picture engineer Leon Gaumont. In 1895, she attended the first demonstration of a projected film and soon after asked Gaumont for permission to use his cameras to make her own film on her own time. He agreed. Instead of lensing real-life footage (of, say, a moving train), she wrote, produced and directed a narrative called The Cabbage Fairy (La Fee aux Choux).
It may have been the first fictional film ever.
"She was helping from the very beginning to invent what became modern cinema," notes actress Geena Davis, a featured player in the documentary. Guy-Blaché soon became head of production at Gaumont's film studio.
2She put her husband to work.
In 1907, she married Herbert Blaché, a cameraman with Gaumont. A few years later, the couple uprooted to the United States to promote Gaumont's audio and video system. Not content to be the woman behind the man, she quickly set up her own production studio in Fort Lee, New Jersey, called The Solax Company. She continued to work as a director and made up to three movies a week. Her distinctive trademark? She hung a sign on the wall encouraging her actors to "Be Natural." Guy-Blaché was so consumed with filmmaking that in 1913, she made her husband president of Solax. Alas, in 1918, he left his wife and took their children to move to Los Angeles. Her studio went bankrupt.
3She made landmark movies.
Only about 140 of the 1000-plus films she wrote, directed, or produced have survived, most in fragments. But they're flat-out groundbreaking in terms of technology and subject matter. "She experimented with several techniques such as close-up, hand-tinted color, and early sound—essentially music videos—and had a two-decade career," says Green. Indeed, in 1906, she shot a picture called The Life of Christ and employed hundreds of extras. Her beautiful and touching 1912 film, Falling Leaves, centered on the ravages of tuberculosis. Other topics include child abuse, immigration, Planned Parenthood, and female empowerment.
"Her films are singularly interested in character," says two-time Oscar winning actress and director Jodie Foster, who narrates Be Natural. "They are full of energy and wit and depth. She believed in the power of naturalism long before the culture understood what that meant."
4She didn't live to see the recognition she deserved.
As far back as the 1940s, Guy-Blaché was disheartened to learn that her achievements in film were being ignored while her male peers were being celebrated; she was even written out of the Gaumont Studio history books. Through the passage of time, her work had been ignored.
"I was shocked and disheartened to first learn that this principle film pioneer had been entirely left out of our film history," says Davis, noting that decades after her death in 1968 at age 94, female filmmakers are still vastly underrepresented and undervalued. With Be Natural, her contributions can finally be celebrated. "Pamela has given film lovers a tremendous gift and Alice her rightful place in history," Foster explains. "Without this documentary, Alice's enormous contribution to film might have been completely overlooked."
5She's still relevant.
More than a century ago, a self-starter took a risk in a male-dominated industry to craft her own movies about timely topics. And she did it without compromising. What's really changed? "She is no different than any young indie filmmaker in 2019 who is curious, passionate, and determined, and who starts out with a camera and some friends to tell a story," Green says. "Because of stories like this being told, history will be revised, and more women's stories will be revealed, showing a younger generation that, for centuries, women have been doing incredible things across all industries. The stories just weren't documented."