Alexandria Ocasio-Cortez just trolled Fox News so hard, and we can't stop laughing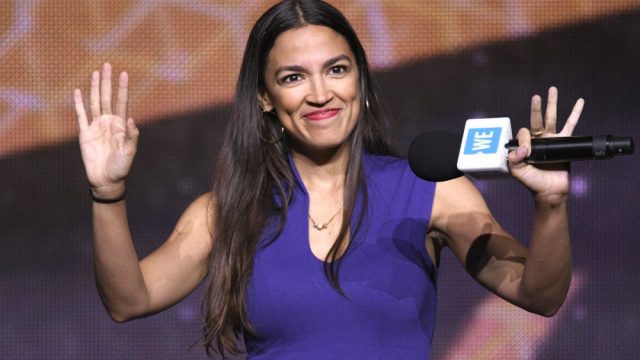 As the youngest woman ever elected to Congress, Alexandria Ocasio-Cortez is officially one of our heroes. The 29-year-old's progressive platform and grassroots campaign helped her unseat incumbent Representative Joe Crowley and made her a veritable political star. Since getting elected on November 6th, Ocasio-Cortez has been consistently inspiring her followers with candid, relatable tweets and comments about being a working millennial. And recently, she trolled critics at Fox News, proving she's also funny AF.
In a November 14th tweet, the representative-elect shared a screenshot of a Fox News graphic depicting a few ominous-sounding "Radical New Democratic Ideas." The "radical" ideas in question? Free healthcare, free college, a Green New Deal, and abolishing ICE. The words were paired with pictures of four progressive, congresswomen-elect of color: Ayanna Pressley, Rashida Tlaib, Ilhan Omar, and Ocasio-Cortez. The graphic was clearly meant to alarm viewers.
To which Ocasio-Cortez responded with:
"Oh no! They discovered our vast conspiracy to take care of children and save the planet"
LOL.
And side note: Calling the above ideas "radical" is completely inaccurate. A Reuters poll from August found that 70% of respondents supported Medicare for All, and just over 60% supported free college tuition for all. Abolishing ICE was less popular, with only 32% supporting it, but the fact remains that several key progressive policies have strong support among the majority of Americans.
Basically, Ocasio-Cortez's tweet is giving us life, and we're on the edge of our seats for more.