Alexandria Ocasio-Cortez is my representative, and no, I don't want her to "slow down"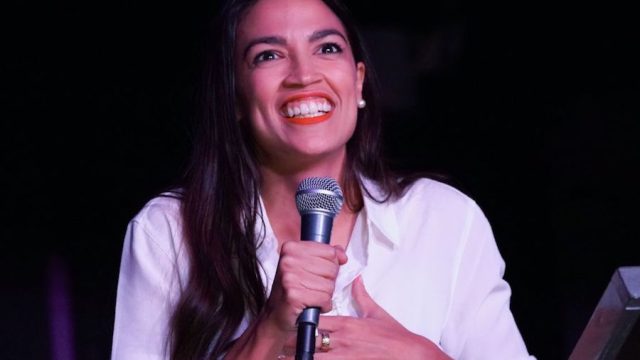 Alexandria Ocasio-Cortez, Democrat House Representative of New York's 14th district, has been coming in hot since the moment she challenged Democrat incumbent Joe Crawley, winning the primary in one of the biggest political upsets of 2018. She's been clapping back at critics on social media, ruffling feathers left and right in Congress (literally—in the Democratic and Republican parties), and quite frankly, she has no plans of slowing down and waiting for her turn to shine just because she's a freshman. And as one of her constituents, I wouldn't have it any other way.
Ocasio-Cortez is not just another face for parts of Queens and the Bronx; her position as a young woman from a working class and immigrant family makes her a physical embodiment of its changing landscape and diverse demographic—which is 46 percent Latino, 24.6 percent white, 16.4 percent Asian, and 11 percent black, according to NBC News. Crowley might have been right for the 14th district at one point in time, but his disconnect with the community widened (and not just geographically) over the years. His campaign mailers mostly served as reminders that he still represented us—not as promises of change.
Ocasio-Cortez's fight for her constituents is personal because she is part of the same community. Her ability to be vocal about social, political, and economic injustices, and her willingness to reject bills and policies that don't align with community interests without fear of consequences are what make her such a perfect fit for this district. 
AOC is not here to join the bandwagon out of sheer party loyalty; she's here to lead the charge.
In a recent interview with Stephen Colbert on The Late Show, Ocasio-Cortez disregarded the criticism she has received—including the criticism from her own party members who are asking her to pull back, "slow down," and be less reactionary.
What they fail to realize is that her drive and unfiltered advocacy for hot-button issues—even if her actions go against her own party members—have rejuvenated the Democratic party.
This is vital at a time when many voters have become disillusioned with the party as a whole, and feel fatigued by political stagnation and representatives' inaction.
One of the chief critiques against millennials is our supposed sense of invincibility—the idea that we can do and be anything that we want, real world be damned. Ocasio-Cortez has flipped the script on that critique by harnessing that ambition and trailblazing her way to the top. She is not by playing by the rules, nor is she adhering to the status quo. Instead, AOC is setting precedents and creating opportunities for herself where there may have been none. Considering this is a Congress that has often appeared out-of-touch with the day-to-day lives of its constituents, there is nothing wrong with applying that strategy to her office.
As the youngest member of Congress in history at 29 years old, she's already been proactive about speaking her mind. Whether she's challenging President Donald Trump's televised speech about the border wall in her first house speech; getting appointed to the House Oversight and Reform Committee; introducing proposals like the Green New Deal to reduce economic reliance on carbon, boost the energy sector, and create more jobs; or advocating for the 70 percent marginal tax rate on wealthy Americans, Ocasio-Cortez is on a mission to enact actual change.
While variations of these kinds of proposals have historically flared up in public discourse, they always eventually lose momentum. Ocasio-Cortez's enthusiastic pursuit of them, however, gives them some tangibility. She's not just asking her elected peers for support, she's looking to the public and opening up conversations on social media so that they can weigh in. She's mastered the art of effective communication—so much so that she is teaching fellow Democrats how to use Twitter—reminding her followers she's a grassroots organizer through and through. AOC has made it clear to her constituents that she will continue to engage with those who've contributed to her political ascent.
The success of Ocasio-Cortez's plans remains to be seen in the light of ongoing stalemates in Congress—and within her own party. And many of her ideas, such as Medicare For All and tuition-free colleges and trade schools, may not entirely see light of day due to political red tape. But it's like she told amNY before the primaries: "I don't think we win by backing down. I don't think we win by fading into the background."
Whether her critics accept it or not, Alexandria Ocasio-Cortez is part of the new political vanguard, and she's not here for their amusement.