Everything to know about Alexandria Ocasio-Cortez, the 28-year-old Latina activist who just won the New York Democratic primary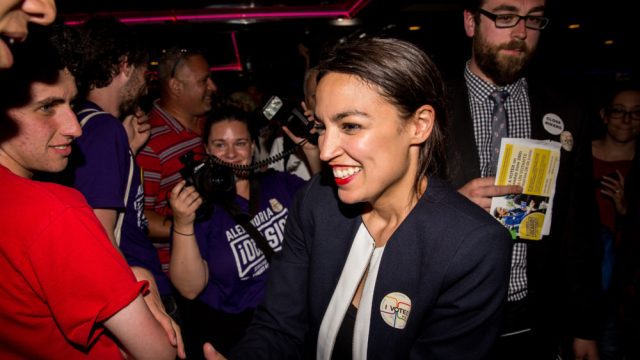 Let's all take a moment to rejoice at the fact that a young, progressive, Latinx woman may be heading to Congress come November. On Tuesday, June 26th, 28-year-old Alexandria Ocasio-Cortez beat 10-term incumbent Joe Crowley in the New York Democratic primary. She won almost 60 percent of the vote in the diverse 14th district, which includes parts of Queens and the Bronx.
Impressive, right? There's more. If Ocasio-Cortez defeats Republican Anthony Pappas in the November midterms, she'll become the youngest woman ever elected to Congress. So let's get to know the woman being hailed the "future of the Democratic Party."
Who is Alexandria Ocasio-Cortez?
The daughter of working-class Puerto Rican parents, Ocasio-Cortez was born and raised in the Bronx. Her website describes her as "an educator, organizer, and working-class New Yorker who has championed the needs of children, families, and working New Yorkers both on the streets and with policymakers."
She's also a former organizer for Bernie Sanders' presidential campaign and a one-time staffer for the late Senator Ted Kennedy.
"I was born in a place where your zip code determined your destiny, she said in a campaign video. "Women like me aren't supposed to run for office."
What does she stand for?
Ocasio-Cortez ran a progressive campaign that called for housing as a human right, fighting climate change, criminal justice reform, immigration justice, abolishing ICE, a federal jobs guarantee, and Medicare for all.
Just days before the election, she even traveled to Texas to join protests outside of an ICE detention center.
How did she win?
She is a first-time candidate who ran on a grassroots, leftist platform, and she defeated Crowley without taking a penny from corporate PACs. In fact, she raised more small-dollar donations than any other New York City congressional candidate.
What do other politicians say about her?
Following Ocasio-Cortez's incredible victory, Bernie Sanders said, "She took on the entire local Democratic establishment in her district and won a very strong victory. She demonstrated once again what progressive grassroots politics can do."
Cynthia Nixon, who's running for New York governor, said she's excited to work with Ocasio-Cortez, telling reporters that together they want to take over the political patriarchy.
"Alexandria and I are joining together to take on the old boys club, rejecting corporate money, and run people-powered campaigns that envision a progressive New York that serves the many, not just the few who can afford to buy influence," she said.
Crowley congratulated his rival on her victory and promised to support her this November.
Just in case you needed another more reason to love this woman, here's Ocasio-Cortez's reaction when she realized she won:
The future of the Democratic party looks bright today.