Alexandria Ocasio-Cortez clapped back at a Republican politician who referred to her as "this girl"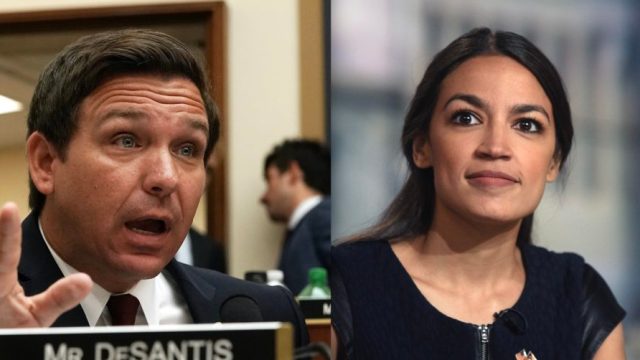 It's been almost a month since newcomer Alexandria Ocasio-Cortez blindsided the political world by defeating incumbent Representative Joe Crowley in the New York Democratic primary elections. In the short time since her victory, the 28-year-old Democratic Socialist has already inspired countless supporters, even outside of the N.Y.C. district where she's running for election. But Ocasio-Cortez also has some vocal critics, and when one Republican representative demeaningly referred to her as "this girl," she had the perfect response.
HuffPost reported that Representative Ron DeSantis, who is currently running for governor of Florida, insulted the New York candidate during a July 21st campaign event in Orange Park, Florida. And his comments were captured on video.
"You look at this girl Ocasio-Cortez [sic] or whatever she is, I mean, she's in a totally different universe," he told the crowd. "It's basically socialism wrapped in ignorance." (And note, he mispronounced her name as "OcasiA.")
DeSantis went on to condemn the progressive candidate for comments she made in a recent PBS interview about the Israeli "occupation" of Palestine. Although Ocasio-Cortez clarified that she was talking about the increasing number of Israeli settlements, DeSantis accused her of "repeating these canned, left-wing talking points."
https://www.youtube.com/watch?v=p1_Yz5BDyiA?feature=oembed
After the footage of DeSantis surfaced, Ocasio-Cortez wasted no time in setting the record straight about exactly who she is. She fired back at the congressman in a July 23rd tweet:
"Rep DeSantis, it seems you're confused as to 'whatever I am.' I am a Puerto Rican woman. It's strange you don't know what that is, given that ~75,000 Puerto Ricans have relocated to Florida in the 10 mos since María. But I'm sure these new FL voters appreciate your comments!"
Well said.
Twitter users also praised Ocasio-Cortez's eloquent comeback.
false
https://twitter.com/udfredirect/status/1021518991481884675
By referring to an adult female politician as a "girl," DeSantis conveyed an unacceptable level of condescension toward women in politics. Additionally, referring to Ocasio-Cortez as "whatever she is," rather than "whoever she is," was a clear and offensive attempt to dehumanize her. The way we talk about people matters, and we applaud Ocasio-Cortez for clapping back.
And who knows? Maybe she'll soon be able to add "Congresswoman" to the list of "whatever she is."