Alexandria Ocasio-Cortez said Trump is racist, and this is the kind of bravery we need in our leaders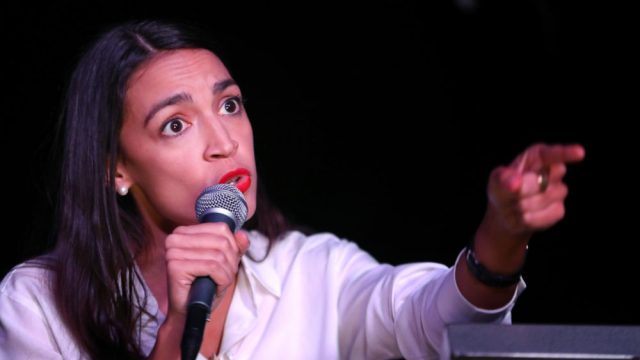 Representative Alexandria Ocasio-Cortez has only been in office for a matter of days, but she's already proved that she's a politician to watch. Since being sworn in, the new legislator has proposed bold policies like the Green New Deal and effortlessly clapped back at trolls who mocked her for dancing in college. Most recently, she showed that she's not afraid to speak out against President Donald Trump. In a January 6th 60 Minutes interview with Anderson Cooper, Ocasio-Cortez didn't hesitate to condemn Trump for racism, arguing that he has enabled white supremacists.
"The president certainly didn't invent racism," she acknowledged. "But he's certainly given a voice to it and expanded it and created a platform for those things." When Cooper asked Ocasio-Cortez if she thought the president was racist, she responded with a definitive "no question."
"When you look at the words that he uses, which are historic dog whistles of white supremacy," she said. "When you look at how he reacted to the Charlottesville incident, where neo-Nazis murdered a woman, versus how he manufactures crises like immigrants seeking legal refuge on our borders, it's night and day."
The White House defended the president in a statement to CBS.
"Congresswoman Ocasio-Cortez's sheer ignorance on the matter can't cover the fact that President Trump supported and passed historic criminal justice reform," the statement read, adding that Trump "has repeatedly condemned racism and bigotry in all forms."
The White House's statement of course ignores the reality of Trump's rhetoric. The 45th president has called African nations and Haiti "shithole countries" and suggested that Mexican immigrants are criminals and "rapists." As Ocasio-Cortez alluded to in her interview, he first responded to the Charlottesville incident by claiming there had been violence on "many sides," neglecting to mention white supremacy at all. And The New York Times notes that the Justice Department sued Trump Management for racial discrimination in 1973—when Trump was president of the company.
Needless to say, we're grateful to have politicians like Ocasio-Cortez tell it like it is. Members of government have been tip-toeing around Trump's racist ideologies (often for their own political self-preservation) for far too long, and we hope this encourages others in Washington to stand up for what's right.