Alexander Skarsgård gave another cringe-worthy speech at the SAG Awards — and managed to piss off Robert De Niro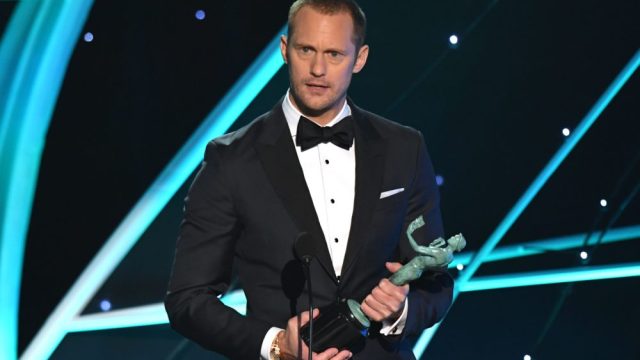 The 2018 SAG Awards were held last night, and though the focus on the #MeToo and #TimesUp movement wasn't as acute as it was at the Golden Globes, the theme of righting wrongs in Hollywood was very much still there. And coming off the Women's March just a couple days prior, we were all kind of riding that high of female empowerment in the face of adversity.
So it was a bit of a letdown to hear Alexander Skarsgård's acceptance speech when he received his award for Outstanding Performance by a Male Actor in a Miniseries for his role in Big Little Lies. Skarsgård plays Perry, an abusive husband in the HBO hit series, and in both his SAG Award acceptance speech and his acceptance speech for his Golden Globe he doesn't mention domestic abuse once. While we certainly don't place any of Perry's actions onto the actor, there is some cognitive dissonance in awarding a man for playing an abuser in a time when women are finally feeling emboldened enough to call out those who have abused them in real life, and then for that actor to completely ignore the subject of abuse when he's acknowledged for the role. You can watch his speech to see for yourself.
https://www.youtube.com/watch?v=pFQzqK3MrTc?feature=oembed
To add insult to injury, Skarsgård even manages to piss off veteran actor Robert DeNiro in the process, saying, "A lot of people have been talking about who the greatest male actor ever is. Is it Mr. Robert DeNiro, or is it the tall guy from True Blood?" DeNiro was nominated in the same category this year for his work in The Wizard of Lies, and while Skarsgård probably meant the comment to be a self-deprecating joke, DeNiro didn't seem to find the joke particularly funny.
Of course, winning a major award like this must be a jarring experience, but it's upsetting to see Skarsgård choose to stay silent on abuse for both acceptance speeches. It's even more frustrating when the subject of abuse is not only prevalent in the news, but directly impacts the award he's receiving. Choosing to not share the burden of upending systemic oppression keeps the fight completely on the backs of victims and stalls real change. Staying silent isn't really an option anymore, and it's frustrating to see Skarsgård shirk a prime opportunity to speak out against domestic violence. Many people have become more vocal and more active in the fight, but in order to really make things better, we all must do our part to speak out.