Alec Baldwin made his return as Donald Trump for the final "SNL Weekend Update" of the summer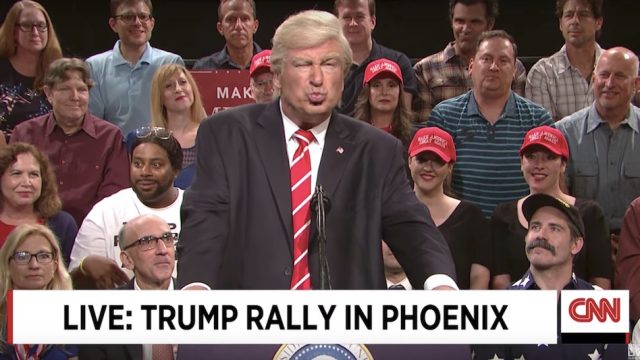 If you've been missing SNL, you're not the only one. The Weekend Update crew returned for a couple of episodes to recap the stress inducing news cycle. And luckily that also meant the return of Alec Baldwin impersonating Trump. We didn't realize how desperately we needed to see this again, but we're so glad that Alec came back and made a Trump appearance. The cold open to the SNL Weekend Update episode packed in a lot of punches. It had "Trump" at the Phoenix rally, talking about looking at the solar eclipse without glasses. Baldwin also went on to talk about the media and, of course, Charlottesville.
"As we all know, there was a tragic victim who came out of Charlottesville," said Baldwin-as-Trump. "Me."
Baldwin's comedic timing is perfect, and reminds us why we enjoyed SNL so much last season. This satire is exactly what we need when some of the real political news hits us so hard.
Check it out for yourself.
https://www.youtube.com/watch?v=ioB2Vs_G45U?feature=oembed
If you were worried that SNL was going to stop making political commentary, you don't have to worry.
The skit also hit at Steve Bannon's departure, as well as the guy holding the "Blacks for Trump" sign. Baldwin asked Kennan Thompson, who was holding the sign, if he was truly Black. "That's what the ad said you was looking for," Thompson hit back, joking about Craigslist ads listed for the rally.
With all that is going on, it truly is impressive that the writers are able to pack so much into a five minute sketch. The season finale implied that Baldwin was done with this role. But does this mean that Baldwin is going to return for the regular season? We can only hope.