An albino woman reviewed Rihanna's Fenty foundation line, and what she said is going viral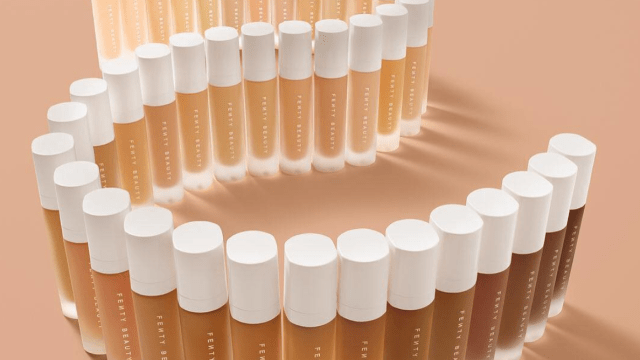 Celebrity buzz aside, Rihanna's all-new Fenty Beauty line is already making an enormous impact on the beauty industry for reasons *way* beyond celebrity. Because not only does it include an array of killer products, but said products are also more inclusive than most of their counterparts. Namely, the 40-shade range of foundations designed to cater to every skin tone.
Now, surely there are plenty who struggle to find an adequate shade of foundation for their skin tone. But for this self-described albino woman, finally finding a product to accommodate her skin was a big moment. Huge!
https://www.instagram.com/p/BZB6JDpgxKD
"I'm freaking out!!!," she captioned her Instagram, showing three snapshots of her glowing skin. "Rethinking all the times I ended up orange."
Wearing the 110 shade of Pro Filt'r Foundation, Krystal Robertson looked nothing short of flawless in her perfectly matched tint. Taking to a closed Facebook page by the name of BeautyBook, Robertson shared exactly why finding her shade was such a crucial moment for her.
https://www.instagram.com/p/BZLWjaWAm8e
After answering a flood of questions that came her way, Robertson's responses, of course, went viral. So viral that Rihanna herself took note, and shared them on her Instagram story.
https://www.instagram.com/p/BZIPYk-gBF4
Our hearts just melted!
It's been a longstanding myth that beauty companies do not cater to a wider range of foundation shades because they just don't sell. We now *know* to be false, considering Rihanna's foundations are flying off shelves across the country.
If Fenty Beauty's sales are any indication of what's to come, then it won't be long before beauty brands follow suit with a more diverse and inclusive range of foundation shades for all.
In the meantime, we're absolutely stoked for Robertson and her glowing skin. Now, excuse us while we go shop for our own perfect shade of Fenty foundation…