Alaska Airlines forced a gay couple off a flight when they wouldn't give up their seats for a straight couple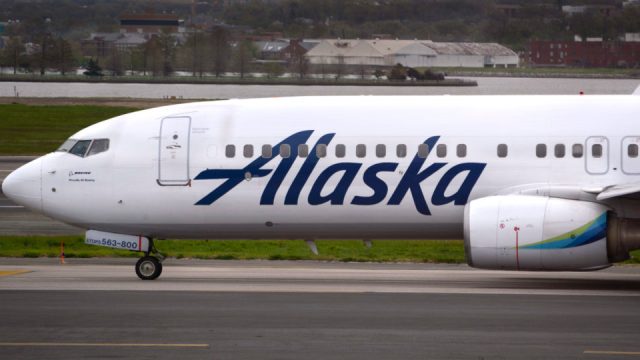 Despite the strides made towards LGBTQ equality in recent years, instances of anti-LGBTQ+ discrimination happen every day. Now, Alaska Airlines is at the center of the most recent controversy after a gay couple was forced off a flight when they wouldn't give up their seats for a straight couple.
The Washington Post reported that in a July 29th Facebook post (which has since been deleted), David Cooley, the owner of a bar in West Hollywood, recounted the incident. Cooley wrote that while he and his partner were traveling from New York to Los Angeles on Alaska Airlines Flight 1407, his partner was asked to move from his premium seat to an economy seat so that a straight couple could sit together.
"I explained that we were a couple and wanted to sit together," Cooley wrote. "He was given a choice to either give up the premium seat and move to coach or get off the plane. We could not bear the feeling of humiliation for an entire cross-country flitght and left the plane. I cannot believe that an airline in this day and age would give a straight couple preferential treatment over a gay couple and go so far as to ask us to leave."
Cooley also tweeted about the incident, to which an Alaska Airlines representative responded, "David, I'm so saddened to hear about this" and asked for Cooley's contact information.
Cooley and his partner eventually boarded a Delta flight back to L.A. He concluded his post by calling on LGBTQ people to boycott the airline.
Alaska Airlines issued a statement to CBS News saying that Cooley's partner had been asked to move because the airline had accidentally sold the same seat to two different customers. The company wrote that it would be investigating the case further and that it has a "zero-tolerance policy for discrimination of any kind."
"This unfortunate incident was caused by a seating error, compounded by a full flight and a crew seeking an on-time departure and nothing more than that," the carrier's statement read. "It's our policy to keep all families seated together whenever possible; that didn't happen here and we are deeply sorry for the situation. We've reached out to Mr. Cooley to offer our sincere apologies for what happened and we are seeking to make it right."
The company noted that it has worked with many LGBTQ organizations and has received a perfect score on the Human Rights Campaign's Equality Index.
We sincerely hope the airline gets to the bottom of what happened, and we'll be keeping an eye out for updates on this story.