Alan Thicke's wife, Tanya Callau, just released her first statement about his passing, and our hearts break for her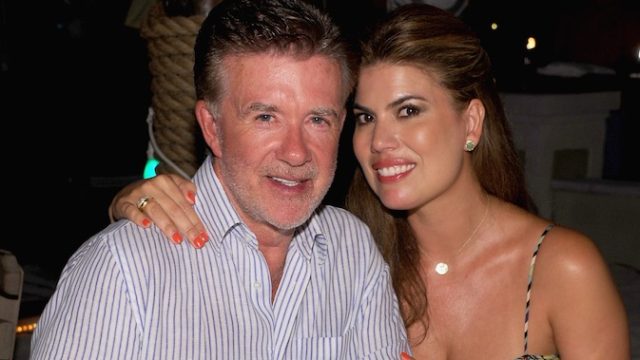 We're still not quite over the shock of Alan Thicke's sudden passing. He was the TV dad of our childhoods on Growing Pains, and we've always held (and will continue to hold) a special place for him in our hearts.
His wife, Tanya Callau, released a statement about Thicke's passing yesterday in which she described the "wrenching sadness" of losing her husband, and our hearts are going out so very much.
As many will have already heard, Thicke passed suddenly of a heart attack and several family members have already spoken out about the loss. We (understandably) hadn't yet heard too much from Callau, so this formal statement marks the first time we've received insight into how she's been doing. In a statement to USA Today she wrote,
"It is with gut-wrenching sadness and unbelievable grief that I thank everyone from the bottom of my heart for the outpouring of love and support during this unimaginable time. Through tears and smiles our dearest of family and friends came together at our home to celebrate the life of my sweet and devoted husband Alan Thicke."
She went on to write, "Yesterday, along with my stepsons and our combined extended family, we laid my beloved husband, soulmate and the patriarch of our family to rest. We ask that you respect our privacy during this time of profound mourning."
We can't imagine what this time must be like for Callau and the entire Thicke family, and we sincerely hope that the world's love and well-wishes help ease the pain of loss even if only the tiniest amount.
USA Today also noted that Callau has asked that donations in memory of Thicke be made to the Juvenile Diabetes Research Foundation, which Callau said was "a cause that he cared about deeply."