In a series of letters, Alan Rickman reveals he actually struggled behind-the-scenes playing Snape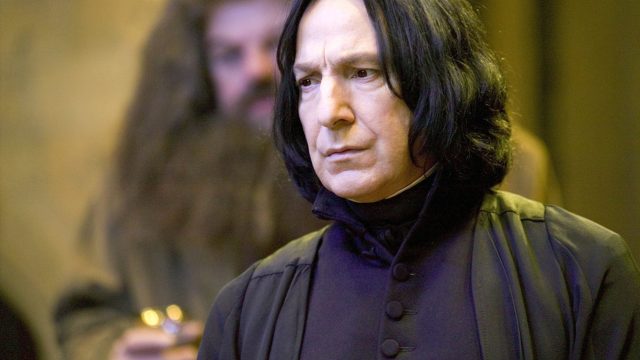 Alan Rickman had an illustrious acting career that included an assemblage of noteworthy characters, but his portrayal of Severus Snape in the Harry Potter franchise is undoubtedly one — if not the most — of his iconic roles. But as much as we enjoyed watching him jeer at Harry and his friends during Potions class, the behind-the-scenes experience wasn't as magical for Rickman as we thought.
Two years after his death, Neil Pearson Rare Books got ahold of the late actor's personal archive and will be releasing boxes worth of fan mail, on-set photos, notes, correspondences, scripts, and diary entries as a collection for auction.
In one particular letter, Harry Potter producer David Heyman thanked Rickman for his tremendous work on Harry Potter and the Chamber of Secrets, and hinted on the actor's vexation with the role. "Thank you for making HP2 a success," Heyman wrote. "I know, at times, you are frustrated but please know that you are an integral part of the films. And you are brilliant."
In another note called "Inside Snape's Head," Rickman documented his work on 2009's Harry Potter and The Half-Blood Prince and wrote about his discontentment with Snape's storyline and working with director David Yates.
"It is as if David Y. has decided that this is not important in the scheme of things i.e. teen audience appeal," wrote the Emmy Award-winning actor.
It is unclear what "this" refers to, but we'll go right ahead and assume that it's because Snape's character wasn't as fleshed out in the movies as it was in the books. But despite his reservations, J.K. Rowling and co-stars including Daniel Radcliffe gave him words of encouragement.
"Just back from weeks away and had to send a line about what you wrote in the souvenir programme for Hallows II. Made me very tearful," Rowling jotted in one of the letters. "Thank *you* for doing justice to my most complex character…"
Meanwhile, Radcliffe once sent him a thank you note for gifts which included a copy of a classic novel. "I can't wait to read Catcher in the Rye," he wrote. Snape's efforts in educating Harry went beyond the walls of Hogwarts, after all, and we're sobbing.
Judging by Alan Rickman's performance throughout the eight installments of Harry Potter, it seems that he knew when to set aside all his frustrations and poured everything into the role. And just like Snape kept his love alive for Lily even long after she perished, we'll celebrate Rickman's spectacular body of work until the end of time. In other words: always.