5 incredible Alan Rickman roles that weren't Severus Snape
This morning, we were devastated to learn that actor Alan Rickman had passed at age 69. He was a kind human being who made us laugh, cry and laugh so hard that we cried. Our hearts and thoughts are with his family, as this is no doubt a difficult time for them.
Rickman's iconic portrayal of Severus Snape is one of the greatest ways the actor will be remembered. It's a role that introduced him to a younger audience; one that he's stated numerous times he absolutely loved. But aside from his Harry Potter character, Rickman had a very long and successful career. Today, we're celebrating some of his best characters. Here are 5 of our favorites.
Hans Gruber in Die Hard
Die Hard is one of the actor's most famous movies. There's something fun about seeing Alan Rickman play the bad guy. Maybe it's because we know he was such a great guy IRL? Whatever it is, Die Hard quickly became a classic, and it wouldn't be the same without Rickman as Hans Gruber.
Jamie in Truly, Madly, Deeply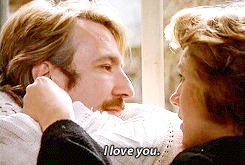 Alan plays a ghost with a fantastic mustache who comes back to visit his girlfriend Nina on earth. But of course, things are different between them — because he's a ghost. Jamie's behavior gets on Nina's nerves and she decides it's time to move on. In the end, you realize that all along, he was trying to help get her to that point so she could continue living her life without him. It's an "aha" moment that's devastatingly crumbling.
The Sheriff of Nottingham, Robin Hood: Prince of Thieves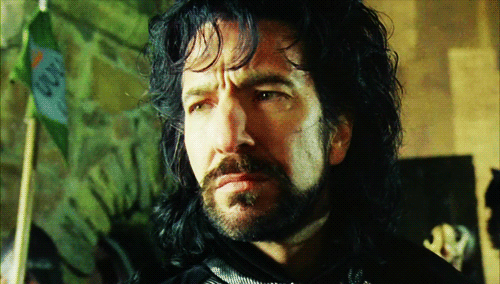 Again, it's so satisfying to see Alan Rickman play the bad guy. He has the deep voice and icy stare that's made for playing the villain, which he does so perfectly in Robin Hood: Prince of Thieves. Just look at that face. It's what made him perfect for Severus Snape.
Alexander Dane, Galaxy Quest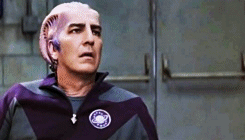 Here we see the actor's lighter side. He plays Alexander Dane, an actor from an old (fictional) TV show called Galaxy Quest who still resents getting recognized for his alien character years later. Real aliens show up at a Galaxy Quest reunion, and chaos (and hilarity) ensues. We recommend watching this one tonight if you need a laugh — you can stream it on Netflix!
Harry in Love Actually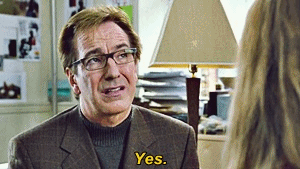 How could we not include Love Actually? You can't forget Alan's role in this holiday favorite. Harry is a complex character in a complicated relationship with his wife, Karen. And he's fantastic at making us dislike him. Bonus: Any chance to see Alan act alongside Emma Thompson is a treat.
(Featured image via Shutterstock, gifs via Giphy.)