The election is over, but will there be a recount in Alabama?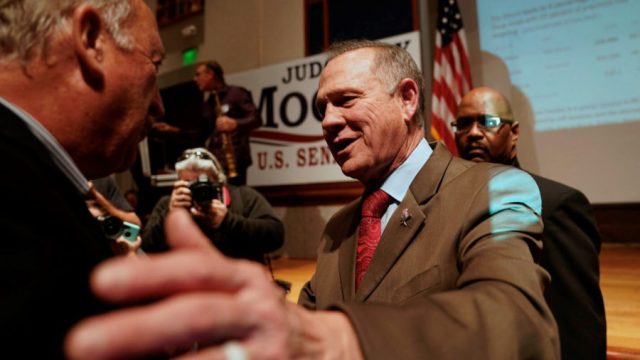 On Tuesday evening, December 12th, Doug Jones defeated Roy Moore in a special election, becoming the first Democrat to represent Alabama in the Senate in almost 25 years. The race was close, and as of this moment, Moore has not conceded. This has led many to wonder: Is there going to be a recount in Alabama?
Just before midnight on Tuesday, exit polls revealed that Jones had won 49.92% of the vote, while Moore took 48.38%. The extremely close numbers led Moore to cite an Alabama law that states that there will be an automatic recount if the results are within 0.5 percent.
At midnight, the margin of victory was more than one percent, but Moore says he is confident that the margin will close once military ballots are counted. In a speech to his supporters last night, Moore said, "Realize that when the vote is this close that it's not over. We also know that God is always in control."
However, a recount in this case is highly unlikely for more than a few reasons. One notable red flag is that the Alabama Republican Party said it would not support a recount. Another major reason is that the math isn't adding up in Moore's favor, according to the National Review, which writes:
"Just to qualify for an automatic recount, Roy Moore would need as many write-ins dismissed as possible AND an unprecedented overwhelming margin of about 14,000 or so votes among overseas ballots and provisional ballots."
That's a lot of votes, and it's unlikely it would work out to his benefit. Alabama Secretary of State John Merrill spoke with reporters on Tuesday night, saying he wasn't convinced the outcome would change at all, even if there was a recount. He said, "It would be very unlikely for that to occur."
And then there's the cost. Moore would have to fund recount efforts, and it's unclear whether his campaign can afford it. He would most likely have to ask for donations, which he may or may not receive at this stage.
Finally, history isn't on Moore's side. Recounts typically do not change the outcome of races. They take up a lot of time, require a lot of money, and seldom alter results. Even if there was a voter recount here, it's unlikely that Moore would end up winning.
One thing is for sure, though: The winner of this election isn't going to be certified until closer to the new year. The count of overseas and provisional ballots are due in Merrill's office by December 22nd, and results will be certified between December 26th and January 3rd.