Alabaman governor Kay Ivey apparently believes Roy Moore's accusers, but she won't let that stop her from endorsing him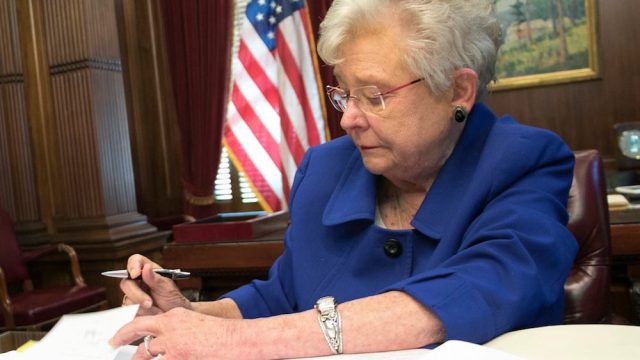 After admitting to being "bothered" by the Roy Moore sexual misconduct allegations, Governor Kay Ivey announced Friday that he'd still be getting her vote for the U.S. Senate seat. That's right. The Alabama governor isn't going to let anything stand in the way of her political leanings, not even claims that Moore, a former Alabama judge, sexually assaulted multiple, underaged women.
Since Moore's allegations hit the airwaves, politicians and even advertisers have been vocal about where they stand. In a Nov. 10 press conference, Press Secretary Sarah Huckabee Sanders announced that President Trump thinks Moore should "do the right thing, and step aside" if the allegations are true. Other politicians have made even stronger statements. Former presidential candidate Mitt Romney delcared him "unfit for office," and Senate Majority Leader Mitch McConnell called him "not fit to [serve]." Drawing an even deeper line in the sand, Volvo among others pulled its ads from The Sean Hannity Show after the host seemingly defended Moore's actions. These moves just make the Alabama governor's seem even more start in comparison. Seeing as Ivey previously stated that "there's never an excuse for or rationale for sexual misconduct or sexual abuse," why is she so hard-pressed to endorse him? The answer, unfortunately, really isn't that surprising.
"I believe in the Republican Party, what we stand for," Ivey said according to AL.com. "And most important, we need to have a Republican in the United States Senate to vote on things like the Supreme Court justices, other appointments the Senate has to confirm and make major decisions. So that's what I plan to do, vote for Republican nominee Roy Moore."
Governor Ivey is hoping Roy Moore will work for the Republican party's benefit, if appointed.
https://www.youtube.com/watch?v=OwYJMbk__Ew?start=4&feature=oembed
Speechless? No worries. You're definitely not alone, because a lot of people on Twitter are in utter disbelief, also.
https://twitter.com/udfredirect/status/931622772375216128
The message that Gov. Ivey is sending with her endorsement of Moore is astounding. On one hand, she denounces sexual misconduct, and doesn't discredit the testimonies of alleged victims. While on the other, she's willing to risk everything to make sure the Republicans win at the political game — her reputation, included.
It's all so heartbreaking to watch unfold.