Aja of "RuPaul's Drag Race" got real about that "All Stars" finale and told us what to expect at DragCon LA 2018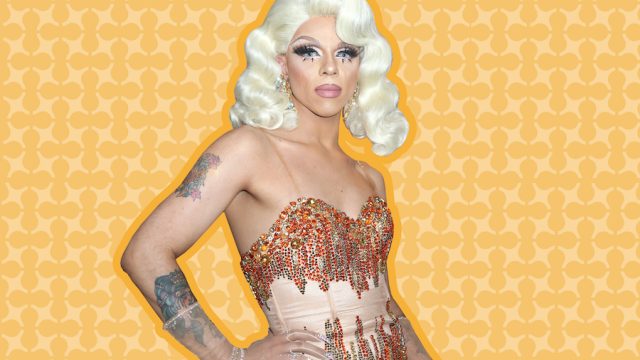 With her anime-inspired drag, electric neon wigs and makeup, and endlessly GIF-abble quotes and facial expressions, Aja was a fierce queen on Season 9 of RuPaul's Drag Race — though she'd already been making a name for herself in the drag world thanks to her unique artistry.
While Aja finished in 9th place on Season 9, she made a lasting impression — so Drag Race devotees were thrilled upon Aja the Kween's return to the work room for RuPaul's Drag Race All Stars 3.
On the latest season of All Stars, Aja's growth as an artist and performer was striking. Viewers gagged over her colorful runway looks, gravity defying death drops, and superior sewing abilities, so Twitter was understandably heartbroken and shocked when she only made it to the fifth episode.
Towards the end of the season, Aja returned twice with her fellow eliminated queens: Once to wow us with her flawless rapping skills in a Spice Girls tribute, and once to participate in perhaps the most shocking finale in Drag Race herstory on March 15th: For the first time, RuPaul selected the winner with the help of previously eliminated queens, making it their responsibility to narrow the Top 4 — Trixie Mattel (who snatched the crown!), Shangela, Kennedy Davenport, and Bebe Zahara Benet — down to the Top 2. When the eliminated queens cut Shangela, a frontrunner all season, many Drag Race fans weren't happy.
Despite the turmoil on social media, the All Stars queens have only expressed love, solidarity, and support for one another, and you'll be thrilled to know that the entire All Stars 3 cast will be slaying at RuPaul's fourth annual DragCon Los Angeles.
The three day event will be held at the Los Angeles Convention Center from May 11-May 13, where you will be graced by the presence of RuPaul herself and more than 85 queens from Drag Race. In addition to panels, Q&As, and opportunities to meet your RPDR faves and grab some fabulous merch, DragCon 2018 has gifted us with a REAL LIFE WERKROOM. Yes, you too will be able to sashay through an installation that mimics the famous work room and evoke the iconic entrances of Drag Race royalty. (Get your tickets to DragCon LA here!)
We hopped on the phone with the fiece Aja to discuss *that* finale, get excited about DragCon, and hear all about her new music!
https://www.instagram.com/p/BeHAVKSBmNw
HelloGiggles (HG): You looked amazing in your devil ensemble and were a killer interviewer on last week's finale. Now, as you obviously know, Drag Race fans have been expressing a lot of emotions on Twitter regarding Shangela's elimination. Was it difficult to have to come back for the finale and help narrow down the top two queens?
Aja (A): Well, honestly, if it were up to me, I would not have wanted to vote because, no matter what, you're only one part of the decision. And at the end of the day, if anybody would have changed just one vote, it [wouldn't have been enough to] change the results… But also, I think it's just good TV — but that can come at the expense of people's emotions. And, honestly, I think that getting a reaction out of people is what makes it such a great, spicy TV show anyway.
I was very anxious waiting for the episode to come on, honestly. I didn't know how [the voting and elimination scenes] were going to be handled and presented. But when I saw it, I thought it was great TV. I can't think of any other way to describe it.
https://www.instagram.com/p/BgY8pxoBnqT
HG: I saw you addressed something very important on your Instagram Stories after the finale. You told Drag Race fans to stop sending hateful, problematic messages to you and your All Stars sisters because they were upset about the elimination. Is there anything more about this you'd like to add?
A: For me, the main thing is, yes, winning Drag Race is a big thing — but a lot of the fans may not realize it's really just a title. At the end of the day, if the girls are going to be successful, they're going to be successful — whether they win Drag Race or not. And I'm pretty sure Shangela's going to be just fine and so is Kennedy, Trixie, BeBe, me; we're all going to be fine.
Usually they say the show is where you make or break, but for me, I really look at the show — even my second time around — as just another launching pad, another beginning. From here, I'm sure everyone's just going to take the platform and really expand on their brands more than they already have. And I think when it comes to the hateful comments, instead of being hateful, just support the queens you want to support.
HG: You were amazing this season — all of your runway looks, your rapping, your growth since Season 9. What moment from All Stars 3 are you most proud of?
A: Honestly, I'm very proud of my entire run on All Stars. There's not one moment where I wasn't proud of myself. The thing is, I went on All Stars and did what I intended to do on Season 9. I think that on Season 9, I was just not in the correct head space due to different circumstances for me. For All Stars 3, I felt like my head was clear. I went in, I had vastly honed in on my craft, and I said, you know what? I'm just going to do the thing. Every time I see myself on TV it's like…when I joined Season 9, it was cringy for for me…I was like ahh. But then when I was watching All Stars, I felt myself actually laughing at myself. I don't know, being able to look at myself and not cringe on TV — I guess that's an accomplishment in my own eyes. (laughs)
https://www.instagram.com/p/BebitMmBA8y
HG: You are such a quotable queen. Fans have made so many gifs of you from the show. Do you have a favorite one that you've seen?
A: It's really tough. I think the favorite moment of myself that has actually been made into a GIF, would have to be from All Stars. It was when Shangela found that note in Trixie's station, and I was like, oh no, here we go. And just that face your friend makes when your other friends are about to fight? It was…very that. And at that moment, it really made me LOL.
HG: I know you're going to be at DragCon this year. What can fans expect to see there?
A: Oh, boy. DragCon is amazing. I've been going for three or four years. I think I've been to every single DragCon, and it's getting bigger and bigger and it's just all your favorite queens. You will find anything and everything. If you have a taste for fashion and drag, you will literally walk in there and lose your mind. You won't know where to go, you won't know what to do. But I suggest getting there early. Get your weekend pass and go get your favorite queens right away because the lines get crazy.
HG: What are you most excited about now that you're returning to DragCon as an All Star?
A: I'm excited to see how different the fan interactions are. I can't wait to see if it's going to be different. What's it going to be like to be known for actually doing something great, instead of being known for telling someone that their smile is beautiful? (laughs) It's going to be very interesting.
https://www.youtube.com/watch?v=safM-tI6os0?feature=oembed
HG: And congratulations on your new music video for your single "Finish Her"! Can you tell us more about your post-All Stars projects?
A: Yes! Actually the weekend of DragCon, I will be releasing my EP and I will also be releasing my second music video. Stay tuned, and by the end of the year I'll have a full album. I can't wait; it's going to be fun. I have a lot of visual projects coming out. I know that the fan base is really focused on visuals and they just love different crazy aesthetics. They just love art, they're very intelligent, they love to look at things that are stimulating. So I can guarantee that they will be stimulated in some way.
Get your tickets to DragCon LA here.