Our fave lady on "HTGAWM," Aja Naomi King, had her first acting job at Disneyland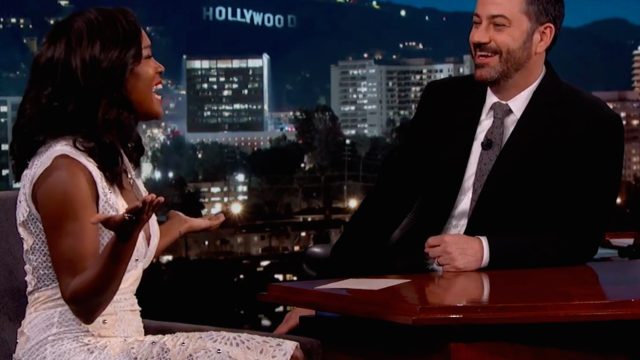 When you think of Aja Naomi King's tough role as Michaela on How To Get Away With Murder, it's hard to picture her in Disneyland, the happiest place on earth. It just proves what an amazing actress she is because, as she explained to Jimmy Kimmel when she stopped by Jimmy Kimmel Live! on Thursday night, working at Disneyland was her first acting job.
https://www.youtube.com/watch?v=ZB1-HV1yVSg
"My first job out of school was working at Disneyland," she explained. "That was technically my first acting job because I had to act very happy all the time."
The actress was an Indiana Jones cast member, in charge of ushering people in and out of the ride and, most importantly, measuring their height to make sure they were tall enough to ride it.
While being at Disneyland every day sounds like a dream come true, when it's your job, we totally believe that it loses some of its charm. Aja eventually quit (actually, she just stopped showing up) to go to school for many years before she dove into her acting career, and her unforgettable role on How To Get Away With Murder.